FRANCHISE BUSINESS REVIEW: Hype For Hire? Credibility for Cash? Our Town America Getting Its Money's Worth
Franchise Business Review provides franchise companies like Our Town America lots to brag about: Top multi-unit franchise awards, franchisee satisfaction hall of fame trophies… they even gave President Michael Plummer a crown and scepter recently.  But are these meaningful accolades from a legitimate "market research firm" or simply paid-for badges of credibility in another franchise industry hype-for-hire scheme?
(UnhappyFranchisee.Com)  Our Town America franchise marketing is abuzz with the accolades and awards being heaped on it by the Franchise Business Review, a company that claims it's a legitimate, trusted research firm focused on franchisee satisfaction but whose critics claim its simply a marketing lead generation company specializing in providing some companies with hype-for-hire and credibility-for-cash.
Franchise Business Review celebrates, with the same apparent zeal, a mix of proven, respectable and likely praiseworthy franchises (Auntie Anne's, FastSigns) with some eyeball-rolling concepts like upstart You Move Me and heavily litigated concepts like Snap-On Tools.
We recently turned out focus on Franchise Business Review when it was pointed out that their multi-unit publication seemed to be a vehicle for potentially unlawful earnings claims (See FBR Franchise Business Review Promoting Illegal Earnings Claims?).  FBR piqued our curiosity as to the worthiness of its paid-for praise.
According to its 2014 Franchise Disclosure Document (FDD), Our Town America franchisees sell "personalized direct mail marketing services and products that promote the businesses' services and products to certain consumers."   The total initial investment ranges from $74,800 to $105,450.
A look back through past FDDs reveal a rather unimpressive growth record.  From 2007 to the beginning of 2014, the number of Our Town America franchises declined 24%, from 42 to 32.
More disturbing, the franchise chain appears to have a 60% franchise turnover rate during that time.  There were a total of 80 active franchise agreements during that time period.  A total of 48 of those franchise agreements were terminated (16), transferred to new owners (10), reacquired by the franchisor (9) or ceased operations for other reasons (13).
60% turnover rate does not seem to us indicative of a happy franchisee base, but Franchise Business Review is "the most respected source of independent franchise information" and they must feel differently.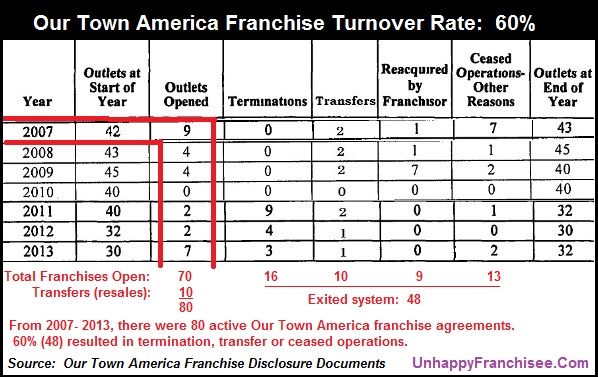 At Our Town America, Every Franchisee is Happy Says FBR
Franchise Business Review has rated Our Town America Top Multi-Unit Franchise Opportunity!
Our Town America Rated Top Multi-Unit Franchise Opportunity

Franchise Business Review (April 2015) – Franchise Business Review released their 2015 Top Multi-Unit Franchises Report rating Our Town America a Top 25 Service Opportunity.

This report narrows down the vast array of franchise opportunities by highlighting the franchise companies rated highest in franchisee satisfaction by those who were surveyed. Franchise Business Review's research looked at survey feedback from over 6,000 multi-unit operators with at least three units. The national study included more than 300 leading brands.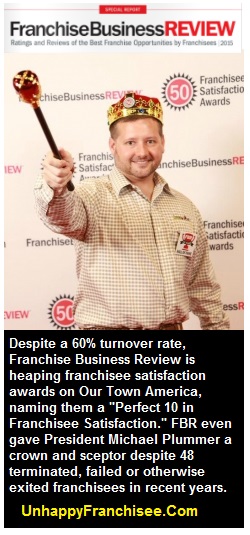 30-something-unit Our Town America is delightedly sending out press releases to celebrate its entry into the franchisee satisfaction Hall-of-Fame!  Such an honor!  President Michael Plummer was even awarded a crown and scepter from Franchise Business Review:
Our Town America named Franchise Business Review all-time Top Company

10 Franchises Score a Perfect 10 in Franchisee Satisfaction

Our Town America Top CompanyFranchise Business Review (Feb 2015) – Consistent annual placement as a top franchise in Franchise Business Review's Top Franchises list, demonstrates reliable performance. This year, ten franchise companies earned the honor of being featured on it for 10 consecutive years! To acknowledge their achievement, Franchise Business Review created the FBR Hall of Fame of which ActionCOACH, FASTSIGNS, Heaven's Best Carpet Cleaning, HomeVestors, JumpBunch, Miracle Method, Our Town America, Pop-A-Lock, Two Men and a Truck and Wild Birds Unlimited are the first members.

.

Franchise Business Review held a People's Choice contest inviting people to choose which of the 10 new Hall of Fame inductees should be crowned the "best". Our Town America won!

.

"We work hard to excel in every aspect of our business," says Michael Plummer Jr., President of Our Town America. "While we've been around for over 40 years, we're constantly evolving. Our franchise family, our system and our unique new mover program have come a long ways since our first FBR Top Franchise award in 2005."

.

Plummer was crowned "People's Choice" and given a crown and scepter by Franchise Business Review during the International Franchise Association's recent annual conference.

.

"It has been a pleasure to work with the corporate teams of the Hall of Famers over the past decade. They are focused on the success and happiness of their franchisees and constantly look for ways to be better each year they participate," says Michelle Rowan, President of Franchise Business Review. "Their consistent placement on our Top Franchises list is proof that their franchisees are among the most satisfied in the country."
Our Town America:  Where Even Failed & Terminated Franchisees Are Satisfied
New franchisees will undoubtedly be moving to Our Town America to make their fortunes, lured to the fair and prosperous land of high franchisee satisfaction ruled by good King Michael.
It's a wonder that anyone would ever leave such a place, much less 60% of them.
Perhaps Our Town America franchisees remain highly satisfied right up to the moment that they are terminated or cease operation.
After that, of course, they are no longer asked to participate in Franchise Business Review surveys.
Why kill a perfectly good PR Buzz?
ALSO READ:
FRANCHISE DISCUSSIONS by Company
FBR Franchise Business Review Promoting Illegal Earnings Claims?
YOU MOVE ME Franchise Brian Scudamore Making Illegal Earnings Claims?
ARE YOU FAMILIAR WITH THE OUR TOWN AMERICA FRANCHISE OPPORTUNITY OR FRANCHISE BUSINESS REVIEW?  SHARE A COMMENT BELOW.
TAGS: Franchise Business Review, Franchise Business Review Awards, FBR, FBR 50, Our Town America, Our Town America franchise, Michelle Rowan, Eric Stites, Michael Plummer, franchise advertising, franchise marketing, franchise awards, unhappy franchisee