DVDNOW DVD Vending Kiosks: Scam or No Scam?
DVDNow offers a DVD rental business vending opportunity.  While their website does not disclose the required investment (unless you fill out their form), franchise and business opportunity ads state that $20,000 cash is required.

Do you have any experience with the DVDNow kiosk vending or similar business opportunity?  Please share a comment below.
Also read: DVD Vending Kiosks at Fire Sale Prices (Don't Buy New!)
DVDNow DVD Rental Kiosks:  The Dream.
Here's the dream scenario that DVDNow is conjuring:  That there is an $8 billion rental market for new release movies.  You can "skim the cream off that $8 billion market"
From the DVDNow website:
"Imagine owning a chain of fully automated DVD rental machines without the overhead or hassles of a big staff or a several thousand square foot storefront. Did you know that almost 90% of revenue in the $8 billion DVD rental industry is generated through the rental of new releases. Now imagine that you can skim the cream off that $8 billion dollars without investing hundreds of thousands in a brick and mortar store, franchise licenses, and all of the time, overhead and management hassles that come with starting and running such a business. DVDNow is proud to introduce the most innovative way to skim the cream off that $8 billion market – an automated DVD rental kiosk that is open 24 hours a day, has a footprint of only 5 square feet, requires no staff, and rents nothing but profitable new releases."
DVDNow DVD Rental Vending: The Pitch.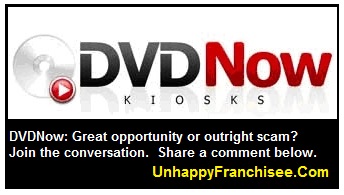 Here's the basic pitch:  There is a window of opportunity in an $8 billion market that will soon be gone if you don't act now.  DVDNow will assist you in getting top locations for your machines (which are abundant).  You will get the training and support you need to run a profitable business that can be managed remotely via the Internet.
From the DVDNow website:
With the limited number of DVD rental kiosks in operation we are at a point in this industry that will never occur again. The massive demand from consumers, and the unprecedented availability of top locations, are just two of the reasons why experts are uniformly endorsing DVD rental kiosks.
DVDNow offers a truly scalable business, allowing you to build from just a few locations to a large network of rental kiosks
We can offer assistance in selecting and securing great locations
Our training and support staff will teach you what you need to know to run a profitable business
Our industry leading remote monitoring application allows your entire business to be managed remotely from any computer with Internet access
DVDNow Vending Complaints & Red Flags
On the BizBuySell Answers website, commenter Robert Wallace wrote:
I owned 2 of these kiosks… I truly believe that it is a bad business to get into.. the hidden costs that are not discussed at the sales orientation amount to about 25% of the operating costs of these kiosks, irregardless of their location.. plus technology has flat passed it up.. it was a good Buseness model in Europe 6-7 years ago but now Bit Torrents, Free Movies by Hulu and others, Netflix has become so cheap, not to mention the biggest competitor in the Industry is privately owned, REDBOX.. they are everywhere and they rent for $1.00.. the average cost of the dvd's you buy will be about $17, possibly more.. and the buyback program for wholesale DVD's is not good, get exact info on that beforehand.. just check out how many are desperate to sell their kiosks, it's unbelievable.. I gave up last year and chalked it up as experience and a loss…
Wallace warns of hidden fees & costs, and mechanical problems:
You must use their software and their technical assistance.. they charge for that tech assist, they charge for all rfid's, they charge for all parts .. The Kiosks are made in China … they are great when they work but they are a nightmare when they don't and your phone will be ringing off the hook because there is noone there at your kiosk.. people will rip you off left and right… you will either be chasing money or trying to find the dvd's they stole.. the credit card companies that process your transactions are outright THIEVES… all the costs will never be explained to you… the owner of the company LIED to me .. I was told I had to buy two kiosks… thats $35,000 US plus shipping…. come to find out from other owners that they didn't have to buy 2… Do Not get involved in this Business…
Jason Miller cautions that DVD vending could soon be obsolete:
DVDs are going the way of the dinasaur. Right now you can order the most recent movie releases "on demand" from cable/satelite right from your couch. I'd expect the number of movies that one can access at home will continue to grow exponentially… In my opinion, the business model is not great, and the only people who make money are the ones who sell the machines.
UnhappyFranchisee.com does not have firsthand experience with the DVDNow vending business opportunity, but we always urge extra caution when dealing with a vending opportunity, especially one that promises vending machine placement services.  Vending machine locators are notorious for making big promises, demanding cash upfront, and then not delivering as promised.  As Always, Caveat Emptor.
ARE YOU FAMILIAR WITH THE DVDNOW VENDING OPPORTUNITY?
PLEASE SHARE A COMMENT BELOW.