Is IT'S JUST LUNCH Dating Service a Scam?
It's Just Lunch: a dating service scam?
The It's Just Lunch franchise dating service website calls itself the "the first date specialists," and claims to "arrange quality lunch dates and drinks after work for busy professionals in a discreet, no-pressure setting."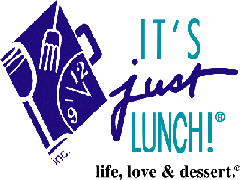 Its claim to fame is the exclusive nature of its high-calibre clients and its extensive, personal matching process.  And it charges big bucks for its dating services.
Is It's Just Lunch dating service a scam?  If you've had experiences with IJL, good or bad, please share them below.
Tami, who claims to be a bikini model, definitely thinks It's Just Lunch is a scam, and she's trying to get her $1800 fee refunded.
.
Tami states:
I am demanding a full refund from "It's Just Lunch". They have completely failed to provide even 10% of what was described to me by their then number one "Matchmaker" through numerous phone calls and meetings. They have completely misrepresented their services and available clientele. After signing onto their service I went on a total of "SEVEN" Matched Meetings.

I allowed them the opportunity to 'Work their Magic' but was completely disappointed on every occasion. I called after every meeting and explained why the person chosen was nothing like what they said they had available to me and what my specific needs were and promised by them to deliver, were not even close. I was incredibly unhappy and gave detailed information as to what was wrong and missing only to be told each time they understood and would guarantee I would be very happy with the next person they had for me. I ended up going through three separate "Matchmakers" who were all highly trained and skilled in their profession, to finally tell them they do not and have not even come close to the contract we agreed on as to what they had to offer and provide.

I refuse to continue with a service that has completely misrepresented what they are and what they promise to deliver. I gave them many opportunities and all of their chosen "Matches" were nothing like the description of available men described. They did not and do not have the people promised and they did not provide this extensive "Matchmaking" Service that only professionally trained Matchmakers can provide.

Their described service is a scam, I don't believe they went any further than taking files from a file cabinet not even looking at the names and put them together. Maybe they used a dart board where the same two colored darts hit and were then said to be a match. I am well beyond disappointed with their promises and performance, as you can see and demand a full refund based on their complete misrepresentation. I feel I do not have a binding contract with their company because of the lies and deceit presented by their representatives.

I have tried on numerous attempts personally with "It's Just Lunch" to get a full refund of $1,800.00 but have been unsuccessful. I hope this letter better describes the reasons for my insisting a full refund and that by now putting it out there in the public, and now also taking them to small claims court, I hope to receive the refund due myself and help others against this fraudulent corporation.
ARE YOU FAMILIAR WITH THE IT'S JUST LUNCH FRANCHISE OPPORTUNITY OR THE IT'S JUST LUNCH DATING SERVICE?  SHARE A COMMENT BELOW.