DOLLAR STORE SERVICES DRSS Complaints
Dollar Store Services, based in Las Vegas, Nevada, claims to be the largest developer of dollar stores, having opened 3,000 stores since 1994.  Dollar Store Services (also known as Discount Retail Store Services or DRSS) claims it helps individuals open their own independent dollar stores for as low as $59,900 with 100% financing.  How many of the dollar stores DRSS has helped open are successful?  How many of the 3,000 are still in business?  Please share your experience with Dollar Store Services or DRSS with a comment below.
(UnhappyFranchisee.Com)  Dollar Store Services, also known as DRSS Discount Retail Store Services, claims it helps would-be dollar store owners get into business without the disadvantages of a franchise, such as  "higher store package price, regulations, fees, contractual obligations, extreme oversight, and loss of control."
The Dollar Store Services website states:  "With a starting price of $59,900, you will receive everything you need to open your store, have all work performed by seasoned professionals, and never pay fees or royalties!"
Dollar Store Services claims it provides a host of powerful advantages including:
Securing Business Financing
Finding A Suitable Retail Space
Negotiating a Retail Lease
Building Out Your Store
Global Merchandise Network
Training and Ongoing Support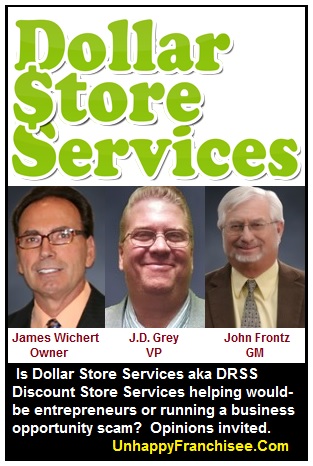 Dollar Store Services DRSS claim the time is right to open a dollar store:
Dollar Stores are an incredible business opportunity

The fact is that dollar stores are in huge demand today as is evidenced by the dramatic stock price increases for the large corporate owned dollar store chains such as Dollar Tree, Dollar General,Family Dollar and 99 cents only… The success of these industry leaders is also translating into the development of independent dollar stores which are springing up all over the country as entrepreneurs are joining the burgeoning industry.
But some contend that Dollar Store Services DRSS is a sales machine that lures entrepreneurs into investing in a retail concept that is economically unsustainable.
James Wichert's JWI Wholesale Supplies the Inventory to Dollar Stores
Dollar Store Services was founded and is owned by James Wichert, who also owns JWI Wholesale (JWI) which supplies dollar stores with merchandise.
The JWI Wholesale website claims James Wichert "started in the industry in 1992 when he opened the first dollar store in Nevada… Since he started in the dollar store business, Mr. Wichert has assisted over 2,500 individuals open stores throughout the United States, Canada, and worldwide."
The Dollar Store Services website lists these individuals as its Executive Leadership:
James Wichert – Owner
J.D. Gray – Vice President
John LaFronz – General Manager of Dollar Store Services
Theresa Whitley – General Manager of Mailbox and Business Center
Kerry Verd – General Manager of Party Store Developers
David Rashidi – Director of Information Technology
David Trumble – Operations Manager
Cayman Wong – Controller
Are you familiar with Dollar Store Services, DRSS, Discount Retail Store Services, or JWI Wholesale?  What do you think of this business opportunity? Please share a comment below or send an email to this site's Admin in confidence.
Dollar Store Services Complaint:  High Failure Rate
Martcia Calvillo retired from AT&T after 30 years of service.  In 2012, she signed up with Dollar Store Services and opened her Dollar Store in the Linda Mar shopping center in Pacifico, CA.  She struggled for two years, trying everything she could, from adding Fax Services, Black & White Printing and Copying, and Event Ticket Sales.  She upgraded to Dollar Plus higher ticket merchandise but found that the economic model was just not viable.  Internet comments posted by Martcia indicate that she is not alone:
I opened up my Dollar Store in October 2012. I went to the 3 day training in Las Vegas and they went over all the discount vendor pricing and the .55 cents monthly goal you need to maintain to be successful as a dollar store owner.

They had all the spreadsheets for you to keep track of your inventory and your daily sales. You also get access to their website so you can get the list of their vendors that give the special pricing discount of 20-25% to the [JWI Wholesale] store owners. Sounds really legit.

They also took us to a Dollar Store in Las Vegas that had been open for 4 months for a tour, talk to the owner and ask questions. We did notice that his shelves were a little bare but he told us he was waiting for a shipment. They closed 6 months later.

I had 3 other new store owners in the training with me and we all kept in touch and 6 months later all of us were in the same boat sinking fast. We are all closed but they moved into a smaller store and changed it to a dollar plus and is still struggling from closing the Dollar Store.
Dollar Store Services Complaint:  Overpriced Buildout
Martcia claimed that her buildout was unnecessarily overpriced:
Your build out is overpriced. I had so much leftover slat walls, shelving and hooks taking up space in my storage just like all the other store owners I talked to.

Then you get the keys to your brand new store and a stack of invoices of all the merchandise purchased for your store.
Dollar Store Services Complaint:  High Inventory Costs, Low Profit Margin
Inventory, Profit Margin Issues are another area of concern:
Bottom line STAY AWAY you don't get 20% to 25% discount from the JWI Wholesale vendors, shipping is costly if you are not careful. Your high turnover items are only your chemicals, food, HBA and paper products that you will NEVER get for under 79 cents…

When you have time to go through all of it you notice that it's so lopsided. All the great pet supplies, chemicals, HBA and food are over .80 cents and the merchandise under .40 cents is junk.

So now you open your doors and what sells is all your high end items so now any profit you made you have to replenish with the low profit margin of .20 cents on the dollar. Customers start noticing your shelves are a little light and you just tell them you are waiting for a shipment.

Now when go to order your items with these vendors you must have at least $1000.00 order for a full pallet or the item is no longer in stock (which happens a lot).

The JWI Wholesale discount is just pennies off the listed price.  JWI Wholesale now has their own merchandise but it's a lot of junk and no chemicals, paper products or food just a lot of nothing.

Of course they have a rep assigned to you to help with your ordering but they can only help so much and then they try to get you to buy dollar plus items. Many times they send me specials but most of it is dollar plus items.  I would e-mail them or call and tell them don't send me anything unless I can profit from it in a Dollar Store
Dollar Store Services Complaint:  Failure Even With Great Location
Martcia claims that her Dollar Store failed despite her best efforts and a very good location:
DRSS is telling new prospective owners that I was in a bad location and this is not true.

My store was making $900 to $1000 a day.

My first opening day I made $1200 and that was a soft open. I was in a very busy location and I couldn't keep items on my shelf the problem was having the money to purchase because my profit margin was only .20 cents.

All my paper towels, bath tissue, bleach, detergent, food etc .. these are the items people come in looking for and it went fast.  If your lucky you can find it for .69 cents but your not getting a 25% discount like they tell you. And now add in the freight.
Dollar Store Services Client Lost Over $100K, Filing for Bankruptcy
From reading her store's Facebook page (still online), it appears Martcia made every effort to make her store work, but ultimately had to close in 2015:
I tried very hard to keep my store going but after 2 years it was too hard to keep up.

I had to put additional money out of my pocket and raise prices but once you open up as a Dollar Store it's difficult to change to a Dollar Plus because your customers can go to Dollar Tree.

I am in the process of filing bankruptcy now and I paid cash to DRSS so I am out over $100,000.00, I wished I would've used their financing so I wouldn't of had to pay back all that money and I would still have money in the bank.

You are looking at 3 to 6 months max and then the downward spiral starts.

I was talking to a store owner and we couldn't believe that John LaFronz can sleep at night knowing that he left a lot of families filing bankruptcy.

If I can get one person to read this and not make the same mistake I feel like I have succeeded.
Is Dollar Store Services Legit or a Scam?
Martcia isn't alone in posting harsh criticism and allegations that Dollar Stores Services DRSS is selling a high-risk, high failure rate business proposition.  Some comments include:
As of late 2014 DRSS had opened about 3200 stores but only had about 425 opened at that time.
I simply investigated the 193 videos (YOUTUBE) on Dollar Store Services which they use as a sales tool in their support system to grab sales.

The names of the stores are mentioned and I called these stores. Out of a hundred of their stores, over 90% of all the businesses they are responsible for creating have failed and continued to fail.
DRSS has pretty much ruined my dreams of ever owning my own retail store.
Is Dollar Store Services a disreputable company as these commenters claim, or is this a case of failed business owners not taking responsibility for their own decisions?  Share your opinion below or by contacting us.
ALSO READ:
FRANCHISE DISCUSSIONS by Company
ARE YOU FAMILIAR WITH THE DOLLAR STORE SERVICES DRSS & ITS MANAGEMENT TEAM?  WOULD YOU RECOMMEND THIS OPPORTUNITY TO A FRIEND OR FAMILY MEMBER?
PLEASE SHARE A COMMENT BELOW.
TAGS: Dollar Store Services, Discount Retail Store Services, DRSS, JWI Wholesale, Dollar Store Services complaints, DRSS complaints, JWI Wholesale complaints, Dollar  Store franchise, open a dollar store, own a dollar store, James Wichert, J.D. Gray, John LaFronz, unhappy franchisee