DEADLY FRANCHISE MYTHS: The Trustworthy Franchisor (Part 2)
DEADLY FRANCHISE MYTHS:  The Trustworthy Franchisor (Part 2)   The Franchise Agreement (FA) says that it and its chubby brother, the Franchise Disclosure Document (FDD), are the only things you can trust when evaluating a franchise opportunity. The Federal Trade Commission (FTC) says you can't trust them, either.
Note: The PIRTEK franchise is used here as one example, but not necessarily because it's the worst. All companies and individuals discussed here are invited to provide corrections, explanations, rebuttals or alternative views which we will respectfully publish.
(UnhappyFranchisee.Com)  In DEADLY FRANCHISE MYTHS: The Trustworthy Franchisor (Part 1), we told you how important it is to find someone to explain exactly what those hundreds of nearly unreadable pages that constitute the Franchise Disclosure Document (FDD) and Franchise Agreement (FA) actually say.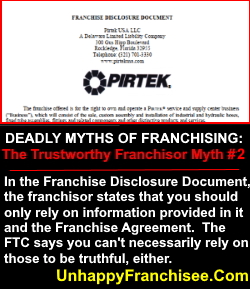 In that post, we pointed out that it's important not to justify accepting overly onerous clauses and provisions because you think the franchisor is a nice guy and wouldn't use them against you… because the guy who takes his place during your term might not be such a nice guy.
As franchisee advocate Keith Miller stated in response to yesterday's post:
…whatever your franchise agreement says is what it will become at some point in time.
Let's up the argument with some more bad news:
Not only should you know and understand what it says in the FDD, but it's up to you to make sure that the representations you are relying on are true.
Let's take a look at two sentences from the PIRTEK FDD and FA and put them in layman's terms.
The Merger and Integration Clause in Franchising
Here is the first one, called the "Merger/Integration Clause" from the PIRTEK Franchise Agreement:
You acknowledge and agree that you have not received any warranty or guarantee, express or implied, as to the potential volume, profits or success of your Business. This Agreement, together with any addenda and appendices, constitutes the sole agreement between the parties…
(If legalese like this makes your brain hurt, you're not alone. Pop some ibuprofen and read on – it's important.)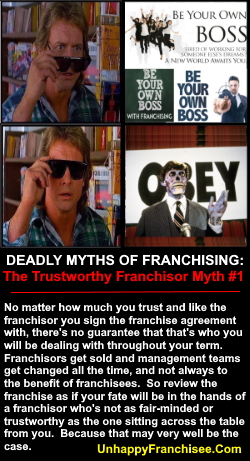 I asked leading franchisee attorney Jerry Marks of NJ Marks & Klein, to explain the Merger and Integration clause in plain English. What it comes down to, according to Marks, is that the franchisor is claiming that nothing the franchisor or the franchisor's representatives tell a franchisee outside of the barely readable and likely unread pages of the FDD and FA, exists from a legal standpoint.
So, if the franchisor told you at Discovery Day that:
you'd become a millionaire and you didn't, or
you'd achieve a certain sales volume and you never got close, or
that no franchisee has ever failed and a slew of them failed, some in your same market, or
that with their franchise you'd be your own boss, control your destiny and call your own shots when in reality you have to buy what they say from whereever they say at the price they determine… and that have no freedom whatsoever…
…you will have a hard time protesting later.
Why? Because by agreeing to the Merger/Integration Clause, you stated that you didn't rely on anything anyone told you other than what's in the pages of the agreement.
Statement Required by the Federal Trade Commission (FTC)
The second statement? Here's what it says in ALL CAPS on the cover page of the PIRTEK USA FDD (as required by the FTC Franchise Rule):
This Disclosure Document summarizes certain provisions of your franchise agreement and other information in plain English. Read this Disclosure Document and all accompanying agreements carefully… Note, however, that no government agency has verified the information contained in this document.
Let that sink in for a moment.
The FTC urges you to "read these documents carefully."
The FTC then states that neither they nor anyone else has read or checked the documents for truthfulness or accuracy.
So what you are reviewing "carefully" is whatever information the franchisor decided to include… at their sole discretion.
Honesty in Required Franchise Disclosures is Voluntary, Apparently.
If the franchisor is not honest and aboveboard, the information they supplied may be false or misleading. There is no one, other than (hopefully) you and maybe UnhappyFranchisee.Com, scrutinizing the accuracy of the franchisor's representations.
Through that mandatory statement, the FTC is requiring PIRTEK USA and other franchisors to tell you, basically, that you are basing one of the most important decisions of your life on the honor system… you are rolling the dice and hoping that the franchisor is, and will remain, honest and dedicated to your success and well-being.
So to review:
The only information and claims that count are those contained in the FDD and the FA, and
The information and claims in the FDD and FA may be wrong or distorted. Nobody's checked.
To make things more uncertain, all your research, due diligence and vetting of the franchisor and its management team could be for naught, as the franchisor you enter the agreement with is not necessarily the franchisor or management team that will have control over nearly every aspect of your business for the term of the agreement.
Franchisors get sold and management teams get replaced… all the time.
Welcome to franchising!
ALSO READ:
What are the Most Damaging Myths in Franchising?
DEADLY FRANCHISE MYTHS: The Hot New Franchise Myth by Sean Kelly
DEADLY FRANCHISE MYTHS: The Trustworthy Franchisor (Part 1)
IS FRANCHISING HIGHLY REGULATED? Top Franchisee Attorneys Weigh In
FRANCHISE DISCUSSIONS by Company
ARE YOU A FRANCHISE FRANCHISOR OR EMPLOYEE?  SHARE A COMMENT BELOW.
TAGS: PIRTEK, PIRTEK Franchise, PIRTEK USA, Glenn Duncan, Jim Lager, Buying a franchise, how to buy a franchise, franchise due diligence, franchise myths, deadly franchise myths,  best franchise, best franchises, franchise, franchise opportunities, franchise complaints, franchise advice, franchise opportunity, franchise complaints, unhappy franchisee, Sean Kelly