CORNWELL TOOLS Franchise Scam or No Scam?
"Eight former Cornwell tool dealers, including David Bachrach, sued Cornwell Quality Tools Company for compensatory and punitive damages, alleging common law deceptive trade practices, violation of Ohio's Business Opportunity Law, fraud, fraud in the inducement, consumer fraud, negligent misrepresentation, and breach of fiduciary duty.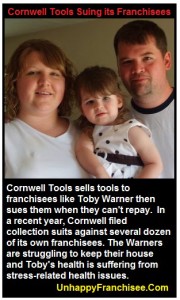 "The former franchisees brought class action claims in Summit County Common Pleas Court as representatives of a proposed class of nearly 500…
"The plaintiffs (eight former Cornwell tool dealers) have alleged that:
(1) Cornwell's trade practice is to draw the plaintiffs and others into Cornwell's sham enterprise;
(2) in the sale of a business opportunity to plaintiffs and others, Cornwell has not acted in conformity with the Business Opportunity Laws of Ohio;
(3) Cornwell committed fraud and fraud in the inducement in obtaining the franchise agreements from plaintiffs and others through material misrepresentations designed to greatly distort the risk involved in the franchise;
(4) Cornwell committed consumer fraud in connection with the sale of services; (5) Cornwell negligently misrepresented facts regarding the likelihood of success of the franchise to the damage of plaintiffs and others;
(6) Cornwell breached its fiduciary duty to its franchisees; and
(7) Cornwell acted with reckless disregard of its franchisees' rights and well being. All of these claims stem from the formation of the contract and the contractual relationship whereby plaintiffs became franchisees of Cornwell. "
Source:  Bachrach v. Cornwell Quality Tool Co., (Ohio 2011)
The court determined that the matter was to be settled via private arbitration – so the proceedings and outcome may never be made public.
ARE YOU FAMILIAR WITH THE CORNWELL TOOLS DEALER FRANCHISE OPPORTUNITY?  IS IT A GREAT FRANCHISE OPPORTUNITY, A FRANCHISE SCAM OR NEITHER? PLEASE SHARE YOUR OPINION BELOW.
Contact the author or site admin at UnhappyFranchisee[at]gmail.com.