Christine Johnson, General Counsel, Dickey's Barbecue Restaurants, Inc. (DBRI)
Christine Johnson, General Counsel of the Dickey's Barbecue Pit franchise company, coordinates and orchestrates litigation against Dickey's franchise owners.  She not only oversees a formidable in-house legal department, she developed the Store Transition Program that accounts for the remarkably high number of Dickey's franchise ownership transfers each year.  So effective is Johnson's store transition team, numerous franchise stores are transitioned through as many as three or more owners before they permanently close.
(UnhappyFranchisee.Com)  Christine Johnson is the General Counsel for Dickey's Barbecue Restaurants, Inc. (DBRI), the franchisor of Dickey's Barbecue Pit restaurants.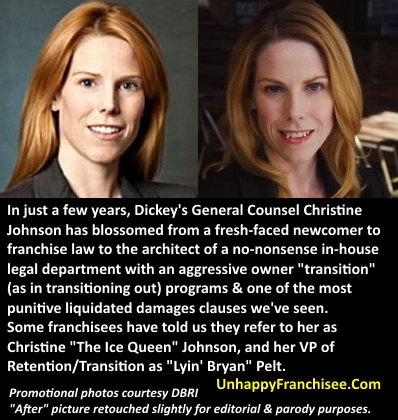 Christine Johnson has built up a formidable in-house legal department which currently has four attorneys on staff, including Matthew Frizzo, Brandon Jones, and Robert Wilson.
Tabatha Anderson is listed as Senior Legal Assistant/Transitions at Dickey's Barbecue Restaurants, Inc.
Jes Alexander is listed on LinkedIn as Deputy General Counsel & Compliance Counsel for DBRI since June, 2014.
Christine Johnson lists the formation and oversight of the Dickey's Store Retention/Transition Program as one of her professional achievements.
That program is headed by VP Retention/Transition Bryan Pelt who oversees a staff (according to LinkedIn) that includes Scott Musch, Jonathan Stanley and others.
The Dickey's retention/transition team reportedly works with Christine Johnson's legal team to keep franchise stores from closing and finding creative ways to motivate other franchisees and current and former franchisees to take over failing stores.
Christine Johnson's legal team also handles human resources issues that arise in the high-turnover Dickey's corporate workforce.
According to inside sources, Christine Johnson's legal department is extremely proactive in demanding non-disclosure, non-disparagement and general releases from employees and franchisees, and makes them a requirement for almost everything from severance pay to listing a franchisee's location for sales to receiving a one-page non-itemized category summary of the systemwide marketing fund.
Attorneys who have reviewed these onerous agreements have remarked that they've never seen anything quite like them.
Have you had dealings with Christine Johnson, Matt Frizzo, Bryan Pelt or others in the Dickey's legal and transition teams?  Please share your opinions and observations confidentially either with a comment below or by sending an email (in confidence) to UnhappyFranchisee[at]gmail.com.  Both positive and negative experiences and opinions are welcome.
General Counsel Christine Johnson's Resume & Articles
According to Christine Johnson's promotional information for a panel presentation she participated in on the role of in-house counsel,:
Christine S. Johnson is General Counsel for Dickey's Barbecue Restaurants, Inc., headquartered in Dallas, Texas. Among other responsibilities, Christine manages all aspects of litigation brought by and against Dickey's. She also guides Dickey's through franchise registration, franchise sales and offer compliance, agreement negotiations, and counsels the company on franchisee relationship matters. Prior to taking a position with Dickey's Barbecue, Christine was a Senior Associate with the law firm of Fletcher Farley Shipman and Salinas, LLP where she focused her practice on insurance and corporate defense litigation.
According to General Counsel Christine Johnson's Resume (which is publicly posted with the panel presentation materials)
CHRISTINE S. JOHNSON
[Address Redacted]
BAR ADMISSION
Admitted to State Bar of Texas, November 2003
Admitted to the U.S. District Court for the Northern, Southern, Eastern, and Western Districts of Texas
WORK EXPERIENCE
Dickey's Barbecue Restaurants, Inc.
Dallas, TX
General Counsel, 2014-Present
Assistant General Counsel, 2013-2014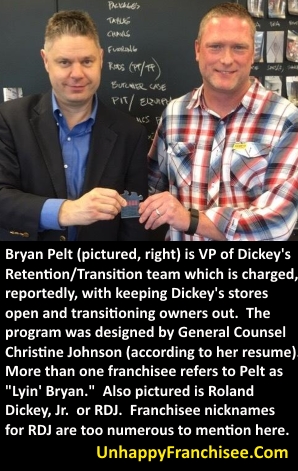 Responsible for oversight and management of the Legal and Retention Departments for rapidly expanding restaurant franchisor. Prepare and maintain departmental budgets, conduct monthly evaluations with personnel, and ensure operational efficiency within the department.
Provide counsel and guidance to the board of directors, CEO, and executive committee on a broad range of issues including: business strategy; litigation strategy; employment matters; franchise regulatory compliance; commercial transactions and disputes; and internal policies and procedures.
Hire and manage outside counsel in litigation brought by and against the company in federal and state courts. Formulate litigation strategies, review billing, and prepare budgets.
Review, prepare, and negotiate a variety of commercial contracts to support the business needs of all departments.
Responsible for drafting and filing annual renewal, and any required amendments, of the Franchise Disclosure Document in compliance federal and state regulations.
Accomplishments during tenure:
Significantly reduced departmental budgets by:  (1) streamlining use of outside counsel and bringing additional legal work in-house;  (2) implementing internal cost savings devices; and  (3) re-negotiating the company's insurance policies and premiums;
Developed and implemented a plan to increase staff and develop standard practices and procedures for the Retention Department, which services under performing and/or transitioning franchise locations; and
Decreased the average turn-around time for legal requests and projects by managing assignments and adjusting staff workload.
Dickey's General Counsel Christine Johnson Shares her Professional Views:
February 26-27, 2015   State Bar of Texas 7th ANNUAL DAMAGES IN CIVIL LITIGATION UNDERSTANDING DAMAGES FROM THE IN-HOUSE COUNSEL PERSPECTIVE
October 27, 2015 · Dickey's Barbecue Restaurants, Inc. Brings Legal In-House
May 31, 2016  THE BENEFITS OF HAVING A FULL, IN-HOUSE LEGAL TEAM
Also read:
DICKEY'S BARBEQUE PIT Franchise Closures, Internal Turmoil Revealed By UnhappyFranchisee.Com
DICKEY'S BARBECUE PIT Closed Location List
DICKEY'S Franchise Owners: Tell DBRI Your Biggest Concerns, Anonymously
DICKEY'S Franchise Owners Share Frustrations & Fears
DICKEY'S BARBECUE PIT Franchise Complaints
Dickey's Barbecue Restaurants Inc. Threatening to Sue U.S. Army Veteran
ARE YOU A DICKEY'S FRANCHISE OWNER OR EMPLOYEE?    HAVE YOU BEEN TREATED FAIRLY BY CHRISTINE JOUNSON, MATTHEW FRIZZO & THE DICKEY'S LEGAL DEPARTMENT? 
PLEASE SHARE A COMMENT, OPINION OR REQUEST WITH DBRI.  COMMENT BELOW OR EMAIL IN CONFIDENCE TO UNHAPPYFRANCHISEE[AT]GMAIL.COM
Christine Johnson, Attorney Christine Johnson, General Counsel Christine Johnson, Dickey's Barbecue Pit, Dickey's, Dickey's legal department,Bryan Pelt, Dickey's franchise owners, Dickey's churning, Dickey's Barbecue Pit Restaurants Inc., Dickey's franchise bullying, Matt Frizzo, Attorney Matthew Frizzo, attorney Brandon Jones, attorney Robert Wilson, Dickey's Barbecue Pit franchise, Dickey's franchise, Dickey's Barbecue Pit franchise complaints, Roland Dickey Jr, , barbecue franchise, barbeque franchise, BBQ franchise