7-ELEVEN Downplays Japanese Ownership
7-Eleven is all over the news recently, as the Feds crack down on the labor practices of local stores and 7-Eleven Inc. cracks down on franchisees it claims are cheating the franchisor by underreporting sales and overstating expenses.
Many of the national news stories refer to 7-Eleven, Inc. as Dallas-based, but never mention that the corporation itself is been owned by a large, Japanese conglomerate named Seven & I Holdings.
Commenters on news sites and blogs frequently refer to 7-Eleven as being American-owned, and often mistakenly refer to it being owned by Southland Corporation.
A visit to the 7-Eleven corporate website might lead one to believe the misperception is not entirely accidental.
The History section of the corporate website spins a uniquely American yarn, complete with black and white pictures,  of how "Uncle Jonny" & Southland Ice pioneered convenience retailing in 1910, and introduced the 7-Eleven brand in 1946.
The history lesson concludes with the statement "Still headquartered in its birthplace city, 7-Eleven remains an active member of the Dallas community."
Somehow, the History section of the 7-Eleven website neglects to mention that 7-Eleven was saved from bankruptcy decades ago by a Japanese company, Ito-Yokado, which gained a controlling share in 1991.
Ito-Yokado formed Tokyo-based  Seven & I Holdings Co. in 2005 and 7-Eleven became its subsidiary.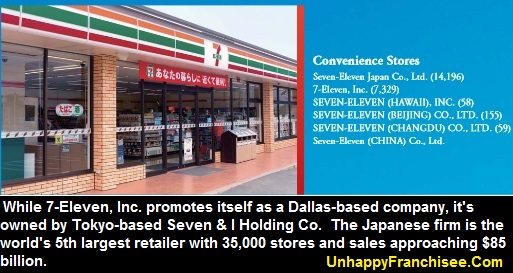 [The graphic, above, is from the Seven & I Holdings Co. corporate profile brochure]
The Fun Facts section of the 7-Eleven website also fails to disclose the company's Japanese ownership.
I guess the fact that the CEO and COO are named Toshifumi Suzuki and Noritoshi Murata respectively is not considered factually fun enough for inclusion.
The Accomplishments and Milestones page includes approximately 168 accomplishments & milestones, two of which mention the company's Japanese owners:
2005 Seven & i Holdings purchases outstanding shares of 7-Eleven, Inc. and takes U.S.-based convenience-store chain private

2006 Seven and i Holdings becomes Japan's largest retailer with purchase of Sogo Co. and Seibu Department stores Ltd.
7-Eleven corporate press releases do not include mention of its Japanese parent company.  Here's the current boilerplate "About 7-Eleven" press release text:
About 7-Eleven, Inc.

7-Eleven, Inc. is the premier name and largest chain in the convenience retailing industry.

Based in Dallas, Texas, 7-Eleven operates, franchises or licenses more than 10,000 7-Eleven® stores in North America.

Globally, 7-Eleven has some 50,000 stores in 16 countries.

During 2011, 7-Eleven stores generated total worldwide sales close to $76.6 billion.

7-Eleven has been honored by a number of companies and organizations recently. Accolades include: #2 on Forbes magazine's 2011 list of Top Franchises for the Money; #3 spot on Entrepreneur magazine's Franchise 500 list for 2012, #3 in Forbes magazine's Top 20 Franchises to Start, and #2 in Franchise Times Top 200 Franchise Companies.

7-Eleven was named No. 3 on Fast Company magazine's 2013 list of the "World's Top 10 Most Innovative Companies in Retail."

Hispanic Magazine named 7-Eleven among its Hispanic Corporate Top 100 Companies that provide the most opportunities to Hispanics.

7-Eleven received the 2010 Retailer of the Year honor from PL Buyer because of the company's private-label brand initiative.

7-Eleven is franchising its stores in the U.S. and expanding through organic growth, acquisitions and its Business Conversion Program. Find out more online at www.7-Eleven.com.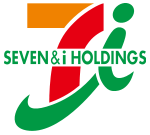 Does it strike anyone else as strange that 7-Eleven press releases mention an accolade from an obscure trade magazine dedicated to private labeling, but fails to mention its company is owned by the fifth largest retailer in the world,with 35,000 stores in approximately 100 countries and sales approaching $85 billion?
7-Eleven franchise owners don't seem to be the only ones acting as if they have something to hide.
Also read:
7-ELEVEN Franchises Raided by DOJ, Homeland Security
7-ELEVEN Franchise Lawsuit Against Franchisee Pursharth Kapoor
7-ELEVEN Franchise Owners Complain, Allege Churning
7-ELEVEN: Is 7-Eleven a Good Franchise to Own?
ARE YOU A 7-ELEVEN FRANCHISE OWNER, MANAGER OR EMPLOYEE?  WHAT DO YOU THINK?  SHARE A COMMENT BELOW.
Tags: Seven & I Holdings Co, 7-Eleven, 7-Eleven owner, 7-Eleven parent, 7-Eleven franchise, Seven & I Holdings Co., Toshifumi Suzuki, Noritoshi Murata, 7-Eleven ownership, 7-Eleven, SEI, who owns 7-eleven, who owns 7-11, 7-Eleven franchise complaints, 7-11 franchise, 7-11 franchise complaints,