1.800.VENDING Complaints:  Have you had any dealings with the 1-800-VENDING business opportunity or 1-800-VENDING vending machines?  Please share a comment about your experience – good or bad – below, as well as advice for those considering investing with 1-800-VENDING.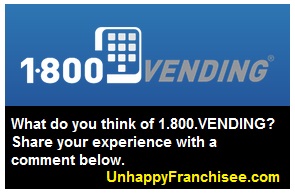 1.800.VENDING marketing – from its website to the Google ads which may be appearing on this page – is impressive.
The bios of founders Michael Burnett and Jeff Marsh are impressive.
The pictures of its headquarters in Kaysville, Utah are impressive.
And the 1.800.VENDING sales pitch is impressive:
1.800.VENDING provides everything you need to successfully establish, upgrade or expand your vending business. Our goal is to provide you with your own "up and running" business from day one. In other words, you don't have to waste time reinventing the wheel. We can assist the beginner to the seasoned operator with a successful business. Let us show you how 1.800.VENDING can help you generate immediate and long-term cash flow!
1.800.VENDING:  A little too impressive?
To a newcomer, 1-800-Vending has a very impressive image.   To those who are aware of the controversial past of 1.800.VENDING and its founders, it might seem a little too impressive.
A little too orchestrated.
For example, if you do a Google search of the term "1.800.VENDING scam" you'll see some red flags:
You'll see that numerous complaints about 1-800-Vending on Rip-Off Report have been sanitized, scrubbed clean and given that cheery endorsement reserved for those, one assumes, who have worked out a financial agreement with the site owner.
You'll see numerous listings for phony blogs (called splogs) that use the terms "1.800.VENDING" and "scam" in their titles, urls, tags and body copy.  This is a common technique used by those who have, or expect, a lot of scam complaints on the Internet.  The intent is to flood Google search results with these sites and posts in order to bury legitimate scam warnings or complaints.
Be wary of those who "Splog."
Here are a trio of suspected "splogs" that appear to be designed to dilute search engine results for the terms "1-800-Vending Scam," "1-800-Vending Complaints," and "1-800-Vending Ripoff," respectively:
1800VendingScam.Com
1800VendingComplaints.Com
1800VendingRipoff.Com
Each of the URLs are registered to a "private party" using a premium ownership masking service (Hmmm… wonder who owns these?).  Each of the supposed blogs uses the offending term in its url, title and as a keyword in the single awkward article that appears on the site.  The blogs are so phony the authors didn't even change the generic WordPress sample posts (Hello World!).
While there's nothing illegal about splogging, it is certainly a red flag that a company would need to manage its reputation in such a fashion.
"We are seriously considering laying the stupid machine on the tracks and watching a train obliterate the *** thing"
Despite the suspected Internet countermeasures, some complaints have snuck through to the top page of Google.  On ComplaintsBoard, Norman wrote:
I cannot explain how much of a HEADACHE our experience has been with 1-800-VENDING. There are railroad tracks across from our business and we are seriously considering laying the stupid machine on the tracks and watching a train obliterate the *** thing. The machine didn't work from day 1, and trying to get customer service that was actually helpful was impossible. We were sent various parts, chips, circuit boards… NOT worth the headache it's caused. The company's communication has been terrible, we've gotten jerked back and forth and given the run around for weeks now… Don't go with 1-800-vending! Not worth the headache!
Sins of the Past:  Turnkey Vending, FTC & Connecticut Legal Actions
According to Wikipedia entry for the 1-800-Vending opportunity, founders Michael Burnett and Jeff Marsh seem to have a good reason for covering their Internet tracks.  Prior to 1-800-Vending, the partners founded and operated Turnkey Vending.  In 2003, the Federal Trade Commission (FTC) sweep titled Project Busted Opportunity led to the U.S. Government filing a complaint alleging that Turnkey had operated a fraudulent business opportunity.  The FTC filed a permanent injunction against the company and its founders.
When the dynamic duo started fresh with a new entity and name (1-800-Vending), it seems they hadn't abandoned their scurrilous ways.  According to Wikipedia:
After Turnkey's dissolution, the two men founded 1.800.Vending. The latter has been fined by the State of Connecticut. Specifically, the agency accused the defendants of 'misrepresenting its prior Connecticut business opportunity sales activity' and alleged that the company's disclosure documents:

failed to include financial statements as required by law;
failed to make adequate disclosure concerning 1.800.Vending, Inc.'s affiliates and predecessors;
failed to describe in sufficient detail the employment histories of Michael S. Burnett and Jeffrey L. Marsh;
failed to adequately set forth the risks involved in the business opportunity venture;
lacked sufficient information on the employment and disciplinary histories of 1.800.Vending, Inc.'s sales representatives; and
did not mention the fact that purchaser-investors might have to pay retailers for the use of space for the purchaser-investors' vending machines.

The State of Connecticut also accused the company of "making earnings claims on its web site without including documented data to substantiate such claims and disclosing such data to prospective purchaser-investors at the time such representations were made."

Despite its legal difficulties, the company remains in business today, spending large sums on advertising. It is one of the first sponsored links to appear in the results when a Google search is done on vending-related topics.
WHAT DO YOU THINK?  IS 1-800-VENDING AN HONEST COMPANY THAT LEARNED ITS LESSON?  ARE MICHAEL BARNETT AND JEFF MARSH "THE TWO MOST APPRECIATED MEN IN VENDING" LIKE THEIR WEBSITE STATES? 
SHARE A COMMENT BELOW!