Critics of The UPS Store franchise claim that UPS has turned franchise owners' locations into glorified "drop boxes" and unfairly compete with them directly.
Many feel that UPS intentionally undercuts franchisees' business by offering customers the option of printing their own labels, then dropping their packages off at The UPS Store locations.
The franchisees do not get a cut of the shipping revenue, provide tape and supplies at their cost, and only get a nominal amount for the drop-off packages.
Brown Fool wrote:
UPS only thinks of their bottom line.  They do not care if the stores sink or swim. They continually compete against their own brick and mortar stores.  And God help you if you ever get audited… My husband and I wondered how they can run so many training classes with so many people in each class. We now know – they are stealing from honest hardworking people to line their own pockets.
Current UPS Store Owner wrote:
I feel myself sinking and can't seem to get out of this hole! I was just informed about another "required upgrade" that isnt really something I need and is going to cost me $550 that I dont have to spend on it. I am always fighting with UPS to make a buck with their corp accounts! How is this fair??!?! How is it legal???
Ralph wrote:
I owned a UPS Store for 4 years… and never made a dime. I finally had to close it down… and file bankruptcy…. UPS undercuts the I-ship rates by 50% when businesses open an account with UPS and use the worldship software. How can we stay in business when UPS competes with its own stores by offering lower shipping rates.
Other critics of The UPS Store franchise claim that the business model is severely flawed, and few stores will ever turn a profit.  Nevertheless, UPS continues to aggressively market its franchise opportunity.
UPS Store Franchise Articles: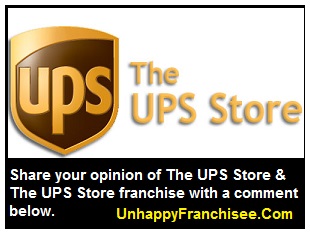 FRANCHISE DISCLOSURE DOCUMENT FDD: The UPS Store 2015 – Free Download
THE UPS STORE Franchise Complaints
Are THE UPS STORE Franchise Owners Cheating UPS Customers? Franchisee Lawsuit Says Yes.
THE UPS STORE Franchise Warning: It's a Scam Claims Franchisee
Are THE UPS STORE / MAIL BOXES ETC. Franchise Owners Happy?
How Much Do UPS Store Franchise Owners Make?
THE UPS STORE Franchise Owners Lose MBE Lawsuit
UPS STORE, MAIL BOXES ETC. Franchisees File Class Action Suit
FRANCHISE DISCUSSIONS by Company
ARE YOU FAMILIAR WITH THE UPS STORE FRANCHISE OPPORTUNITY? SHARE A COMMENT BELOW.