CHERRYBERRY Franchise Closure: Claremore, Oklahoma
The CherryBerry frozen yogurt franchise location in Claremore, Oklahoma rang in the New Year with a sad message.
"Effective today, CherryBerry Claremore is closed" said the January 1, 2013 Facebook posting.
"Thank you for the loyal customers, unfortunately we needed more.  It's a business decision we needed to make."
The Claremore, OK CherryBerry reportedly opened October, 2010.
Facebook photos of happy customers and lively events at the Claremore, OK CherryBerry go back to June, 2011:
Youth Group outings.
Birthday parties,
Halloween parties.
Cheerleading fundraisers.
Lots of family & community events.
But in the end, it wasn't enough to financially sustain the business.
It's a situation that other CherryBerry frozen yogurt franchise owners, many of whom are pouring their hearts, souls, and finances into their franchises, are encountering.
Fellow franchisee Candace Wright, who recently closed her Derby, OK store, stated:
When people are watching their money, they feel it is more important that they are feeding their family food and not a novelty product.
[Read about the Derby, OK CherryBerry franchise closing here:  CHERRYBERRY Franchise Closes, Cites Poor Sales ]
Beautiful Brands Still Selling CherryBerry Franchises Despite Closures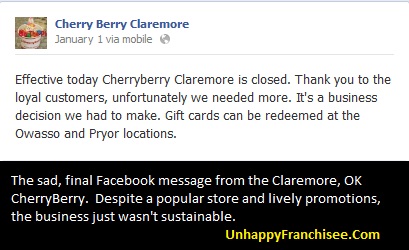 To read the Beautiful Brands corporate press releases so faithfully printed by industry trade magazines and fawning Tulsa newspapers as news stories, one would never suspect that CherryBerry and other BBI franchises have any failures whasoever.
QSR magazine did not mention the recent Cherryberry store closings in Conroe, Clear Lake or Pasadena, Texas, Blue Springs or Springfield, MO, or Derby, Sand Springs or Claremore, OK in their recent glowing article on BBI's record 2012 franchise sales:
Despite an economic slowdown and lagging growth forecasts for 2013, Beautiful Brands International (BBI), a Tulsa, Oklahoma–based fast-casual restaurant company, is posting record franchise unit sales and store openings of its franchised brands for 2012. This includes a record-breaking 24 units opened in the fourth quarter.

"Despite the downturn economy, our brands are performing beautifully and experiencing explosive growth every day," says David Rutkauskas, BBI founder and CEO.
As we have seen too often, the media is quick to applaud aggressive franchise sales results, but rarely reports when those sales turn into personal financial tragedies a year or two later.
UnhappyFranchisee.Com extends its condolences and best wishes to the owners and staff of the Claremore, OK CherryBerry.
ARE YOU A CHERRYBERRY FRANCHISE OWNER OR FRANCHISEE?  ARE YOU FAMILIAR WITH THE CHERRYBERRY FRANCHISE OPPORTUNITY OR BEAUTIFUL BRANDS?  SHARE A COMMENT BELOW.
TAGS: CherryBerry, CherryBerry Frozen Yogurt, CherryBerry franchise, CherryBerry Frozen Yogurt Franchise, Froyo, Froyo franchise, Frozen Yogurt franchise, Beautiful Brands International, Dallas Jones, Robyn Jones, David Rutkauskas, franchise failures, franchise closures, franchise graveyard, Unhappy Franchisee, Claremore OK