Is 7-Eleven a good franchise to own?
We don't know.  In fact, we don't even understand how their unique franchise arrangement works.
So we're asking 7-Eleven franchisees to explain how the franchise works, and whether they think it's a good franchise opportunity.
7-Eleven franchise owners, please answer some or all of these questions by leaving a comment or comment below:
What is the financial arrangement franchisees have with 7-Eleven, Inc. (SEI)?
What do franchisees pay for?  What does SEI pay for?
What are the advantages of this arrangement?
What are the disadvantages?
What are your greatest frustrations with SEI?
If you had it to do over again, would you become a 7-Eleven franchise owner?
Why or why not?
What should every prospective 7-Eleven franchisee know before signing up?
Thanks for your comments!
Are 7-Eleven franchisees really business OWNERS?
Some of the increasing numbers of unhappy 7-Eleven owners say the 7-Eleven franchise is like buying a low-paying job.
Others say it's worse.
Alex wrote:
This is how it works they split 50% percent of everything you make.  So pretty much after the split, payroll expenses, maintenance fees, taxes and the list goes on and on… you only make the hours you put in, so say you work 50 hours a week multiply $10 an hr x 50 = 500 x 4 weeks you could make only that 2k a month and if your lucky and 7 eleven decides to give u a good month profit then you can make a couple more g's or else u can also go negative.

I realized with this company it's all about luck not how hard you work or how smart you are. They don't know shit and don't do shit to help you make money but waste money.  It's bad enough we deal with the store 24/7 but dealing with the consultant who comes every week to help to supposedly help improve sales is the worst part of the week and If you don't get along with them too bad bc his boss is just like him/her.

If you complain all they say is to sell your store.  That's the worst thing someone can tell u after u invested over 250k with them…
Roti Kapda Makan wrote:
I wouldn't recommend buying a 7-Eleven franchise.

My reasoning is that they do not allow a franchisee to grow within the system, regardless of having money. the typical ROI is almost 7 years on brand new stores, vs Goodwill stores (running stores) it is almost 4-5 years depends on what kind of premium you pay.

Back to the growth. I had one store for almost 2 years now. I am now approved to buy one more stores, but what sucks is, what if I want 3 stores or more, too bad so bad, 7-Eleven will not approve that. The approval rate to buy more stores is they say 6 months, but it ends up being 1.5 years. And brand new stores are bad investment, because of unknown sales and the Roi.

In conclusion a person does make money, but it is very hard to grow with this business in CA. Dallas, and Florida, however has better opportunity. One would pay anywhere from 400K to 700K in So. Cal for a Store vs in TX or FL one would pay 100K -300K for a very good store.
fukifuki wrote:
Oh well, my friends do not think about buying a 7-Eleven franchise. I am with them and had a really bad time through the years. We work hard and bring the business up but sorry man we did not get paid accordingly.

Their share is fix, their accounting system the worst i ever experienced.  Sorry to say but just do your own job, if you are getting 9.00 an hour please do not think about buying this franchise.
7-Eleven Franchisee wrote:
I first started with 7 Eleven as a corporate employee, supporting franchise and corporate stores…

I always heard franchisees complain about SEI [Seven Eleven, Inc.]. Saying they stole money from franchisees, they were paying more for product and the list goes on. Then I became a franchisee. Boy were they not kidding. SEI is a big scam. They take 50% of your gross profit dollars. Yes you do not pay rent, you do not pay electricity, heat and ac. But boy you loose your life! Believe me I did…

If you are truly considering a SEI franchise, just look at the franchise agreement it is over 300 pages long. Every thing is covered you can not beat them. They will fight you every step of the way. Just be careful. I am trying to help you!
Also read:
ARE YOU A 7-ELEVEN FRANCHISE OWNER OR EMPLOYEE?  PLEASE SHARE YOUR OPINION OF THE 7-ELEVEN FRANCHISE BELOW.

TAGS: 7-Eleven, SEI, 7-Eleven franchise, 7-Eleven franchise complaints, 7-11 franchise, 7-11 franchise complaints, Seven Eleven franchise, franchise complaints, 7-Eleven franchise cost, 7-Eleven complaints, 7-11 complaints
The grassroots New York No 7-Eleven protest group is hosting its second Bodega Walk today from noon – 1 pm.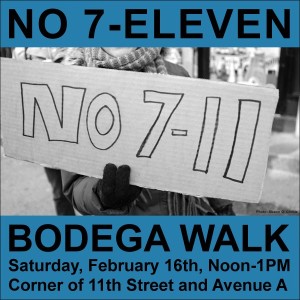 The Bodega Walk is launching from the 7-Eleven construction site at 11th Street and Avenue A.
The No 7-Eleven group protests are in response to the announcement that 7-Eleven plans to open 100 new stores in Manhattan by 2017.
The group is taking to the streets to spread awareness both to New York inhabitants and to the owners of local bodegas who are unaware of the plans.
[Image source:  No 7-Eleven Facebook page]
NYU News quoted Liberation Iannillo, the social media strategist of No 7-Eleven:  "The purpose of the bodega walk is to connect with the people and businesses in our community and make them aware 7-Eleven is planning a strategic, corporate takeover of our neighborhood."
Iannillo claims that 7-Eleven openings "choke out local convenient stores, bodegas and delis, and have a negative impact" on the character of New York neighborhoods.
No 7-Eleven launches grassroots, social media campaign
No 7-Eleven has launched an aggressive anti-corporate campaign, establishing both a FaceBook page and Twitter account.
According to the No 7-Eleven FaceBook page:
'No 7-Eleven' is a grassroots campaign by New Yorkers taking a stand against the increasing flood of chain stores like 7-Eleven which threaten to undermine the free market, damage the local economy and whitewash the character of our communities.

"7-Elevens are boring. They are bland. They are not New York. They are Pringle-izing our population." – Bob Holman, founder of the Bowery Poetry Club

To Pringle-ize: 1. To treat citizens like consumers. To commodify humanity so we fit in a tube.
The group is also taking to the streets, hosting Bodega Walks every two weeks, distributing flyers, press releases and anti-7-Eleven stickers for display in neighborhood stores.
But aren't 7-Eleven franchisees small business owners too?
The group acknowledges that 7-Eleven stores are owned by franchisees, who are also small business owners.  However, they still operate under the control, direction and homogenized branding of the franchisor corporation.
According to the NYU news story covering the first walk:
…Robert Galinsky, a bodega walk organizer, said although each store may be independent, they are still under the guise of a larger corporation, which causes a disconnect with the store and local community.

"During Hurricane Sandy, the bodegas were open and giving away coffee and giving away food," he said.  "The 7-Elevens were closed. It's part of that corporate mentality, 'We better check with corporate headquarters to find out.' When you have an individual bodega, you check with yourself, you check with your heart, you check with your community. That's what this is about."

Eileen Myles, another organizer of the No 7-Eleven group and NYU English professor, further explained how franchise stores undermine a community.

"They don't stand with the neighborhood on summer nights or in disaster," she said. "They don't hold your keys for friends, give you credit, know you and your pet for years … Bodegas and their employees are our neighbors and our friends."
7-Eleven director of corporate communications Margaret Chabris fired back at the Sandy criticisms, pointing out that it was 7-Eleven – not local bodega owners – that contributed $450,000 to Hurricane Sandy disaster relief.
Plus… local bodegas don't have SlurpeesTM or Big GulpsTM.
And wasn't it the price gouging, limited hours and selection, cleanliness and service issues that prompted the rise of chain c-stores in the first place?
In the end, consumers will vote with their wallets as to whether they value consistency over character.
Which do you think will win the hearts and minds of neighborhood New Yorkers?
Also read:  7-Eleven Franchise Complaints
WHAT DO YOU THINK?  DO 7-ELEVEN FRANCHISES DESTROY THE CHARACTER & SOCIAL FABRIC OF URBAN NEIGHBORHOODS? 
OR DO THEY PROVIDE THE CONSISTENT, EFFICIENT SERVICE CONSUMERS PREFER?
PLEASE SHARE A COMMENT BELOW.
TAGS: 7-Eleven, 7-Eleven franchise, 7-11, 7-11 franchise, 7-Eleven franchise complaints, 7-Eleven protest, No 7-Eleven protest, No 7-Eleven Bodega Walk, No 7-Eleven group, 7-Eleven New York, 7-Eleven New York Franchises, convenience store franchise, 7-Eleven franchisee, 7-11 franchisee
7-Eleven franchise owners are invited to share their complaints, frustrations and advice with prospective franchise owners below.
UnhappyFranchisee.com believes that no franchise system is perfect, and that it benefits everyone when new franchisees sign on with realistic expectations and advance knowledge of the challenges and frustrations they may face.
7-Eleven franchise website promises its franchisees world-class support:  "Because we want you to spend your time operating your store and growing your business, we provide you with a level of support that is not just among the best in the convenience store industry—our support goes above and beyond, setting standards for franchises across all industries."
7-Eleven franchise website boasts that it provides support by sending a business consultant to each store twice per week:
In order for 7-Eleven® to be successful, you have to be successful. That's why we provide a personal Business Consultant to help you with all the challenges involved with running your own business.

We provide personal support to help you succeed

What are Business Consultants?

A Business Consultant is a 7-Eleven employee assigned to your store and who visits your store twice a week.

Here are just a few of the things your Business Consultant can do for you:

Assist in the development of budgets and business plans for your store
Provide advice, coaching and assistance on how to improve the business
Assist with the analysis of your store's sales data
Provide continual training and guidance on our ever-improving system
Promote efficiency to help maximize your store's profitability
7-Eleven named the #1 franchise in Entrepreneur magazine's 2011 Franchise 500. (See the UnhappyFranchisee.com discussion here: Top 100 Franchise Opportunities 2011: Behind The Hype) and has now been named the #3 franchise in Entrepreneur magazine's 2012 Franchise 500 as well.
Are the accolades well-deserved?
Does 7-Eleven provide the training, support, marketing and systems it promises?
Is 7-Eleven genuinely dedicated to the success of its franchise owners? 
Please share a comment, opinion or insight below.
ARE YOU FAMILIAR WITH THE 7-ELEVEN FRANCHISE?  WHAT COMPLAINTS DO 7-ELEVEN FRANCHISEES HAVE?  PLEASE SHARE A COMMENT BELOW.