Real Estate Worldwide (REWW) potential students and investors are being warned by a "victim" of a previous venture:
"Run the other way – fast."
(UnhappyFranchisee.Com) Words of warning about multilevel marketing startup Real Estate Worldwide (REWW) were issued by a franchise investor named Blake Warrington.  After attending a sales presentation at founder Jim Piccolo's mansion, he signed up for Piccolo's former venture, the Bizzibiz franchise program.
A year and a half later, the Bizzibiz franchisees have been all but abandoned and Jim Piccolo is now pitching multi-level marketing-driven real estate seminars and real estate investments through Real Estate Worldwide (REWW).
The office address for the "West Coast Headquarters" of Real Estate Worldwide (REWW) is 8502 E. Princess Drive, Suite 200, Scottsdale, AZ 85255.  Not coincidentally, that used to be the address of the Bizzibiz franchise headquarters until October, 2012 when a web designer was named CEO and Bizzibiz became "virtual" (in other words, homeless).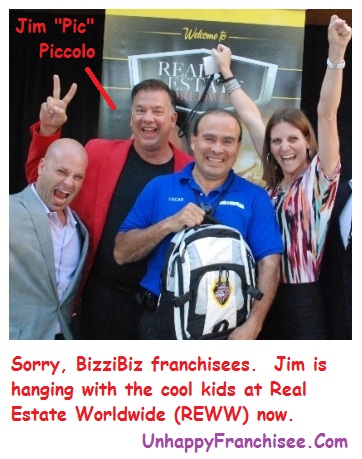 Blake Warrington wrote:
… there has been zero correspondence from Mr. Piccolo for several months now and I only learned from using Google Alerts that Mr. Piccolo had recently started another business venture. I could not believe this.

In essence, as far as I can tell since I have not heard anything, Mr. Piccolo has simply walked away from the sinking (sunk?) ship of BizziBiz without one word being said to the franchise owners – or at least to this one.

This shows a complete lack of ethics, integrity, responsibility, both personally and from a business standpoint, by Mr. Piccolo, and I would not trust a word he says.

In closing, I consider BizziBiz, Mr. Piccolo, the majority of the management team, and several of their employees to have completely failed on almost every level and they have bold-faced lied and hurt many people.

I would never do business with Mr. Piccolo, along with certain other people like Marc Gleeman who had a big hand in the day to day operations and overall problems of BizziBiz.

If anyone is reading this and considering joining his new Real Estate World Wide (REWW), I would highly suggest to run the other way – fast. If trouble starts to happen, as it always does with most businesses, especially new ones, then Mr. Piccolo may simply take the money and run.
It is not difficult to find similar complaints for Mr. Piccolo's previous ventures either.  Before he started Bizzibiz, Jim Piccolo ran an earlier incarnation of REWW, a real estate seminar and investment scheme called Nouveau Riche University.
Back in July, 2011, Justin Dallas wrote:
Justin Dallas

4:41pm on July 10th, 2011

Nouveau Riche has crashed and burned as Jim Piccolo has turned his attention to his new business, bizzibiz.com. I don't know anything about Bizzibiz.com, but I do know that Jim Piccolo does not honor his commitments. He has not fulfilled his requirements in his purchase agreements, he has not refunded any of the money, he has stiffed instructors not paying them their money and he has moved his staff into his new business location at Bizzibiz so that no one can reach him or any NR staff…

Do not do business with this man. He has taken so many people's money and run. I don't know anything about the new business, but I know I would feel comfortable telling everyone I know to run from ANY business he is involved with. There are many people trying to sue him and NR, and talk of a class action lawsuit. Don't be one of the people he has taken.
According to its marketing propaganda, Real Estate Worldwide (REWW) is led by CEO Kent Clothier, founder of MemphisInvest.com, who has "assembled a 'Dream Team' among the whose who in direct selling with founders Brent Payne, Michael Hamburger and Heather O'Brien," as well as Jim Piccolo and his wife Mary Piccolo.
According to a recent press release: "Jim Piccolo is helping to bring MemphisInvest.com's proven real estate investment systems and tools to real estate investors worldwide. 'We have the answer for many entrepreneurs and real estate investors looking to rise above the economic crisis and rebuild their life's dreams and America,' said Piccolo."
Jim Piccolo's detractors might caution that Piccolo's previous ventures caused the personal financial crisis many of them suffered, and are the reason their life's dreams need rebuilding.
As always, UnhappyFranchisee.com cautions:  buyer beware.  Do your homework, ask hard questions, and make up your own mind.
Read these recent posts:
JIM PICCOLO Blames Bizzibiz Failure on Lazy Punks
BIZZIBIZ Franchise Founder Jim Piccolo Defrauded 105 Investors, Says AZ
BIZZIBIZ Bizzi Biz Franchise Goes Bust, Declares Bankruptcy
Please share a comment, insight or update below.
ARE YOU AN FAMILIAR WITH BIZZIBIZ, JIM PICCOLO, REAL ESTATE WORLDWIDE (REWW), KENT CLOTHIER, HEATHER O'BRIEN, BRENT PAYNE, MICHAEL HAMBURGER OR MARY PICCOLO?
PLEASE SHARE A COMMENT BELOW.
ALCO-BUDDY Breathalyzer Vending Complaints:  Have you had any dealings with the ALCO-BUDDY Vending business opportunity or ALCO-BUDDY breathalyzer vending machines?  Please share a comment about your experience – good or bad – below, as well as advice for those considering investing in the breathalyzer vending business.
(Unhappy Franchisee) ALCO-BUDDY breathalyzer vending program seems like a decent opportunity to make a supplemental income while helping (in theory) to reduce the problem of drunk driving. 
Alco-Buddy sells breathalyzer machines to opportunity seekers who then place the wall-mounted units in bars, nightclubs, VFW halls, comedy clubs and anywhere else people intoxicate themselves.  For an average of $1.00 to $4.00, buzzed patrons can blow into the Alco-Buddy tube and get their blood alcohol level reading.  The machines include a disclaimer that the service is for novelty and entertainment purposes only.
It's not clear whether more money is to be made from responsible drivers who want to check their actual impairment level, or rowdy college students competing to see who can get the drunkest.
Alco-Buddy sells the machines at pricing based on volume, starting with about $1889 for a single machine, $1449 each for 2 machines or more and as low as $999 each for 250 machines or more.
There are not a lot of complaints about Alco-Buddy on the Internet, especially compared to other vending business opportunities.  the two types of complaints we've found were 1) pricing related and 2) operationally related.
Alco-Buddy machine pricing variations can cause problems.
On the website ivouch.com, a very pissed-off Ronny P. wrote:
I bought a Alco-buddy back on February 4th 2011, I was burned out of $1000, the guy Robert told me that I had to hurry up and buy the machine because they where going to cost more, but in reality they only cost $999 each, I've been on at least 10 other sited that have info on franchise businesses and they all say it only cost $999 to start, they called themselves running a March promotion, where you get two machines for the price of one, I paid $$1899 for only one, watch these guys!!! they are out to get you, it is very hard to place the machines yourself, so you will have to pay a locator a fee from $150-300 per machine to place your machine for you, Alco-buddy has a 7 day money back guarantee, so if you decide that it's no working for you, your pretty much out of the money you spent, they say they have ongoing support, it's only for the 7 days, after that they treat you like crap…watch out
To their credit, an Alco-Buddy representative responded professionally to the online complaint, but Ronny has a point.  If customers buy a single machine for nearly $1900 then see a special for $999 for the same machine, they are going to be pissed even if the special ended.  Additionally, there are some big price variations across the Internet.
Recently, a "Brand New Alco-Buddy Breathalyzer. EVERYTHING INCLUDED" sold on eBay for only $400 + $45 shipping.  There are currently 10 listed at the fixed "Buy It Now" price of $600 each + $50 shipping.
The Alco-Buddy company itself appears to be selling single machines on Craig's List for $1499, $400 less than they sold to Ronny.
Alco-Buddy operational complaints.
On the Breathalyzer Secrets Forum, Friday, 22 April 2011, Kevin Melanson wrote:
…I purchased an Alco-buddy and am having some issues with it. After fixing the LCD screen it is not calibrating correctly. It says the user is blowing a .02-.04 when they are not even drinking…
Also on the Breathalyzer Secrets Forum, Jake wrote:
I am about to base ball bat my alco buddies… I spent thousands on 10 machines almost a year ago and they work like crap. Their customer services says someone must be blowing liquid in the sensor and they sell me more sensors. Come to find out that semi conductor sensors do not function in smokey bars or busy bars with alot of cocktails floating aroud. Baiscally, anywhere worth placing a machine is not going to work… If only I can sell the alco craps and get some of my money back so I can by more boozelators I think I can actually have a good business going here.
In Alco-Buddy's defense, the guys who run the Breathalyzer Secrets website use Alco-Buddy machines in their Good Night Vending business and speak pretty highly of them.  If you are thinking of getting in to the breathalyzer vending business you should check out the Breathalyzer Secrets forum and probably pop for their $27 eBook which covers a lot of the practical and legal aspects of the business.  Check it out at Breathalyzer Secrets.
ARE YOU FAMILIAR WITH THE ALCO-BUDDY VENDING OPPORTUNITY OR OTHER BREATHALYZER VENDING MACHINES?  PLEASE SHARE A COMMENT BELOW.
Our earlier post SIGNWORLD Complaints contained excerpts of comments (from complaint site Ripoff Report)
critical of the Signworld business opportunity, its founder and president Ken Kindt and Signworld VP of Sales Jack Werner.
On the same forum, Jack Werner, a former Signworld operator, fired back at his anonymous critics.  Werner defended Signworld's claims that its business opportunity has an extremely low failure rate, stating:
I joined Signworld as an operator in 1995 after doing a lot of my own careful due diligence… I did honestly break even, cash on cash, my first month in business, and wrote my first paycheck to myself in my sixth month after letting the businesses cash reserves build up. I ran my business for 10 years before successfully selling it for many times what I paid for it and I then joined Signworld's corporate staff because I strongly believed in the business model.

I do know of others that broke even, cash on cash, in their first month, some that broke even in their second, third, and fourth month, most broke even around their sixth or seventh month, and for some it took longer. Believe it or not, we actually did have an owner who did break even his first week in business. But that was a true testament to the hard work that owner put in securing a large order before his doors were even open. It is an owner driven business. Some people just "get it" sooner than others do.
It is impressive that Jack Werner has experience as an owner operator, and that he was willing to publicly address his critics in a professional manner.  However, his claim that one owner "did break even his first week in business" is especially troublesome.
How could an owner making a $183,000 investment "break even" his first week in business?  Did the owner secure this enormous order, collect the money, receive the materials and complete all of the necessary work in the first week?  Jack Werner must surely know that that's what would be necessary for the owner to recognize monies received as income.
Does that mean that this owner maintained profitability since the first week, or that he did well his first week?  How many achieve profitability from Day 1?
Perhaps Mr. Werner – or someone else familiar with this claim – can provide the specifics.
ARE YOU FAMILIAR WITH THE SIGNWORLD OPPORTUNITY?  WHAT DO YOU THINK?  SHARE A COMMENT BELOW.
logo: SIGNworld

SIGNWORLD claims it is a business opportunity, not a franchise.  Others use a different term to describe SIGNWORLD:  A Ripoff.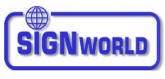 As an alleged business opportunity, Signworld makes bold claims on its website that would be illegal  for a franchise, including lots of attractive earnings claims and promises of "high profit margins" and "high resale value upon retirement" for its $185,000 investment.
But comments on complaint website Rip-off Report are critical of SIGNWORLD, founder Ken Kindt and VP of Sales Jack Werner.  Here are some excerpts:
December 16, 2008, dh from San Antonio, Texas wrote:
…THEY PROMOTE "No previous industry experience is necessary" because SIGWORLD is supposed to reduce the risk of failure. B.S. … It is bad enough that SIGNWORLD sell this lie by building up misleading statements on statistics (never see this in writing though) of low failure rate and cleverly hiding the awful truth of failure. I was told 5% in the 20 year history. I found out it's closer to 40% once I got in and they had my money….

It's a shitty competetive dog eat dog business. Your lucky if your gross profit ends up at 50% with this model…. any one can order the bread and butter business you want online for half the price you can do it for.

One more thing…. CITY REGULATIONS are getting tougher and tougher to put up signs. You basically make a sale and go back and research wether you really have a sale or not…

YOU WILL LOSE MONEY EACH MONTH FOR 2 TO 3 YEARS… it seems about 80% of new owners lose money for 2 or 3 years and they either close up or continue to work without a paycheck. This is true even though you do exactly what SIGNWORLD and Jack Werner said you should do….

MY ADVICE-Rather than wait until your broke……STAY AWAY!!!
December 31, 2008  Anonomous of Ofallon wrote:
They underestimate the capital required for start up. The performa's they provide you with are erroneous….plan on an additional 100k over what they tell you if you want to stay in business. I asked for help trying to sell mine and JW's comment was…"it would be against our best judgement to try and sell a failing business to a perspective client" How ironic!!
January 23, 2009 Rk of Spokane wrote:
…If you feel compelled to spend well over $250K in capital, I recommend that you convert it to dollar bills, pile it up at a camp site, light it on fire, and gather the kids around for a good old fashioned marshmallow roast rather than waste your time with Signworld.

Seriously, if you really want to get into the sign business, just visit a few sign shops and they'll sell to you on the spot. Because the only thing that owner wants, is to get the bloody Hell out of his Signworld mistake…
October 13, 2009 signgirl of newnan wrote:
I work for a signworld company, not saying where, but have been there since the start up…

Ken Kindt sells dreams, and many people have bought it, i wish i could sit down with the man, and ask him how he sleeps at night knowing he has reemed so many people, but you know, people like him would laugh if they read this, because money has taken over ethics and morals.
Be sure to read: SIGNWORLD: VP Jack Werner Fires Back at Critics
ARE YOU FAMILIAR WITH THE SIGNWORLD OPPORTUNITY?  WHAT DO YOU THINK?  SHARE A COMMENT BELOW.
logo: SIGNworld

Unhappy Franchisee is sponsor-supported. Sponsored links:
Have you had any experience with the heavily hyped and infomercialed SMC Specialty Merchandise Corporation business opportunity?  The infomercial stars pitchman huckster Tom Bosley, who was the father on Happy Days.  They boast that you can start a business for only $25 and make thousands your first week or even day.
What do you think?  Leave a comment below.
Here're a few comments from unhappy SMC investors:
I also fell prey. To this very well orginized scam! This is what they pulled on Me. First SMC withheld the starter kit. Till My electronic check cleared, The transaction was complete and posted in My bank. The follwoing day. I received My kit 27 days later. Called to let them know and schedule thier appointment. Three days later they called. Two days after the scheduled date. Then the following day. Smc took another $39.95 out of My account. So I called them they said, 'Don't worry we didn't set Your start date yet'. I was lied to again right then, They did start it The day they cashed the check!. So even when I did cancel My membership. They called My house to inform Me. I still owe them $400.00. I don't think so. They aren not getting another penny from Me. Stay away from this scam company!!!!!!.  John  Round Lake Beach, IL
The 30-day trial is a scam. They start the trial on the date that the ship the membership kit. By the time you get the kit, and finally get your 'business coach' on the phone, you already lost 15 days of your trial time. Then if you want to cancel before the trial is up, they make it a TOTAL NIGHTMARE. You even have to send back the promotional literature, and the catalog. They tell you that your free 'gift card redemption' site will be automatically cancelled but thats not true either. You have to call up eMerchantClub and cancel it manually because they will contiue to charge you $29.95 a month for the stupid, free cookie-cutter site they give you when you sign up.
SMC's entire deal is about selling you a $1,500.00 website that only sells to people who either buy gift card from you, or register on the site and receive a 'free' $10.00 gift card, that of course you have to buy in advance. Either way, you pay. The kicker is that they refuse to give permission for you to build your own website and host it yourself, because they want to charge you $29.95 a month to host the useless $1,500.00 website.
SMC's product line is some of the worst junk I've seen in any mail order catalog. Its all stuff no one wants. If anyone wanted this crap, SMC wouldn't have warehouses full of it.
The testimonials on their website are obviously fake. They actually have different people with the exact, same word-for-word testimonials, bragging about the exact same amount of money they supposedly made over the exact, same period of time. Its like they take the same testimonial, paste it all over the page, and just change the picture.
Our coach was annoying and rude. As soon as she realized we weren't stupid enough to go for the $1,500.00 website, she shut up and wouldn't go any further with us, even after we told her we wanted to do other, non-internet programs that they offer. She actually tried to have us set up another appointment to talk to her a week later, so that our trial period would expire, and we'd be locked into paying the membership for a year. We began the cancellation process immediately.
If you want to make some money drop shipping on the internet, there are lots of drop-ship suplliers out there. All you have to do is some research, and stay away from the ones that offer you a website.  Eb,  New York, New York
WHAT DO YOU THINK?  SHARE A COMMENT BELOW.
Unhappy Franchisee is sponsor-supported. Sponsored links: