CURVES franchise owners don't get a helping hand when they fail. No thank you card or best wishes.   Just legal threats and a demand for tens of thousands of dollars.
Curves has new ownership, but not much has changed in the lack-of-compassion department.
Curves franchise owners who are unable to save their failing clubs (more than half of Curves clubs have failed) still should not expect a helping hand from Curves International.
They shouldn't expect a nice letter thanking them for building the Curves brand, for paying years of royalties, for enabling Gary Heavin to strut like an altruistic peacock on national TV and cash out with an untold fortune.
What they can expect is a legal demand for the future royalties they would have had to pay if they hadn't run out of money and could stay open to the end of their contract.
And they can expect Curves International to tell them they don't actually own the equipment they paid for, and they should return it.
aussie z wrote:
Well I closed my club at the end of June, 4 years prior to the end of my agreement.

I did everything that CI wanted me to do in regards to closing.

I did not give them my equipment or CS [Curves Smart]I figured that I paid good money for it so I will do what I want with it.

I received a letter of demand for $64,000 to be paid within 7 days (what a joke).

I asked them to review this amount as I had no money, I then got another email telling me the figure was now $17,000, again I explained that I had no money and then a month later I got a letter delivered to my home signed by a person I have never heard of in the 6 years I have been dealing with Curves (must be from the new people who have taken over) telling me that I owe $64,000 again.

I sent an email to this person and have not heard anything since, it has now been a month since I received that letter.

I know that this will not be the last I hear from them but they will not be getting a red cent out of me. The restraints they put on you regarding getting rid of the equipment is ridiculous, there is no brand name on the equipment so what right do they have?

If they want my CS they can pay me the $12,000 I paid for it. I will not let CI bully me into anything and I will help anyone else who is being bullied by them. They need to be stopped.

In Australia we have gone from over 400 clubs in 2006 to 283 in 2012 with still many in the process of closing. I think that Curves has run its course over here and I would encourage any owner who has a profitable club to try and get rid of it before its too late. CI are putting to much emphasis on Curves Complete, I personally think it is a rip off. None of the members I had would have been able to afford the $199-$299.

I am so stressless since closing my club BUT I do miss my incredible members everyday.
ARE YOU FAMILIAR WITH THE CURVES FRANCHISE OPPORTUNITY AND CURVE INTERNATIONAL?  SHARE A COMMENT BELOW.
__

CURVES Sold? Gary Heavin Out?
Curves franchise owners and UnhappyFranchisee.com long for the day when we publish that headline with exclamation points instead of question marks.
According to a report by Stuart Goldman on the Club Industry website, Curves International is close to an equity deal with North Castle Partners. 
According to the Curves franchise owners and former franchise owners who have posted more than 1000 Curves franchise complaints on UnhappyFranchisee.com, a deal can't close fast enough.
Speaking of closing fast, more than half of the franchisee-owned Curves U.S. locations have closed in the last few years.  (Read: CURVES: The Rise & Painful Fall of the Curves Franchise Chain)
Curves franchisees complain that they have suffered brutal and callous treatment at the hands of Curves International.  Rather than lending assistance or even compassion, devastated Curves franchise owners complain, the supposedly Christian Curves International turned loose law firm/collection agency attack dogs to demand final payments from failed franchisees.  Curves franchisees were not allowed to sell their equipment, but were forced to return, donate or destroy it by CI.
It's been alleged that Curves management repeatedly rubbed salt in the wounds of their many failed franchise owners. 
As franchisees fought for survival, past-President Mike Raymond told the Wall Street Journal the widespread failures were part of a strategy to "prune" the Curves system. (Read: CURVES Franchise Owners React to Comments That They're Being "Pruned")
When confronted with the high SBA loan default rate from Curves franchise investments, founder and CEO Gary Heavin blamed greedy franchisees and "the overpriced resales of franchises between third parties."
As their franchisees struggled to save their homes and savings and fight off bankruptcy, Gary and Diane Heavin publicized their Christian philanthropy by appearing on the national tv show Secret Millionaire (Gary Heavin on ABC Secret Millionaire: What do CURVES Franchisees Think?)
Curves Sale Negotiations in the "Final Stages."
According to Club Industry:
Curves International, Waco, TX, says it is close to an equity deal agreement with private-equity firm North Castle Partners.

Curves CEO Gary Heavin says negotiations surrounding the transaction are in the final stages.

"North Castle and Curves are working closely together as the investment becomes finalized," Heavin said in a statement released to Club Industry. "We will send out a notice to inform everyone when the transaction is official and follow up with details about upcoming changes shortly after that."

Terms of the pending transaction were not disclosed.

North Castle Partners, Greenwich, CT, is a firm focused on the health, wellness and active living sector. Its investments range from $10 million to $200 million. Included in its portfolio are equipment manufacturer Octane Fitness, Brooklyn Park, MN, and Canadian clubs World Health and Spa Lady.

How the deal would affect the company roles of Heavin and his wife, Diane, who co-founded Curves in 1992, is unknown. Full details regarding any changes in the corporate structure will be released when the deal is finalized, according to the company.
Read all about Curves International here:  CURVES: Curves Posts on Unhappy Franchisee
ARE YOU FAMILIAR WITH THE CURVES FRANCHISE OR CURVES INTERNATIONAL?  SHARE A COMMENT BELOW.
CURVES franchise: Negotiating Curves Closing Fees
Struggling, failing and soon-to-close Curves franchise owners seek information and advice from Unhappy Franchisee on how to handle the demands Curves International is placing on them.    One of the frequent topics is the club closing procedures, and how to negotiate with Curves International in regard to their demands for "failure fees" and often tens of thousands of dollars for "future royalties." (Also called "Liquidated damages")
If you have advice or experience closing one of more Curves clubs, please share your experience below.
From the post CURVES: Robert Lay's Story, here's an exchange regarding the closing fee:
Donna  Submitted on 2009/10/08 at 2:41pm
HELP!!! I have read some of the horror stories listed. I to have to close my club. I can not get anyone to return my calls from CI. I do not know what to do. I have had my club almost 7 years and have paid my dues. I do not have 10,000 dollars. Because of the recession I have to close. I love my members and hate to dissapoint them but I have no choice. The closing packet was sent to me but I'm scared to send it in. Is there any help out there? I have to do what I need to do today. Will they let me out without the 10,000 fee. Has anyone out there been in my shoes. Please someone respond as I need advice and help NOW.
CA ex-owner  Submitted on 2009/10/08 at 8:21pm
We've all been there! Our club has been closed for over a year. We refused to pay the $10,000. They emailed us two more times, first lowering it to $8,000, then to $6,000 – we still refused. Next came a letter from Curves Legal stating we now owed fees for the remainder of our franchise agreement, somewhere in the amount of over $42,000, with a fair amount of scare tactics! (Read our story above: CA Ex-owner on October 16th, 2008) We then sent a letter back to legal, refusing to pay anything and the reasons why. Now I will knock on wood before I say this, but it has been over a year that we sent them that letter and we have not heard a thing yet.

We are not part of the legal action that many of the people above are pursuing, and I'm sure someone will respond on how to proceed in that direction, or direct you to on what other options you may have. Remember, you are not alone, we've all been through this horrible experience. It hardly makes it better, but at least maybe knowing there are so many of us out there, you might feel a little better…
Another Curver Submitted on 2009/10/09 at 12:15pm
Hi Donna.
Like You, I had to close my club. I closed it Feb 28th this year…
Of course I did everything I could to keep Curves International properly informed and I asked them for advice on the best way to proceed…

The one thing they did spell out, there is no "standard" $10,000 fee. At least Not Anymore. They said, if I write a letter asking for a settlement instead of paying all the outstanding royalties and ad fees, then they will put it to a review board and the review board will make a suggestion for a settlement. Then they told me not to write a letter but to hold onto the closing packet.

Well, then they forgot about me for 6 or 8 or 10 weeks. I think it was sometime in May that I got a notice that I owed some $40,000 for the balance of royalties and such…
however, i did inform them that i was filing for bankruptcy. they never asked for the bankruptcy attorneys name or the case number. i am just now filing, so they havent gotten any legal notices yet either.
since then I have not heard one word. it's been what, 7 months since I closed. ridiculous…
i do have another franchise, that i'm struggling to hold onto, and you would think maybe that's why they're giving me some slack…
they are very frustrating but i think they have a backlog of closed cases. i have been told by others (gossip?) that they are understaffed and overworked. of course they're busy with the big lawsuit that "unhappy" is part of it. and all the little lawsuits. i would like to know more about gofigure's lawsuit against them too.
my attorney told me not to worry about any of it, because our state law supercedes whatever was written in the franchise agreement….
Donna  Submitted on 2009/10/12 at 12:21pm
Robert was right on. Settlement from 10,000 now wanting 2,500. And its only been 12 days. I don't close until Oct. 30th. They were also nice and I wouldn't have to pay it until the end of Nov. I wonder If I ask nice they'll say i don't have to give away my equipment to another Curves or destroy it -I can do what I want with it. What do you think?
HAVE YOU SUCCESSFULLY NEGOTIATED CURVES CLOSING FEES?  IS CURVES OR THEIR LAW FIRM HARRASSING YOU FOR CLOSING FEES & DAMAGES?  PLEASE SHARE YOUR EXPERIENCE BELOW.
This post was originally published October 12, 2009 and updated June 20, 2012
Curves, the women-only 30-minute fitness franchise, once boasted it was the fastest growing franchise chain in history.
Curves now has the dubious distinction of probably being the fastest-failing franchise chain as well.
According to the company's franchise disclosure document filings, Curves grew to a record 7,877 U.S. franchise locations in 2005.
Just six years later, the Curves system had fallen to just 3523 clubs.
The women's fitness chain shrunk by more than 50%, a total loss of 4354 U.S. clubs.
Thousands of once-hopeful Curves franchise owners suffered severe personal and financial losses as a result of their failed clubs.
Many who closed prematurely suffered the additional indignity of being harrassed and sued for thousands of dollars in "failure fees" and liquidated damages by Curves International, even after they had lost their entire investments. 
(See more than 1000 comments from Curves franchisees here:  Curves Franchise Complaints.)
Are you familiar with the Curves franchise? Please share a comment below.
Curves Lost More Than 4300 Franchise Clubs in Six Years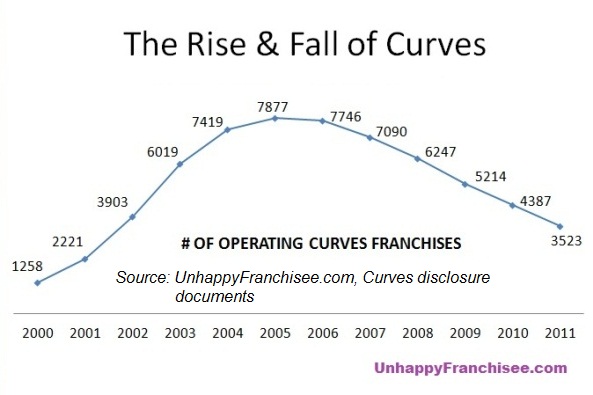 Curves founder Gary Heavin opened the first Curves club in 1992 in Harlingen, Texas, and the first independently owned and operated Curves opened in Paris, Texas, in 1995.  The Curves website currently boasts of its rapid growth, fueled by the personal investments of owner-operator franchisees:
Curves caught on like wildfire and opened clubs at an astronomical rate, sometimes more than doubling its number of locations from year to year. This was all done by word of mouth until Curves launched its award-winning national advertising campaign in 2003. What took McDonalds 25 years and Subway 26 years to do—open 7,000 locations—Curves did in under a decade.
The "History" section of the Curves website does not mention that more than half of those locations would close just as quickly.
Franchisees complain that the company failed to innovate, failed to adapt to the changing economy, and failed to keep women interested in the dated, limited workout.  Many charge that, during its growth frenzy, Curves oversold and overexpanded, selling clubs in hopelessly small, unsustainable markets and allowing franchisees to cannibalize each other's sales.
CEO Gary Heavin Blamed Curves Failures on Greedy Franchisees.
The Curves growth frenzy and subsequent decline spawned a secondary market of Curves "resales," established Curves franchises sold from original or 2nd or 3rd franchise owners to new owners.  When Curves was hot, many owners unloaded their clubs on hopeful new owners for prices that would prove to be exorbitant.  As Curves' struggles became more apparent, many franchisees had trouble selling their clubs at bargain prices as low as $1.00.
CHART: Curves Franchise Resales (Transfers)
Year
Transfers

(Resales)
Difference

from prior year
Total Franchise Outlets
Difference

from prior year
2000
191
 
1258
 
2001
214
23
2221
963
2002
281
67
3903
1682
2003
421
140
6019
2116
2004
729
308
7419
1400
2005
890
161
7877
458
2006
1267
377
7746
(131)
2007
1069
(198)
7090
(656)
2008
792
(277)
6247
(843)
2009
552
(240)
5214
(1033)
2010
379
(173)
4387
(827)
2011
318
(61)
3523
(864)
In comments on the widespread closures, the management of this private and notoriously non-communicative company blame Curves franchisees for the franchise failures. 
In 2009, CEO Gary Heavin was quoted as saying that high SBA loan defaults of Curves franchisee loans were a result of "the overpriced resales of franchises between third parties."  (Source: CURVES: Franchise Resale Buyer Alleges Fraud).
In 2010, then-President Mike Raymond was quoted by the Wall Street Journal as saying that the widespread closures were the result of a corporate effort to "prune the system" to correct the damage from greedy franchisees.  According to the Curves WSJ story:
Franchisees and industry experts point to a failure to keep up with changing trends—including more flexible hours for busy working women—cheaper competition and the tough economy as major reasons for Curves' decline.

The company disagrees with its critics, contending that much of the club closings were intended as part of a plan to "prune the system," according to Curves President Mike Raymond. Some owners had bought into Curves for the wrong reasons, he says, "they were motivated primarily as investors rather than owners."
UnhappyFranchisee.com has been covering the troubles and decline of Curves for years.  See CURVES: Curves Posts on Unhappy Franchisee.
ARE YOU FAMILIAR GARY HEAVIN, CURVES INTERNATIONAL & THE CURVES FRANCHISE?  PLEASE SHARE A COMMENT BELOW.
Unhappy Franchisee has been following Curves International and the issues facing Curves franchise owners since 2008.  Prior to that we published Curves news and hosted discussions on FranchisePick.com (now archived at EveryJoe.com).
NEWS FLASH: It's official!  Gary & Diane Heavin have sold Curves to North Castle Partners!
Read his announcement message to Curves franchisees.
Please share a farewell message with Gary, below, and let him know what impact he has had on your life, your finances, your credit, and the well being of your family.
CURVES: Say Goodbye to Gary Heavin!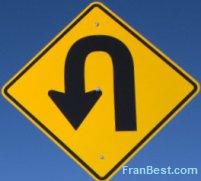 We have also followed and written extensively on other franchised fitness concepts, including Contours Express, Butterfly Life, Cuts Fitness for Men, Diversified Health & Fitness, and more.  You may contact us at UnhappyFranchisee[at]gmail.com.
[updated March 5, 2011]
Most Commented Curves Posts
CURVES: Robert Lay's Story March 10, 2009  (1044 Comments)
CURVES: Negotiating the $10,000 Closing Fee October 12, 2009  (149 Comments)
CURVES FOR WOMEN: Business Broker Slams Curves Franchise and Franchisor November 15, 2008  (129 Comments)
CURVES DISCUSSION: Benefits of a Franchisee Lawsuit? August 18, 2008  (78 Comments)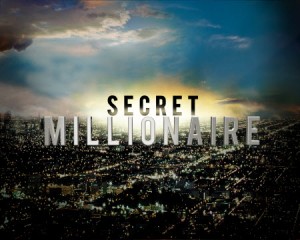 2012 Curves Posts
 CURVES AUSTRALIA Franchise Complaints  February 22, 2012
Did CURVES PresidentMikeRaymond Get Pruned?  February 16, 2012
CURVES: Why Did the Curves Franchisee Association Fail? (Part 1)  February 2, 2012
2011 Curves Posts
Gary Heavin on ABC Secret Millionaire: What do CURVES Franchisees Think?  March 1, 2011
2010 Curves Posts
Gary Heavin on ABC Secret Millionaire: What do CURVES Franchisees Think?  March 1, 2011
Has CURVES Become the "Trailer Park of Gyms"?  November 30, 2010
CURVES Franchise Lawsuit Settlements  September 30, 2010
CURVES International 2010 Franchise Disclosure Document (FDD)  September 29, 2010
CURVES Franchise Owners React to Comments That They're Being "Pruned" July 10, 2010 (33 Comments)
CURVES: 1000 Franchise Clubs Failed Last Year July 8, 2010
Failure Rates of the 10 Most Popular Franchises April 26, 2010
CURVES: 5 West Virginia Curves Close Abruptly February 22, 2010 (3 Comments)
CURVES: Should Failed Franchises be Resold? March 31, 2010 (33 Comments)
CURVES: Can Indie Clubs Thrive Where Curves Failed? January 19, 2010 (64 Comments)
CURVES Franchisee Regrets Not Sticking It to Others January 7, 2010 (39 Comments)
2009 Curves Posts
CURVES: Complaints of Unauthorized Membership Charges November 18, 2009  (7 Comments)
CURVES: "Another Curves nightmare. Please advise!" November 10, 2009 (7 Comments)
CURVES: Franchise Resale Complaints, Comments October 31, 2009  (1 Comments)
CURVES: Franchise Resale Buyer Alleges Fraud October 31, 2009  (1 Comments)
CURVES: In Oregon, Curves Franchises Die Alone October 18, 2009 (1 Comments)
CURVES FOR WOMEN: Advice on Buying a Franchise Resale February 24, 2009  (15 Comments)
2008 Curves Posts
Curves Franchisee Blames Economy for Closing December 21, 2008  (1 Comments)
CURVES FOR WOMEN: Nearly Half The Palm Beach Clubs Have Closed November 15, 2008  (17 Comments)
CURVES FOR WOMEN: Franchisee a Victim of Fraud? September 14, 2008   (22 Comments)
CURVES FOR WOMEN: Is McCord Brokers Required for Resales? August 13, 2008 (3 Comments)
CURVES FOR WOMEN: An Unhappy Franchisee Tale August 13, 2008 (6 Comments)
CURVES FOR WOMEN: UFOC dated March, 2008 June 23, 2008  (0 Comments)
Another Curves Shuts Down Abruptly June 14, 2008  (1 Comments)
Cape Girardeau Curves Franchise Closes June 10, 2008  (0 Comments)
WHAT DO YOU THINK OF UNHAPPY FRANCHISEE'S COVERAGE?  IS IT USEFUL?  FEEL FREE TO SHARE A COMMENT BELOW.

Are you familiar with the Curves franchise program in Australia?
Please share what you know with a comment below.
In the past, UnhappyFranchisee.com has focused its reporting on the troubles of U.S. Curves franchisees.
(Read CURVES: Robert Lay's Story  – 1000+ comments – Or CURVES: Curves Posts on Unhappy Franchisee for a complete list of posts)
Frankly, we don't know how exactly the Curves franchise operates in Australia.
We have heard that more than 52 Curves franchises have closed since 2010.
We do know that more than 60 Curves in Australia are for sale on the BuyCurves.com resale website.
And we know one more thing:  We get lots of emails from Curves franchisees in Australia that mirror the complaints of Curves everywhere else:
Complete lack of support.
Corporate indifference to the plight of franchisees struggling to survive.
Cold calculated legal demands forcing clubs to close and pay damages and future royalties, even from franchisees who have lost everything.
Aussie Z wrote:
I wish I never heard of Curves and Gary Heavin… Things were going great for the first 18 months then things started going down hill, repeatedly emailed CI for some sort of help got nothing. Then Curves Smart came and I borrowed more money as Curves said this would really make my club profitable. What a crock. Just meant I am in more debt.

Cornered Gary at Convention and he promised that when he got back to America he would get in touch with me to see what he could do to help. LIAR he never did. I am now on the verge of having to bankrupt myself so I hope Gary and CI are proud of themselves. So much for the god fearing person he portrays himself to be. Made me sick to see him on "Secret Millionaire" giving away thousands of dollars to strangers and wont do anything to help the people who made him rich in the first place.

When I started my curves up there was over 400 in Australia now there are 273 clubs left. One regional club couldn't even give her club away for $1 so she just closed down as well. Very very sad.

Dont get sucked in by the hype. Certainly don't help Gary get any richer.
A rural Australian Curves owner complains of the lack of support and threat of termination:
I bought a Curves resale in rural Australia. it wasn't doing well mainly due to the owner at the time, she did a lot of damage and I've been trying to rebuild it. I have continually asked Curves for support during this time but NOTHING. So my issue is mainly with the royalty / ad fee repayments.  Some months go through others don't from lack of members (financials).  So they now issued me with a pay $8000 you owe us on 10 days or your agreement will be terminated.
Another Australian Curves owner emailed us:
… I am in the same situation as everyone else who has purchased Curves, and has encountered their unprofessionalism…

I live in Australia, and I have been forced to terminate my franchisees, and havebeen sent a letter from a Law Firm in Melbourne, Australia.

Last year we were forced to be closed for some time due to a natural disaster, and since then we have fallen behind in royalty fees etc….

I have just received a letterlast Friday (27th August) from a Law firm in Melbourne, Victoria, stating that I need to close my clubs ASAP, and also pay then a huge amount of money, including  future royalty fees.

I cannot offer any money as I am broke..
"A Desperate Aussie" wrote:
I am from Australia and things are not good here.

Tried to get assistance from CI to consolidate 2 clubs into a single club that may have a chance of surviving. 2 clubs will certainly both fail and very soon, so we are closing one immediately.

We have paid royalties for 3 years from the closing club and 2 years for the one that may survive BUT CI (Jim J and Gary H have both said that population is large enough to support 2 clubs and will not allow us to consolidate. They just say sell one and concentrate on the other. If the closed club were to be resold then the 2 clubs would fail quickly.

We need support and asked for their help and had the door slammed in our face. The population figures they use to justify a viable club is so out of date and does not in any way reflect the environment clubs operate in these days.

We are frightened that CI will access all our funds and force us into Bankruptsy.

I know of several other clubs that are in big trouble also and will have to close sooner that later. CI just does not care. When you no longer supply funds to them they just want you to sell your franchise. It is all about keeping the cash rolling in and to hell with the damaged lives that lay in the wake of the failed businesses.
ARE YOU FAMILIAR WITH THE CURVES FRANCHISE IN AUSTRALIA?  PLEASE SHARE YOUR INSIGHTS, OPINIONS OR INFORMATION BELOW.
Contact UnhappyFranchisee.com.

Did CURVES President Mike Raymond Get "Pruned"?
If so, many franchisees who lost their Curves clubs, retirement savings,  positive credit scores and investments as part of a process Raymond called "pruning" might call that "poetic justice."
In a 2010 interview with the Wall Street Journal, Curves President Mike Raymond stated that the failure of more than 1000 Curves clubs, and the closing of 1/3 of all domestic franchises, was simply a healthy "pruning" of the system.
He also blamed the closures on Curves franchise owners, who had an "investor" mentalities (Read:  CURVES Franchise Owners React to Comments That They're Being "Pruned")
CURVES President Mike Raymond Steps Down With No Fanfare
In the brief February 14th story Curves President Steps Down on ClubIndustry.com, Stuart Goldman wrote:
Mike Raymond, who had been the president of Curves International, Waco, TX, since 2005, resigned in December.

Raymond is now a senior advisor to the company and continues to serve on the Curves board of directors. He has been with Curves since 2002 and had served as its senior vice president of marketing prior to his promotion to president. He succeeded Gary Findley, who is now the chief operating officer for Snap Fitness, Chanhassen, MN.

"I wanted to do some other things," Raymond says. "I'm still very actively involved with the company, and I still have an office there and do a lot of work there."

Raymond says he is teaching at Baylor University, which is in Waco.

A company spokesperson says Curves has no immediate plans to fill its president's role.
If A Tree Is Pruned and No One is There to Hear It…
Anyone find it odd that the President of a large company like Curves International steps down and no one notices?
There were no press releases or announcements that Mike Raymond stepped down.
The industry's own trade magazines didn't report it for 2 months.
The brief ClubIndustry.com mention raises many questions:
Was Mike Raymond "pruned" as being unnecessary, like the pesky Curves franchisees he referenced in the Wall Street Journal article?
(Also read:  CURVES: 1000 Franchise Clubs Failed Last Year)
What are the "other things" Mike Raymond wanted to do?
Will he parlay his pruning skills into an entrepreneurial venture, like raising bonsai trees?
If Mike Raymond still has an office at Curves, what does he do in it?
If Mike Raymond is gone and is not being replaced, does that mean that Gary Heavin was just calling all the shots anyway?
Well, if Mike is feeling low about stepping down after 8 years, he can always commiserate with the thousands of Curves franchisees who know what it's like to get "Pruned."
You can talk to them here, Mike:  1000+ Comments from Curves franchise owners.
Just don't mention that when you left, you got a golden parachute instead of threatening letters and a collection agency hounding you.
WHAT DO YOU THINK?  SHARE A COMMENT BELOW.
If ever a group of franchisees needed a strong independent franchisee association, that group would be the embattled franchise owners of Curves International.
Once touted as the fastest-growing franchise in history, Curves has now achieved the distinction of also being the one of the fastest-failing franchises in history.
According to an article last summer in the Wall Street Journal, "Curves now has about 4,000 U.S. locations—half the number at its zenith in 2005."
WSJ reporter Richard Gibson stated "Last year 833 clubs, or 16% of the chain's domestic presence, closed across the U.S., turning what many franchisees thought would be comfortable incomes and retirement nest eggs into money pits.
On the UnhappyFranchisee.com website, unhappy Curves franchisees have outspokenly detailed and protested their alleged mistreatment, bullying and harrassment at the hands of Curves International.
Thousands of franchisee comments, ranging from sad to scathing, have been posted at CURVES: Robert Lay's Story, on the CURVES: Curves Posts on Unhappy Franchisee and on other Curves franchise articles.
Curves Franchisee Association (CFA) 2006-2011.  RIP.
The Curves Franchisee Association held its first meeting in October, 2006 and was laid to rest Sept 30th 2011.
Just 2 years earlier before being pronounced dead, Curves International's funding and support of the CFA prompted the American Association of Franchisees and Dealers to name Curves International, Inc., its Franchisor of the Year for 2009.
According to the AAFD news release:  "Notwithstanding the challenges of rapid growth, and dynamic involvement in multiple channels of distribution, [Curves International, Inc.] has embraced a collaborative culture with its franchise network and has enjoyed a very positive relationship with its members as a result.
"AAFD Chairman Robert Purvin cited Curves' exemplary franchise culture as the primary focus of the AAFD's recognition. 'Curves management has encouraged and supported the organization of an independent franchisee association, including a willingness to engage the association's elected leadership.'"
CFA Autopsy by Attorney Ron Gardner
What killed the much-needed Curves Franchisee Association?
According to CFA attorney Ron Gardner, the fatal wounds were self-inflicted.  It was the distractions of franchisee infighting, bickering, and petty politics that rendered the Curves Franchisee Association ineffective.  Ultimately, the death blow was that Curves franchisees were unwilling (or unable) to fund their own association.
According to CFA attorney Ron Gardner, a number of contributing factors led to the demise of the CFA, including franchisee infighting, bickering, petty politics and Curves franchisees' unwillingness (or inability) to fund its franchisee association. In the end, the Curves Franchisee Association simply ran out of steam.
In his final letter (and autopsy report – posted below), Ron Gardner had nothing but praise for Gary Heavin and Curves International management.  Not only was CI open to hearing the ideas of the CFA, Gardner praised Curves for "so generously funded the organization through its infancy."
Do you agree with Ron Gardner that Curves franchisees killed their own organization? Share a comment below.
Here is Ron Gardner's post-mortem and farewell letter, originally posted on the CFA website:
So Long … For Now

As someone who has practiced franchise law for almost two decades, I could have predicted that this day was coming several years ago.

The reality is that most franchise associations go through a lifecycle quite similar to that experienced by the most recent iteration of the Curves Franchise Association:

(1) lots of excitement by lots of people to get an association formed and to move forward;

(2) a lot of time, effort and hard work in setting the association up by a smaller number of people;

(3) continued hard work as the association tries to find its feet, both in terms of its goal and purposes, and its independent voice – by a smaller number still;

(4) a longer period of time in which a few people continue the work of the association, working hard to make the system better for all franchisees, but increasingly feeling unappreciated by the "membership"; and

(5) resignation by the few remaining members that, given the volunteer nature of the work, it is no longer worth the effort.
Let me be clear – none of the current CFA Board members have expressed to me a "resignation" that their service was not worth the effort. But, to be fair, I could see it in their eyes, hear it in their voices.
On a brighter note, however, it has also been my observation over the last two decades that an association like the CFA has laid too much groundwork for a franchisee voice to simply be ignored by the franchisor. Whether that voice is in the form of the CFA or some successor organization that is most certainly sure to spring up (if it has not already) is something that we will all have to wait and see about. However, during this "lull" in activity by an official independent franchisee association, it probably behooves all of us to take stock of the lessons that we have learned through the lifecycle of the CFA, as well as providing our sincere thanks to those who worked so hard, and quite frankly, accomplished so much, in pioneering this effort.
Among the lessons we have learned: while Curves certainly prefers to do things its way, it is willing to listen to reasoned and rationale viewpoints that are divergent from their own. Look, we all know that franchising is different than most people think it is when they first start – but, having a franchisor that is willing to listen to the concerns of the franchisee, and consider them, is a significant step in the right direction. I am not suggesting that you should not be dissatisfied with your franchisor at times, and maybe even most of the time depending on your situation. But, we know that screaming, yelling and suing each other rarely brings the parties closer to together to gets things moving in a more cooperative direction. One of the most refreshing things that I observed during my work for the CFA was the willingness of Curves senior management, including Gary Heavin, Mike Raymond, Roger Schmidt, and a host of others, to listen when we had something to say. Often times, Curves would agree with our observations, and change their approach, or at least consider serious modifications. We did not win all of our battles, but we most certainly had a lot to say, and Curves is a better system for it.
We learned that, not surprisingly, a collective voice is much louder than an individual one. As you know, Curves has thousands of franchisees, and is broken into several subparts. Just getting the attention of your franchisor can be difficult if you do not have a collective voice to go through. The franchisee association, in its heyday, was a loud voice for franchisee rights, and helped many individual franchisees find solutions to problems that they were not able to find on their own.
Of course, not all the lessons that we learned were positives. We learned that franchisee associations cannot function productively if they have to spend a significant portion of their time battling the viewpoints of other franchisees – rather than executing strategies aimed at changing the behavior of the franchisor. To my great dismay, the CFA and the people who committed so much of their time and effort to making the CFA a better organization, spent far too much of their time being victims of unjustified rumors, accusations, and other frivolous distractions. It is my sincere hope that the next time an independent association rises in this system, that those members who choose to disagree or not participate with those who are doing the work, choose to merely sit on the sidelines and/or voice their displeasure at the ballot box, rather than undertaking a campaign of personal attacks that make it certain that nothing productive can ever get done.
Another lesson that is not surprising that an association cannot survive, long term, no matter how much value it is adding to its member, if those members are not willing to fund the organization. Among one of the most remarkable things I will remember about the CFA was the way in which Curves so generously funded the organization through its infancy – never demanding in return that we take their particular viewpoint, or refrain from challenging them on any of their initiatives. Unfortunately, that was an unappreciated gesture by the vast majority of Curves franchisees, and when that money ran out, the value that the CFA was delivering to the members was either unappreciated, or unknown, and members were not willing to step up and contribute even a small amount to keep the organization vibrant. Again, my hope for the future is that Curves franchisees remember this the next time around, and that they might give generously to those who worked so hard to protect their rights.
Of course, the end of the CFA does not mean the end of issues between Curves and its franchisees. Therefore, if you find yourself in a situation in the future where you either have business disputes and/or legal disputes with Curves, it is my sincere hope that you realize that resources were developed over the years that will exist into the future – even if the CFA does not. I am virtually certain that most CFA Board members would be happy to share with you their experiences on particular business issues if you were to reach out to them in a time of need. Likewise, to the extent that you need legal help in your dealings with Curves, my contact information has not changed. You can still contact me at rkgardner@dadygardner.com, and I will be happy to share my knowledge and information with you about my insights into the Curves culture, contracts, and likely responses to particular situations.
In closing, I want to take one moment to extend a personal thanks to the Board members who I have worked with over the years (many of whom became very good friends), and most importantly to the four women who chaired the organization over the last several years, Melanie Schaengold, Mary Ella Young, Teri Bertrand, and Carole Keyes. Their wisdom, insight, leadership, and enormous commitment of time on your behalf can likely never be repaid. Thanks as well to those Board members who participated year after year after year, against difficult odds, giving of their time and sacrificing their businesses and their families, to try and make things better for the system. While I am sure I will forget some, I particularly want to thank Sandie Maddux, Shelly Ronfeldt, Angie Wisler, Darlene Bayer, Brad Steinberg, Don Marshall, and Cheryl Hdarecky. While these Board members did not always see eye-to-eye with each other, I firmly believe they all always had the best interests of the Curves franchisee members in mind as they went about their work.
So, at this point, it is not goodbye. It is so long – for now. I look forward to the day our paths cross again.
- Ron Gardner
In reacting to this post, Mr. Gardner added this clarification:
"While I do think it is likely that WITHOUT committed leadership AND adequate funding (one or the other is not enough), most franchisee associations will ultimately fail, such associations can be widely successful (and there are many examples) when the Association finds a way to groom and foster effective leaders for the future AND finds a reliable and on-going source of funding."
Are you familiar with the Curves Franchisee Association (CFA)?  What do you think? Share a comment below.
Contact the author or site ADMIN at UnhappyFranchisee[at]gmail.com
Related reading:  CURVES: Robert Lay's Story (1000+ comments)
CURVES: Curves Posts on Unhappy Franchisee (Curves story links)

(Unhappy Franchisee) Not long ago, there were three Curves franchised fitness clubs in Palo Alto, CA.  Now there is one.
According to Zohra Ashpari's story in the Palo Alto Weekly, franchise owner Susan Empey is battling a poor economy and lower priced competition to keep from joining the growing ranks of Curves failures.
Curves' express women's fitness competitor Butterfly Life is faring no better.  Butterfly Life's Fashion Island branch closed a few years ago, and its last remaining Palo Alto branch is closing April 15th.
Reasons cited for Curves failures:  saturation, economy, price & apathy
Ashpari (who, incidentally, read UnhappyFranchisee.com in researching Curves), indicates a number of reasons for the Curves closures in Palo Alto and elsewhere.  Do you agree?  Feel free to add your opinion below.
Market saturation.  According to broker Todd Lipton, "the proliferation of franchises quickly saturated the market."
Recession.  Curves franchisee Empey says "People are losing their jobs, and exercise to some may have become a non-essential expense."
High price point.    "The up-and-coming franchises and licensing companies that we see now are priced… as low as $10-19 a month," according to Lipton.  "Curves currently charges about $44 a month, a few dollars more or fewer depending on services."
Member apathy.  Curves may simply be failing to motivate or inspire members to make its program a priority:  "Curves club member Anna Richert of Menlo Park said that some may have walked away because they were paying but not going to the gym."
According to the article, the Susan Empey's gym was the first of Curves franchise to open in Palo Alto.  Now it is "the last one standing."
We hope that the closings of the other clubs will now allow Empey's franchise to survive… and that Curves will not sell new franchises in areas, like Palo Alto, where previous franchisees have failed.
WHAT DO YOU THINK?  SHARE A COMMENT BELOW.