BIZZIBIZ Bizzi Biz Franchise Goes Bust, Declares Bankruptcy
Bizzi Biz Franchise, Inc., franchisor of Bizzibiz digital marketing franchise, is filing for Chapter 11 bankruptcy protection just 18 months after its much-hyped franchise debut.
If UnhappyFranchisee.com were not such a classy website, we might say We told you so!
After all, Bizzibiz had one of the all-time worst franchise launches in history.
Bizzibiz was conceived, from Day 1, simply as a franchise opportunity… It had no proven track record nor a successful model to replicate.
It was founded by Jim Piccolo, a master of creating such money-losing investments as Nouveau Riche University and Piccolo University (stock ticker PEDU, trading at $0.002/share).
Bizzibiz digital marketing had no experience nor expertise in digital marketing.  In fact, its own social media presence was next-to-nil.
1 month after its franchise debut, Bizzibiz founder Jim Piccolo was found guilty of defrauding 105 investors in a prior real estate deal, and was ordered to pay $6 million restitution.  (BIZZIBIZ Franchise Founder Jim Piccolo Defrauded 105 Investors, Says AZ)
3 months after the franchise launch, Bizzibiz sued its much-touted franchise attorney (Mr. Franchise Kevin B. Murphy) and dropped him from the board (BIZZIBIZ Suing Mr. Franchise Kevin B Murphy and Franchise Foundations PC).
6 months after the Bizzibiz franchise launch, spokesperson of the franchise sales arm of Bizzibiz, TV huckster Don LaPre, was indicted on defrauding 222,000 people out of $52 million in a vitamin-selling scheme (BIZZIBIZ: VP Don LaPre 2nd Exec Indicted for Fraud)
7 months after the launch of Bizzibiz, CEO Jim Piccolo stepped down (citing "health reasons") and was replaced by Kurt Ohlson, who had no background in either franchising OR digital marketing (BIZZIBIZ Jim Piccolo, Out, Kurt Ohlson in as CEO of Bizzibiz).
8 months after the launch of Bizzibiz, spokesperson Don LaPre took his own life in prison (BIZZIBIZ: Infomercial Huckster Don LaPre Dies in Prison).
18 months after the launch of the Bizzibiz franchise, franchisor Bizzi Biz Inc. filed for Chapter 11 bankruptcy protection in Arizona.
Were you involved with the Bizzibiz franchise program?  If you, please share your opinion or experiences with Bizzibiz below.
Bizzi Biz Inc. Chapter 11 Bankruptcy Petition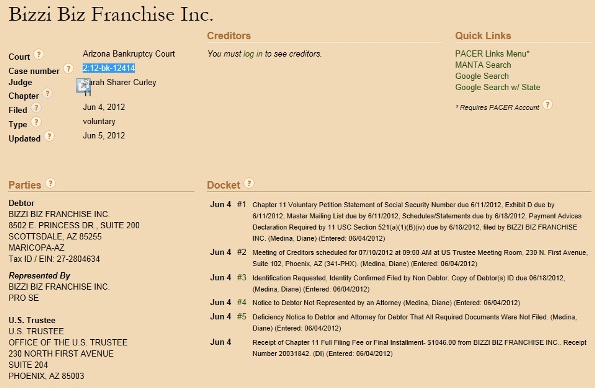 Source:  Business Bankruptcies webpage
Who was at the Helm of Bizzibiz?
Most of Jim Piccolo's initial team have long since abandoned the sinking Bizzibiz ship.
Jim Piccolo – Left July, 2011
Daniel Silver – Left October, 2011(?)
Gail Gust – Left November, 2011
Zach Ferres – Left November, 2011
Mark Lathrop – Still there?
The Articles of Incorporation for Bizzi Biz Inc. show the following
Bizzibiz Officers
KURT OHLSON, CHIEF EXECUTIVE OFFICER
8502 E PRINCESS DRIVE STE 200
SCOTTSDALE,AZ  85255-5489
Date of Taking Office: 07/18/2011
JOHN KNOLL, PRESIDENT
Date of Taking Office: 10/25/2010
SONYA LEE, SECRETARY
Date of Taking Office: 05/18/2011
Bizzibiz Directors
IRVIN WILSON, DIRECTOR
Date of Taking Office: 05/18/2011
KURT OHLSON, DIRECTOR
Date of Taking Office: 05/18/2011
JOHN KNOLL, DIRECTOR
Date of Taking Office: 10/25/2010
It's not clear how many Bizzibiz franchises have been sold nor how many franchisees have been left without the services and support they paid for.
WERE YOU A FRANCHISEE, EMPLOYEE OR OTHERWISE INVOLVED WITH BIZZIBIZ?  PLEASE SHARE YOUR PERSPECTIVE BELOW.