BIZZIBIZ: VP Don LaPre 2nd Exec Indicted for Fraud
The Bizzibiz digital marketing franchise is off to a rough start!
Early press releases touted a high profile management team that included founder Jim Piccolo, King of the Infomercials Don LaPre and "Mr. Franchise" Kevin Murphy.
Founder and CEO Jim Piccolo was indicted for fraud (Read: BIZZIBIZ Franchise Founder Jim Piccolo Defrauded 105 Investors, Says AZ )
The company fired, and is suing, "Mr. Franchise" (Read:  BIZZIBIZ Suing Mr. Franchise Kevin B Murphy and Franchise Foundations PC)
In June, TV huckster and Extreme Franchise Marketing Vice President Don LaPre was indicted for fraud.
According to the Washington Post, "Lapre was indicted on 41 counts of conspiracy and fraud, accused of defrauding 222,000 people of $52 million between 2003 and 2007. He was arrested Wednesday after failing to appear at his arraignment and spending 24 hours on the lam."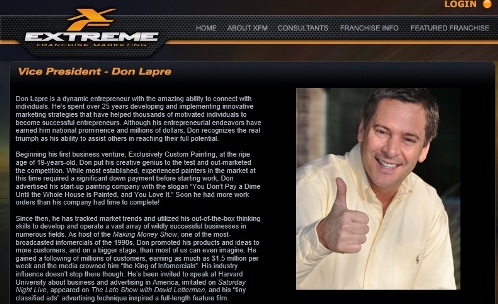 Don Lapre Touted as Bizzibiz Infomercial Producer, Extreme Franchise Marketing Vice President
A press release from the company bragged that the infamous Don LaPre had created a "Movie-Style Infomercial Designed to Attract Entrepreneurs to [the Bizzibiz] Digital Marketing Services Franchise Opportunity':
Known as the "King of Infomercials" for his tremendous success in the industry, the Director and Creator of this BizziBiz infomercial was Don Lapre. When asked about his vision for this project, Lapre said, "The goal was to add real-life issues into a story that pulls people in while simultaneously promoting BizziBiz as the answer for so many people who are looking to branch out into a better career."

Lapre went on to say, "I have created a lot of hits and a lot of failures, but when they hit, they are big and this infomercial has the ability to put BizziBiz on the map. I believe this could become the first successful movie-style infomercial promoting a franchise – that's something that has never been done before."
Until recently, Don LaPre was listed prominently as Vice President of Bizzibiz sales affiliate Extreme Franchise Marketing on that company's website. [See screen above – now deleted]
After a long, propaganda-like bio of the controversial Don LaPre, the website states:  "Through Extreme Franchise Marketing (XFM), Don Lapre has found a new way to continue his mission of making a positive impact in the lives of others. He's thrilled about the amazing possibilities!"
LaPre could soon be selling "Little Tiny Ads" from federal prison
According to a June 15, 2011 press release issued by the U.S. Attorney, District of Arizona:
A federal grand jury in Phoenix has returned a 41-count indictment against Donald Lapre of Phoenix, for Conspiracy, Mail Fraud, Wire Fraud, Promotional Money Laundering and Transactional Money Laundering. The indictment, returned last week, alleges that the 47-year-old Lapre oversaw and promoted a nationwide scheme to sell essentially worthless Internet-based businesses to over 220,000 victims through his company "The Greatest Vitamin in the World."

…According to the indictment, from April 2003 through October 2007, Lapre allegedly conspired with others to defraud thousands of victims all across the country by encouraging them to invest in an Internet-based business. The "business" primarily consisted of selling the Greatest Vitamin in the World (GVW) over the Internet and the opportunity to sell the opportunity to do the same thing to others. At the height of the scheme, Lapre had enlisted approximately 226,794 people to sell a limited number of products via individual websites. Along with selling tens of thousands of Internet-based businesses which were essentially worthless, Lapre fraudulently provided his investor/victims, known as "Independent Advertisers" (IAs), with false vitamin sales records. These records encouraged IAs to purchase additional advertising and services in the hope of obtaining commissions including $1,000 checks. Lapre also fraudulently sold bulk Internet traffic to IAs while claiming that it was targeted to individuals who were seeking to either buy vitamins or invest in similar businesses. GVW sales representatives regularly signed up victims as IAs even if they did not own a computer. During the course of the scheme, at least 220,000 victim/IAs were defrauded of approximately $51.8 million. During this same period, approximately $6.3 million in commissions were paid to approximately 5,000 victim/IAs.

Convictions in this case for Conspiracy carry a maximum penalty of five years, a $250,000 fine or both; Mail Fraud and Wire Fraud carry a maximum penalty of 25 years, a $250,000 fine or both; Promotional Money Laundering carry a maximum penalty of 20 years, a $500,000 fine or both; and Transactional Money Laundering carry a maximum penalty of 10 years, a $250,000 fine or both.
ARE YOU FAMILIAR WITH DON LAPRE, JAMES PICCOLO, NOUVEAU RICHE UNIVERSITY &/OR THE BIZZIBIZ FRANCHISE? SHARE AN OPINION OR PERSPECTIVE BELOW.