BIZZIBIZ: Jim Piccolo Mansion Listed For $3.5M (SOLD!)
Jim Piccolo, the controversial founder of Nouveau Riche University, Bizzibiz digital marketing franchise, and Real Estate Worldwide (REWW) reportedly is trying to sell his extravagant Scottsdale, AZ estate via a short sale (see below).
Asking price:  $3,500,000
UPDATE:  House was sold on 7/25/12 for $3,000,000 according to Zillow.
UnhappyFranchisee.com has been told that Jim Piccolo's house at Big Bear Lake, CA is on the market, and that his luxury car collection is also being sold.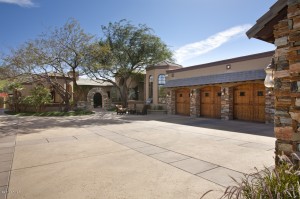 Fortune has not been kind to Mr. Piccolo in the past year and a half.
In a February, 2011, the Arizona Corporations Commission announced that Jim Piccolo and his business partners must pay nearly $6 Million in restitution and fines for defrauding 105 investors with unregistered deed of trust investments.
(BIZZIBIZ Franchise Founder Jim Piccolo Defrauded 105 Investors, Says AZ)
Jim Piccolo's attempt to create a national digital marketing franchise company, named Bizzibiz, never got off the ground.  Plagued with problems from the start, the franchisor company recently filed for Chapter 11 bankruptcy protection (See BIZZIBIZ Bizzi Biz Franchise Goes Bust, Declares Bankruptcy)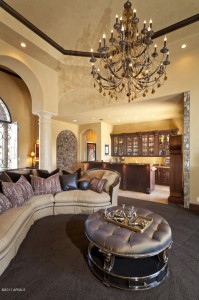 The status of the reported 85 franchises sold by Bizzibiz is unclear.
UnhappyFranchisee.com has been told that Jim Piccolo is now directing his energy into another Nouveau Riche-type real estate investing school venture called Real Estate Worldwide (REWW)
Listing for 23035 N CHURCH Rd Scottsdale, AZ 85255
The Jim Piccolo property is listed on Redfin here:  23035 N CHURCH Rd Scottsdale, AZ 85255
Here are the highlights:
Beds: 7  Baths: 10  Sq. Ft.: 12,500  $/Sq. Ft.:  $280
Lot Size:   8.11 Acres  Property Type:  Single Family Detached   Style:  Contemporary, Santa Barbara/Tuscan
Year Built:  1990  Community:  Pinnacle Peak Heights Unit 6  County:  Maricopa   MLS#: 4672208
Source:  ARMLS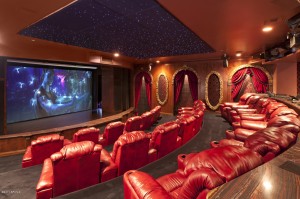 Status:  Active with Contingencies The seller has accepted an offer on the home, but certain conditions must be met by the buyer before the sale can be finalized.
On Redfin:  258 days
"Magnificent 8+ acre estate! Includes every imaginable custom detail-exquisitely appointed light fixtures, vanities, mirrors, to-wine room, game room, library with floor-to-ceiling book cases, office, unbelievable 40-seat theater complete with stage area, soda station and more! Athletes can enjoy complete gym facilities–weight room, lockers, steam shower and tanning room. Relax indoors or out-in sit down bar or lounge areas. Impeccably manicured grounds with waterfall, pond, pool, fire pits and tennis court. Car aficionado's dream 2200 sq ft garage, complete with custom storage and hydraulic lifts. No detail overlooked in this one-of-a-kind masterpiece estate. * * TV's, Crestron theater equip, Speakers & seating do not convey * * "

Jim Piccolo's property is listed as a short sale
Jim Piccolo's mansion is listed as a "short sale," which is explained on the Redfin website:
A short sale listing is one in which the seller still owns the property, but owes more money on his mortgage than he will get from selling the property. Most often, more than one bank holds a mortgage on the property and each bank has to approve the sale…

With multiple parties required to approve the transaction, the short sale process can be long and frustrating, and comes with no guarantee of success….

How are Short Sales Different Than Foreclosures?

Short sale homes are still owned by the home-owner, while foreclosures are owned by banks. If the home-owner cannot sell the home through a short sale, the bank initiates foreclosure to try to sell the home directly, often in an auction. If the auction fails to turn up a buyer willing to pay at least what the bank was owed on the home, the home becomes Real Estate Owned (REO), where the owner is the bank. The bank then typically sells the property through a real estate agent.
ARE YOU FAMILIAR WITH JIM PICCOLO, BIZZIBIZ, NOUVEAU RICHE, OR REAL ESTATE WORLDWIDE (REWW)?  SHARE A COMMENT BELOW.