U BUILD IT: SBA Loan Defaults (Updated)
Our recent post 15 Worst Franchises by SBA Loan Defaults listed the franchise concepts that Infopedia claimed had the highest rate of SBA loan defaults for 2008.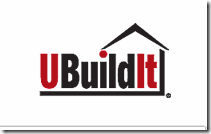 Infopedia, in a post on Yahoo!, claimed the U Build It franchise was listed as the 9th worst franchise for SBA loan defaults.  According to Katie Adams of Investopedia:
9. U Build It

Seeking to grab a share of the market that made Lowe's and Home Depot household names the U Build It franchise offers owners an opportunity to serve as "construction consultants" for DIYers interested in building or renovating their own homes.

But when the housing market collapsed, it shouldn't come as a shock that 27% of their franchisees reneged on their SBA loans.
We received a rather terse email from a Marie Krez, who we assume is in the marketing department of U Build It:
Misleading and false article on 15 Worst Franchises by SBA loans. Confirmed by SBA that out of only 11 UBuildIt franchises, only 2 defaulted. 27% sounds like a lot but when it is 27% of 11, which is 2…where was that info?  SBA surprised at this and wondered why UBuildIt was on the list.  Get facts straight
So we got a copy of the original report, entitled 2009 Franchise Coleman Report SBA 7(a) and 504 Failure and Charge-Off Data dated February 9, 2009.
Turns out Ms. Krez also did not have her facts straight.  Out of 11 SBA loans disbursed to U Build It franchise owners, 3 (not 2) have defaulted, resulting in a 27%  default rate.  That's more than twice the 2008 average franchise default rate of 13.4%.  Not to mention that a failure rate of nearly 1 in 3 seems hardly worth defending with such an indignant tone.
However, after reviewing the Coleman Report it seems that the Infopedia article listing U Build It as the 9th worse franchise default rate IS incorrect.  Sadly, a 27% default rate doesn't even warrant inclusion in a "Worst 30"  list, much less a "Worst 15" list.  We apologize for repeating the erroneous listing.
ARE YOU FAMILIAR WITH THE U BUILD IT FRANCHISE OPPORTUNITY?  SHARE YOUR THOUGHTS BELOW.