SIMPLE SIMON'S PIZZA: Worst Franchises by SBA Loan Defaults
In our recent post 15 Worst Franchises by SBA Loan Defaults, 5 of the 15 franchise concepts with the highest rate of SBA loan defaults for 2008 were pizza franchises.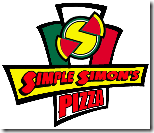 The Simple Simon's Pizza franchise was listed as the 7th worst.  According to Katie Adams of Investopedia:
7. Simple Simon's Pizza

Simple Simon's grew from one store in Tulsa to a network of 220 restaurants nationwide since 1982. However, nearly 30% of store owners who took on an SBA loan to finance the start-up have defaulted. Perhaps selling pizza isn't quite so simple after all.
ARE YOU FAMILIAR WITH THE SIMPLE SIMON'S PIZZA FRANCHISE OPPORTUNITY?  SHARE YOUR THOUGHTS BELOW.