SEED CAPITAL Jim Saia Financing Complaints
Seed Capital (Jim Saia, Kari Aragon) is one of the most aggressively promoted financing vendors for the NY Bagel franchise scheme – a franchise with a 90%+ failure rate.  From what we can tell, Seed Capital's "financing" services consist of signing franchisees up for a slew of credit cards.  Have you dealt with Seed Capital? Please share a comment below.

(UnhappyFranchisee.Com) Seed Capital, with contacts Jim Saia, Senior Partner, and Kari Aragon, Processor appear in RED on the list of lenders given to NY Bagel Café franchisees by Dennis Mason and Joe Smith, meaning the franchisees (who have just paid a franchise fee of $17,500 – $29,500)  should call them first .
As long as NY Bagel can say they provided financing, even if it's in the form of $100,000 of credit spread across numerous credit cards, they have an excuse not to return the franchise fees they harvest from undercapitalized wannabe franchise owners.  The majority of these franchisees will lose their initial franchise fee and never open.  Others, like Richard Charles* of River Vale, NJ,  will open and then close and go bankrupt under crushing credit card debt.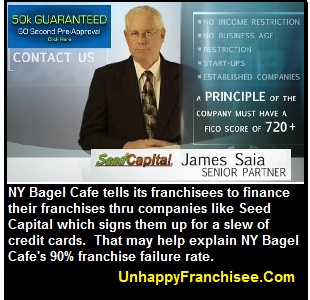 We took looked around to see what some of the negative experiences with Seed Capital could tell us.  Here is some of what we found. These complaints are from a variety of sources, and are not necessarily NY Bagel Cafe franchisees.
Have you had experience with Seed Capital, Jim Saia or Kari Aragon?  Please share a comment below or email us in confidence at UnhappyFranchisee[at]gmail.com.
One commenter wrote:
Seed Capital claims to generate working capital for a potential business owner by contacting credit card companies and opening up credit lines in the business owners name. This comes at a cost of $5,500.00, which is not worth their efforts. Seed Capital has ripped me off for $5,000.00!

Never provide them with your credit card information because they will not fulfill the terms of the contract. They charge your credit card and do not provide the services detailed in their contract. After contacting my bank to reverse the charges, I was told Seed Capital contested my refund.
In September, 2014  one Seed Capital customer wrote:
This company will promise you the moon for you and your company. Yes, they will get ALOT of credit cards secured for you. While they are at it, they will dump your credit score in the toilet and get you in debt up to your eyeballs! They do this for the small sum of $3000.00

Now, if you want to spend another $3000.00 they will promise you the moon AND the stars. They will be your private CONSULTING counselor for a whole year. They will make sure they get their money on one of those new credit cards the moment you get it. That's when they walk away and you will never hear from them again. They are sooooo nice before they get their money, but; ask for a refund and it's a whole different story.

Learn from my VERY VERY expensive mistake. DONT WORK WITH SEED CAPITAL!!! P.S I have been in business for 21 years and I thought I knew what I was doing and by working with them was to make by business bigger and better. I am worse than I started. Just deeper in debt. Stay away.

[Note:  the customer later reported Jim Saia refunded the $3K consulting fee by crediting one of the cards.  He still evidentally paid $3K and took a hit to his credit score]
Anonymous wrote:
said we made over 150k per year and did not make dollar one yet! paid them 5k for signing us up for credit cards!!!

credit score was 780 now 566!!!! lost everything thru liberty dollar!!!!!

fraud and scam artisits at work daily!!!!!!!!!! contact ypur local d a offfce as well s in vegas to learn more do not use liberty dollar or seed capital, they take your money and run!*** artisits hiding behind internet, we are now broke and have zero credit and no store and have never rec;d a phone call back from seed capital do not i repeat do not use these people…
In September, 2013, Hannah wrote:
The complaints are not from competitors.

Me myself i was scammed by this company. Who promised me $75000 as business loan with no interests for two years. As soon as i gave them my debit card number, they charged my card $3995.

All they have done for me is they applied for six credit cards in my name, which i could have done myself. Please don't trust seed capital. Don't give them your credit card information. Please know that some [positive Internet posts by happy Seed Capital "customers"] are from people who work for seed capital. They are artists in scamming people, stay away from them.
Scammed wrote:
Seed Capital ripped me off by promising $100K in business credit and 0% interest for 2 years. Don't forget that they will charge you $3000 when you hit $50K, $3000 when you hit $75K, and $3000 when you reach $100K. They also charge an initial fee of $495.

The true story is that Seed Capital loved my great credit score and applied for numerous credit cards in my name with 0% for a year. They easily got me over $100K (which I did not need) and it cost me $9000. I could have done that for free! Now I am $9495 further in debt, have no business credit, and have all these credit cards in my name that I do not want!

Stay away from this company!!!!
Anthony wrote:
Please do not trust this company.  They will make promises they will not keep.

In our case they promised us $110,000 in capital and delivered $59,100.  For this they charged us $5,000.

You will authorize payments of $3,500, but they will take unauthorized funds from your account.  Please save your money and find a more reputable company for your business capital needs.
*  Richard Charles financed his NY Bagel Cafe franchise through a company like Seed Capital, though not necessarily Seed Capital, that signs clients up for a number of credit cards as business financing.
ALSO READ:
NY Bagel Café Franchise Scam Overview
NY BAGEL CAFÉ Franchise Refund Help
NY BAGEL CAFÉ Franchise Fraud Investigation by MD Attorney General
FRANCHISE DISCUSSIONS by Company
ARE YOU FAMILIAR WITH SEED CAPITAL, JIM SAIA OR KARI ARAGON?  PLEASE SHARE YOUR EXPERIENCE BELOW.  SHARE A COMMENT BELOW.
Contact UnhappyFranchisee.com





TAGS: Seed Capital, Jim Saia, James Saia, Kari Aragon, NY Bagel Café, NY Bagel Café franchise, Joe Smith, Dennis Mason, Franchise Ventures, franchise loans, startup loan, unsecured lines of credit, franchise lending, Seed Capital complaints, credit scam, credit ripoff, credit complaints