PRIMOHOAGIES: Year-Old Primo Hoagies Franchise Closes
PrimoHoagies franchise closed less than one year after opening.
(UnhappyFranchisee.Com) Our condolences go out to Stephen Kilroy, franchise owner of the South Bethlehem PA PrimoHoagies which closed a little less than a year after opening.
The South Bethlehem location opened July, 1st, 2013.
On June 12, 2014, the franchise location's Facebook page posted the sad news:
To Our Loyal Customers, I apologize to have to make this post but we will be closing the South Bethlehem location this Sunday the 15th.

Thank you to everyone that has been a patron of our store over the past year and please give us a call at the Allentown store if you need anything. ..

Thank you!
According to a pre-opening story on Lehigh Valley Live, Kilroy owns another Primo location on Cedar Crest Boulevard in South Whitehall Township.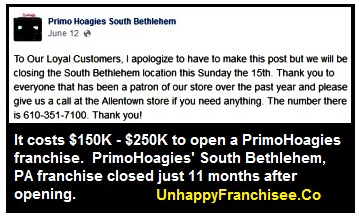 At the time, he said he "jumped at the chance when a franchise became available for South Side Bethlehem."
He had hoped to attract strong traffic from Lehigh University students.
According to a recent story on  Lehigh Valley Live:
Owner Stephen Kilroy said he didn't get the business he was hoping for at the location, especially from Lehigh University students.

"The students didn't really come down," he said…

Fellow East Third Street business owner John Saraceno said it was probably difficult for a new sandwich shop to get enough customers with Goosey Gander and Deja Brew already in the neighborhood.

"We have home-grown stuff," said Saraceno, who owns Saraceno Design. "It's stiff competition."
Other Primo Hoagies locations have reportedly closed in Englishtown, NJ, Glen Mills, PA, Miami, FL, and Orlando, FL.
Franchises Fail, Too
Across the industry, many franchise sellers portray franchising as a nearly risk-free path to business ownership.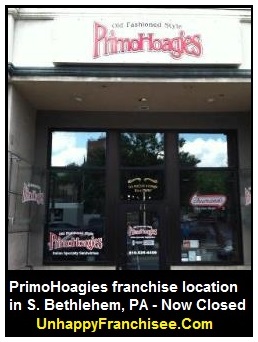 The failure of the South Bethlehem PA PrimoHoagies is a sad reminder that every business start-up involves substantial risk – whether it's a franchise or an independent start-up.
The franchisee knew the franchise concept, knew the local market, built out an attractive store and still was unable to succeed in that location.
There's no sure thing in franchising – so go in with your eyes open knowing that worst case scenarios often come true.
* All references to Primohoagies is regarding Nick Papanier, Sr., not Jr.
ALSO READ:
FRANCHISE DISCUSSIONS by Company
PRIMOHOAGIES Franchise Complaints [REVISED]
PRIMOHOAGIES Owner of Nellie's Provisions Pleads Guilty to Tax Fraud [Updated]
PRIMOHOAGIES & Nick Papanier Sr. Tax Evasion: A Clarification
ARE YOU FAMILIAR WITH THE PRIMOHOAGIES FRANCHISE?  SHARE A COMMENT BELOW.
TAGS: PrimoHoagies, Primo Hoagies, Primos Hoagies, Primos Hoagies Closed, Primos Hoagies failure rate, PrimoHoagies franchise, PrimoHoagies franchise opportunity, PrimoHoagies franchise complaints, Primo Hoagies franchise, Primo Hoagies franchise opportunity, Primo Hoagies franchise complaints, Primos Hoagies franchise, unhappy franchisee