NASAA Advisor Forbids Franchisee Participation in NASAA Public Comments
An association of North American Securities Administrators (NASAA) is inviting the public to comment on a proposed rule that would close a loophole used by franchisor attorneys to defeat fraud claims by franchisees.  One such franchisor attorney – who is also a NASAA advisor – has issued a restraining order to prevent an outspoken franchisee advocate from sharing his views with NASAA.  He previously blocked the franchisee's views from being shared with the FTC in 2020 – even though the comments do not directly involve the case he mediated.
(UnhappyFranchisee.Com)  NASAA is the North American Securities Administrators Association.
NASAA membership is made up of securities regulators in the United States, Canada and Mexico.
According to the NASAA, " Members of NASAA have a multifaceted mission of protecting investors from fraud and abuse, conducting investor education, providing guidance and assistance via the established regulatory framework, and ultimately helping power the North American economy by ensuring the integrity of the financial markets."
Regulation of the Franchise Industry on the state level is part of NASAA members' responsibilities.
NASAA Has Invited Public Comment on a Proposed S.O.P. that Eliminates a Franchisor Loophole That Protects Fraudsters
On December 7, 2021, NASAA announced it was inviting public comment on it Proposed Statement of Policy Regarding the Use of Franchise Questionnaires and Acknowledgements.
Put simply, franchisor attorneys have been embedding questionnaires and other gimmicks to induce prospective franchisees to attest that they haven't been defrauded or given earnings illegal claims at the time they sign their franchise agreement.  The NASAA S.O.P. would put an end to this loophole (or "Franchisor Get Out of Jail Free Card" as franchisee attorney Peter Lagarias calls it), because, among other things, fraud victims rarely know they're fraud victims at the very moment they are being defrauded.
It seems apparent that franchisor attorneys like David Kaufmann strongly oppose such protections as they have worked very hard to rig the system in their franchisor clients' favor.  And they love all their clever little tricks and clauses that render unwitting franchisees powerless (and broke) with the pride and affection normal people reserve for their children.
It seems apparent that franchisor attorneys like David Kaufmann strongly oppose such protections as they have worked very hard to rig the system in their franchisor clients' favor. – Sean Kelly (opinion)
David Kaufmann, an Advisor to NASAA*, Has Issued a Restraining Order to Prevent Comments Supporting the Proposed S.O.P.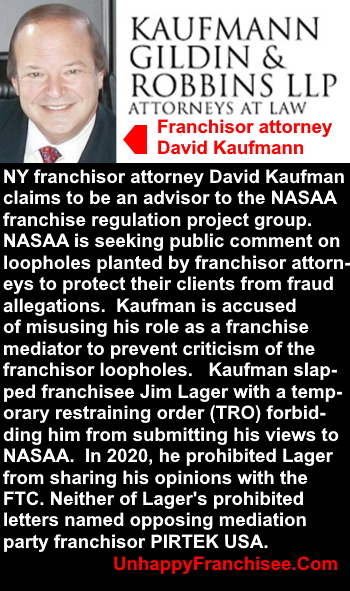 David Kaufmann's website states "David's franchise clients include many of our nation's and the world's largest and most prestigious franchisers…" 
It's likely that David Kaufman's firm uses the same "questionnaires and acknowledgements" in the franchise disclosure documents it drafts for the largest and most powerful franchisors.
Yet despite Kaufmann's obvious bias toward the interests of deep-pocketed franchisors, he is also, somehow, a mediator and arbitrator of the American Arbitration Association (AAA).  Private arbitrations operate with nearly complete confidentiality and privacy, so Kaufman is used to being able to operate with impunity, able to quash any allegations of bias or impropriety.
Read AAA Mediator David Kaufmann's Restraining Order (PDF)
*  David Kaufmann's bio & website state he's currently an advisor to NASAA.  We have not received confirmation from NASAA.
Whistleblower Jim Lager Has Leaked Kaufmann's Attempt to Silence His Opposing Opinions
Jim Lager was a successful, award-winning franchisee whose dispute with his former franchisor, PIRTEK USA, was mediated by David Kaufmann.  Lager claims that Kaufmann's bias toward the franchisor was evident throughout the proceeding. 
As part of the settlement agreement, Lager agreed to submit his articles and public writing to Kaufmann for prior approval.  In December, 2020 Lager answered the FTC call for public comment on The Franchise Rule with a three page letter that did not name or mention PIRTEK USA.  Kaufmann ordered Lager not to submit to the FTC or publish his letter.
Shortly before Christmas, 2021, Lager again prepared a letter with his views and experiences to submit to NASAA in response to the S.O.P. invitation.  Lager has vast experience as a franchise own, having had four decades of experience with three national brands.  Lager's letter did not name PIRTEK USA and did not reference its industry. 
PIRTEK Attorney Michael Joblove was incensed, and sent a strongly worded response forbidding Jim Lager from submitting his opinions to the organization of franchise regulators. 
AAA mediator David Kaufmann went even farther, using his power as a mediator to issue a Temporary Restraining Order (TRO) prohibiting Jim Lager from participating in a public, governmental and regulatory discussion of the industry he had participated in for his 40-year career.
"I never signed away my voice or my right as to speak my honest opinions to this Australian company,"  said Jim Lager.  "David Kaufmann is biased and lost his right to dictate my actions."
Jim Lager claims he is filing complaints with NASAA, the FTC, the NY Bar, the ACLU and any other agency with the power and fortitude to address the egregious system that allows franchisors to bully and strip franchisees of their rights and dignity.
Lager was quoted in yesterday's post  stated in yesterday's post (
You've overplayed your hand with the wrong U.S. veteran.

My voice is my own… and it's about to get louder than ever.
We welcome comments and clarification from David Kaufmann, Michael Joblove, PIRTEK USA as well as the franchise regulators of NASAA and the FTC.
NOTE:  Unhappy Franchisee provides an open invitation to all individuals and companies discussed, mentioned or involved with our posts.  We invite you to provide corrections, clarifications, rebuttals or alternative points-of-view in the comments and/or by emailing us at UnhappyFranchisee [at] Gmail [dot] Com.  We welcome all respectful opinions and value open, productive discussion.  We also respect the protected right of anonymous speech and assure the confidentiality of our sources and those who wish to contribute anonymously.  Threats and bullying will not be tolerated (especially when directed at us).
The opinions expressed are those of the author or of those he has quoted.  Statements of fact are true to the best of our knowledge;  always do your own research and come to your own conclusions.
WHAT DO YOU THINK?  PLEASE SHARE YOUR OPINION BELOW OR EMAIL US AT UNHAPPYFRANCHISEE [at] GMAIL [dot] COM
 Jim Lager Letter to NASAA 122821 
Jim Lager Letter to FTC 122821
TAGS: NASAA, North American Securities Administrators Association, franchise legislation, David Kaufmann, Franchise attorney David Kaufmann, mediator David Kaufmann, attorney Michael Joblove, PIRTEK, PIRTEK USA, Glenn Duncan, Jim Lager, franchisee Jim Lager, Texas Hose Pro, Franchise NDAs, Federal Trade Commission, FTC, the Franchise Rule, NASAA, Franchise Legislation, AAA, American Arbitration Association