KIDDIE ACADEMY Franchise Complaints
(UnhappyFranchisee.com)  Kiddie Academy is a Maryland-based daycare franchise founded in 1981 by George and Pauline Miller.  Kiddie Academy provides its franchisees with curriculum and helps them obtain all the licenses and permits necessary to build and operate their franchise daycare business.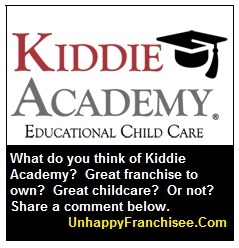 According to Entrepreneur, Kiddie Academy rose 103 franchise and 4 company-owned centers in 2010, but then fell to 90 franchise locations and 2 company-owned centers in 2011. A recent company press release states that "Kiddie Academy Domestic Franchising… has over 95 academies located in 24 states, including two company-owned locations. Approximately 70 additional academies are in development, with 15 to 20 new locations slated to open each year."
Kiddie Academy Boasts of its Extreme Franchise Support
According to the Kiddie Academy website, "Kiddie Academy® has achieved market leadership by working closely with each of our franchisees to promote the progress and growth of each academy. We make sure that our franchisees have the tools and guidance they need to run their businesses efficiently, so that they can have time for the other priorities in their lives, as well."
In a personal message on its franchise website, Kiddie Academy President and CEO Michael Miller states that Kiddie Academy was founded on the philosophy that the franchisor will support each franchise location as if it were their own.
Franchise Lawsuits and a Franchise Warning
Despite the upbeat growth projections, Kiddie Academy has suffered a unit decline of greater than 11%, from 107 locations to 95 locations, in the past year.  In recent years, there have been multiple lawsuits involving Kiddie Academy and its franchisees.
Additionally, a strongly worded warning to stay away from the Kiddie Academy franchise recently appeared on Rip-Off Report:
Kiddie Academy Kiddie Academy Franchising Rip off, beware of giving them any MONEY!!! Don't fulfill their promises!!! Go with any other child care franchise!! Abingdon , Maryland

Joerg — St. Louis Missouri United States of America

Submitted: Tuesday, August 09, 2011

Beware of giving these guys your hard earned money.

They don't fulfill promises or even contracts.

Read the fine print.

Distrust these guys.

Go with any other child care franchise if you want to really make an investment.

Go with any other child care franchise if you don't want to lose your money.

Beware of the CEO, Beware of the sales men.

Ask to meet EVERYBODY that will be interacting with you (from start to end) and you'll really see what they are all about.
A rebuttal post followed:
Ask Our Franchisees

AUTHOR: Kiddie Academy Domestic Franchising – Abingdon (United States of America)

SUBMITTED: Friday, August 12, 2011

POSTED: Friday, August 12, 2011

It is unfortunate that you had a dissatisfying experience. I welcome you to contact me directly so we can try and resolve your concerns. With a 30 year track record of helping build successful child care facilities across the country, we are proud of the integrity of our company, the quality of our people and value of our business opportunity.

Consistently heralded by our franchisees for our commitment to their success, Kiddie Academy has demonstrated our willingness to work with franchisees in achieving their desire for business ownership. Hear directly from our franchisees by visiting www.kiddieacademyfranchising.com. Our franchisees' feedback speaks for itself and for the Kiddie Academy business.
So, we ask our readers, franchisees, employees and those familiar with the Kiddie Academy franchise:
Is the Kiddie Academy Franchise a Scam and rip-off to be avoided at all costs?
OR
Is the Kiddie Academy a growing franchise organization with a franchisor dedicated to the success of each location?
ARE YOU FAMILIAR WITH KIDDIE ACADEMY?  SHARE A COMMENT BELOW.
Email Unhappy Franchisee at UnhappyFranchisee[at]gmail.com.