JOHNNY ROCKETS Franchise Complaints
Johnny Rockets franchise opportunity:  Are you considering it?
You should be aware that data released by the Small Business Administration (SBA) indicates that Johnny Rockets franchise owners who qualified for SBA-backed franchise loans have a very high loan failure rate of 56%.
[Note:  this post was originally published August 2012. Numbers may have changed]
Are you familiar with the this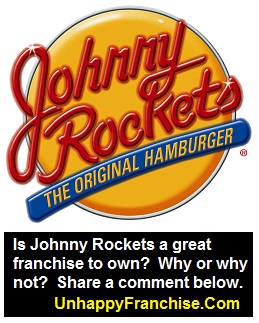 franchise opportunity? If so, please share your experience, opinions or insights with a comment below.
If you are a company franchise representative or employee, please leave a comment or email us at UnhappyFranchisee[at]gmail.com.
Johnny Rockets franchise owners have a 56% SBA loan default rate.
The inability to repay an SBA-backed loan (or any franchise loan, for that matter) indicates a serious situation for the franchisee.
It's likely that these franchise owners who received SBA loans may have collateralized their franchise loan with their homes or other personal assets, and many were unable to repay those franchise loans… despite the serious incentive to do so.
Johnny Rockets
| | |
| --- | --- |
| SBA loans granted since 2001: | 29 |
| SBA loan failure rate: | 56% |
| Source: Coleman report (SBA) | |
What do you think of the Johnny Rockets franchise?
Are you familiar with the Johnny Rockets franchise opportunity?
What do you think accounts for the high SBA loan failure rate of their franchise owners?
What steps should the company be taking to stop further franchise failures?
Has Johnny Rockets Licensing Corporation taken serious action to address the problems that led to these loan failures?
Please share a comment (anonymous is fine) or Contact UnhappyFranchisee.com.
ARE YOU FAMILIAR WITH THE JOHNNY ROCKETS FRANCHISE OPPORTUNITY?  ARE YOU A CURRENT OR FORMER JOHNNY ROCKETS FRANCHISE OWNER?  PLEASE SHARE A COMMENT BELOW.
Johnny Rockets, Johnny Rockets franchise, Johnny Rockets franchise complaints, Johnny Rockets failures, Johnny Rockets closed, Johnny Rockets complaints, hamburger franchise, burger franchise, fast food franchise, quickservice franchise, franchise failure rates, SBA franchise loans, worst franchises, unhappy franchisee