JDOG Franchise Dream Ends in Veteran Suicide, Double Homicide
Warning:  This post provides details of domestic violence, depression & suicide which may be triggering for some.  It provides disturbing information about the tragic murder-suicide involving military veteran Dan Dewitt, Amanda Dewitt and Deborah Allen of North Little Rock Arkansas.  The author extends his sincere condolences to the victims' family & friends, and all those grappling with depression.  If you or someone you know is having suicidal thoughts, please call, text or chat 988 or call 1-800-273-8255.  –  Sean Kelly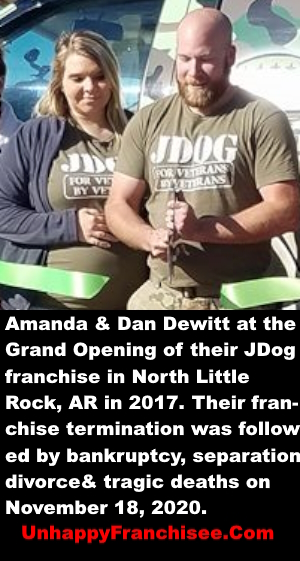 (UnhappyFranchisee.com)  The JDog Junk Removal & Hauling franchise is promoted as an inspiring opportunity that promotes veteran empowerment & reduces veteran depression & suicide.
The facts, however, suggest just the opposite.
Philadelphia-based franchisor JDog Franchises LLC is headed by Army veteran Jerry Flanagan & financed by Christopher Debbas' Julip Run Capital.
They sell a dream of business ownership to military veterans and families… with the promise of the support of a dedicated organization run by veterans for veterans.
JDog Franchises LLC requires veterans to make (finance) an initial investment of up to $157,000 and commit to monthly flat-fee royalty payments that aggregate to nearly $700,000 over the 15 year franchise term.
However, company disclosure filings indicate many, if not most, franchise owners will have lost their franchises and their investments within the first few years.
Read more here:  Franchise Warning: JDog Junk Hauling for Veterans (Index)
More than 200 JDog Franchises Were Terminated or Transferred Ownership in Recent Years
Disclosure records filed by franchisor JDog Franchises LLC reveal that of the 344 JDog franchises that opened from 2015 – 2022, the company terminated or transferred ownership of 224 franchises.
From 2019 – 2022, the company claims it opened 165 new franchises while 157 exited the system prematurely – a 3-year franchise turnover rate of nearly 100%.
Many Veterans and military families who trusted the hype & promises of Jerry Flanagan & JDog Franchises LLC report personal stress and turmoil that surpassed anything they experienced in the service.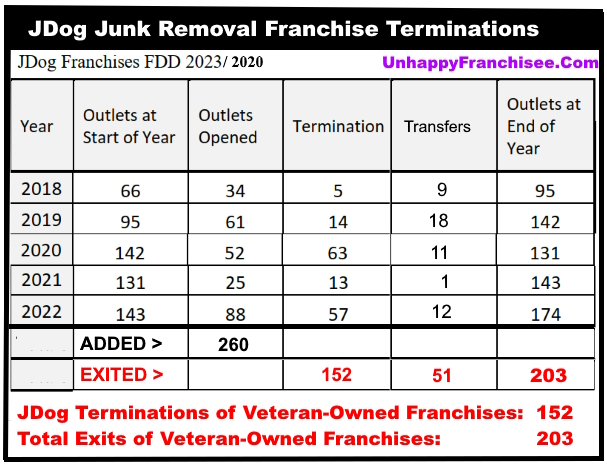 Overwhelming stress, financial loss, bankruptcies, marital strife, depression, anger, feelings of failure & betrayal, as well as stress-related ailments are common among the JDog franchise victims.
Angela Derringer-Donnell recently shared her ongoing battle to save her marriage, her family, and herself.
Army veteran Andrea Clarkin*, 21-year Navy veteran Richard Roberts* shared details of their financial & personal devastation & stress caused by the JDog franchise and organization. [Coming Soon]
In the case of the North Little Rock, AR JDog franchisee, that stress resulted in the tragic suicide of 11-year Army veteran Daniel Wayne Dewitt, the murder of his 31-year old wife Amanda and Amanda's mother, Deborah Allen.
*some interviewee names & details have been changed for fear of retribution by JDog Franchises LLC
JDog Franchise Failure Led to a Tragic Murder-Suicide by Army Veteran Dan Dewitt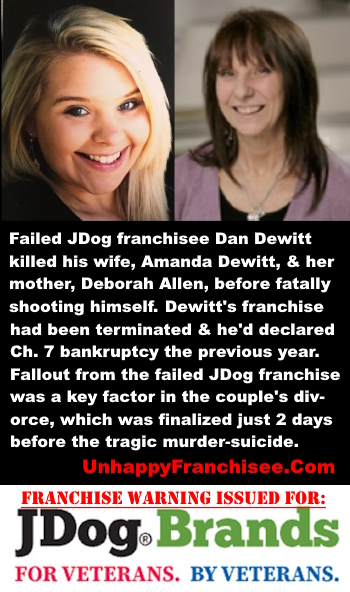 JDog franchise failures put military veterans and families into stressful pressure-cooker conditions that can lead to tragic results.
In 2019, 11-year Army veteran Dan Dewitt's Little Rock AR franchise was one of those terminated by JDog Franchises LLC.
Later that year, Daniel Wayne Dewitt declared Chapter 7 bankruptcy.
Dewitt's bankruptcy petition lists a $350,000 liability, potentially owed to the franchisor for his closed franchise.
(Among the property items Daniel claimed as "exempt" was a .40 Caliber Smith & Wesson M&P semiautomatic pistol.)
The economic and personal strain took a toll on Daniel's mental health & caused an irreconcilable rift in his and his wife Amanda's marriage.
Dan & Amanda Dewitt separated in March 2020 and commenced a volatile divorce and custody battle over their two young children.
Dan Dewitt Blamed His "Loss of Career" & Inability to Provide as "Primary Money Earner"  For Their Marital Conflict
In a divorce proceeding deposition,  Dan Dewitt cited "daily fighting" due, in part, to the economic pressure and, (according to Dan) Dan's loss of career and inability to provide as the "primary money earner."
From Dan Dewitt's deposition:
QUESTION:  What circumstances surrounding your marriage have made your life intolerable?
ANSWER:   Daily fighting; blaming for living conditions while living with her mother; I had career for 12 years and was not the primary money earner anymore and blamed for that; generally, disagreements on everything. Then I moved out at her request.
"Man Kills Ex-wife, Her Mother, Self Near North Little Rock" – Arkansas Democrat-Gazette 
On November 20, 2020, two days after their divorce was final, Dan Dewitt shot & killed his 31-year-old wife and the mother of their two children, Amanda Dewitt, as well as Deborah Allen, Amanda's mother.
The U.S. Sun reported:
A MAN is accused of fatally shooting his mother-in-law and ex-wife before turning the gun on himself in a gruesome murder-suicide possibly prompted by stress from ongoing divorce battles.

The two children of Daniel Dewitt, 32, and Amanda Dewitt, 31, are now orphans after Daniel allegedly killed Amanda and her mother Debra Allen, 61, on Wednesday…

…The horrific killing took place just two days after a judge granted the former couple a divorce and gave Amanda sole custody of their kids.

According to Garrett, the couple's two children – ages nine and two – were home during the shooting and neighbors claim to have witnessed the murder-suicide.

…Court records obtained by Arkansas Online revealed Daniel filed for divorce on April 7, citing constant fighting and being blamed for poor living conditions because he was no longer the household breadwinner.
Read the obituaries for Amanda Ashleigh Dewitt,  Debbie Kay Allen and Daniel Wayne Dewitt.
Neither Jerry Flanagan,  JDog nor the JDog Foundation Have Expressed Condolences for The Dewitt Family.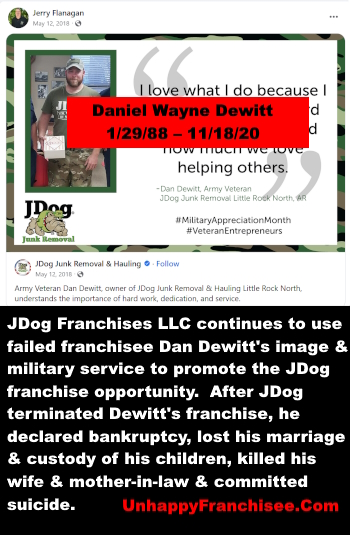 Jerry Flanagan's Facebook page still displays his December 9, 2017 link to a local article on Daniel Dewitt's Grand Opening in North Little Rock, AR.
Flanagan's FB page also continues to display his May 12, 2018 franchise-promoting "tribute" to veteran Dan Dewitt as a JDog franchise owner.
Flanagan's page does not mention that:
In February, 2019, Jerry Flanagan's JDog Franchises LLC terminated Dan Dewitt's franchise agreement.
In August 2019, Dan Dewitt filed for Chapter 7 bankruptcy.
In his bankruptcy petition, Dan Dewitt listed $441,365.71 in liabilities, including $350,000 described as "possible damages on early end of 15 year franchise contract for closed business…"
No condolences nor mention of the deaths of JDog's former Arkansas franchisees can be found on the social media pages of Jerry or Tracy Flanagan, JDog Franchises LLC, The JDog Foundation not Julip Run Capital.
If you are among the veterans or military family members whose JDog franchise(s ) closed before reaching the end of the contract term, please accept our condolences.
Please share your experience and insights so fellow veterans can make informed investment decisions regarding the JDog franchise.
All JDog Franchise Posts (Most Recent First)
Franchise Warning: JDog Junk Hauling for Veterans (Index)
Letter to JDog Franchises LLC President Kevin Kopa
OPEN INVITATION: Unhappy Franchisee extends an open invitation to all those discussed to provide corrections, explanations, clarifications and/or rebuttals.  We will correct factual errors & alternative views fairly.  Anonymous or signed comments are welcome below or can be emailed in confidence to UnhappyFranchisee[at]Gmail[dot]com.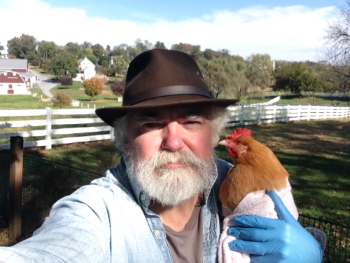 Sean Kelly is an independent investigative journalist with 35 years of franchise industry experience.  Since founding UnhappyFranchisee.Com in 2006, his reporting has exposed & shut down several predatory franchise & investment schemes.  Sean Kelly is a franchise watchdog who prompted and aided the FBI investigation that shut down the 165-victim multi-million-dollar NY Bagel franchise scam and landed perpetrators Dennis Mason & Joseph Smith in federal prison.  Sean was featured in the ABC Four Corners expose of 7-Eleven wage theft in Australia and has served as an advisor to Dateline NBC.  He has withstood bullying, intimidation & frivolous lawsuits as high as $35M and never lost.  His crack editorial staff and fact checkers include Chick, Gem, Red, Pru & Joanie the Rescue Chicken.
Contact the author at UnhappyFranchisee[at]Gmail[dot]com
TAGS:  JDog, JDog Junk Removal franchise, JDog Carpet Cleaning franchise, JDog failure rate, veterans franchise, franchise for veterans, Dan Dewitt, Amber Dewitt, JDog North Little Rock, Kevin Kopa, Jerry Flanagan, Julip Run Capital, Chris Debbas, Tom Spadea, franchise failures, franchise scam, vetfran, Spadea Lignana law firm, Terry Corkery, JDog Foundation