JACKSON HEWITT Franchise Complaints
UnhappyFranchisee.Com – Are you familiar with the Jackson Hewitt tax franchise opportunity?  What do you think?  You're invited to share a comment below.
According to the Jackson Hewitt website, Jackson Hewitt Tax Service Inc. (NYSE: JTX) is an industry leader providing full service individual federal and state income tax return preparation through more than 6,400 franchised and company-owned offices throughout the United States.
After its rapid rise to the #2 position in the industry, Jackson Hewitt has had some rough years and myriad problems.  According to Wikipedia:
"The 2007 Department of Justice investigation, poorly constructed financial products, and a company-wide tax law compliance initiative that many insiders believe did more harm than good combined to erase nearly 50% of the company's market share over merely four years.
"Additionally, the company negotiated out of a default on its debt in May 2009 and technically defaulted for several days in May 2010 (though an agreement with creditors was announced within one week of the 'default').
"During the 2010 tax season, Jackson Hewitt was not able to provide its flagship refund anticipation loan product in 50% of its stores, placing it at a operational and marketing competitive disadvantage. The company's current agreement with creditors requires that it secure refund anticipation loan funding adequate for 100% of its stores by September 30, 2010 and that written commitments from lending institutions be made available to creditors by November 15, 2010.  Failure to do either will place the company once more in default.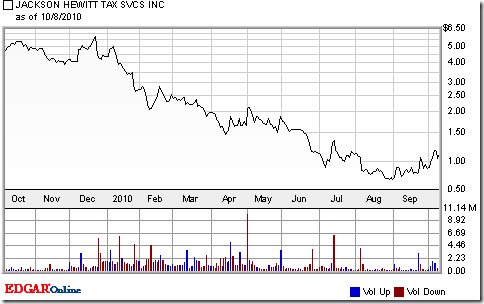 "Finally, in July 2010, the Internal Revenue Service announced its intention to discontinue the provision of the debt indicator to tax return preparers.
"The debt indicator is a significant part of the provision of refund anticipation loan funding and its lack of availability is expected to increase the cost of such products to consumers and decrease the level of their availability.
"This IRS change significantly reduces the probability that Jackson Hewitt will be able to comply with its renegotiated loan covenants as discussed above. The stock currently trades below one dollar*."
* The Jackson Hewitt stock price is listed at $1.11 today
Unhappy Franchisee has received numerous complaints about the rival Liberty Tax Service (see LIBERTY TAX SERVICE Franchise Complaints).
Is Jackson Hewitt franchise have worse problems? 
How is the franchisor doing in helping Jackson Hewitt franchisees weather the storm of operational & marketing challenges, and adverse publicity?
Is this simply a franchise (Stock?  Tax preparer?) to avoid at all costs?
WHAT DO YOU THINK?  SHARE A COMMENT BELOW.
Company responses, clarifications or rebuttals welcome.  Contact the author/site admin at UnhappyFranchisee[at]gmail.com.