HORN & HARDART COFFEE Albert Mazzone Complaint
Horn & Hardart franchise owner Steve Cohen claims Albert Mazzone sold him a 20 year master franchise development rights, then abandoned the H&H franchise program and rescinded his rights.  He calls Mazzone a "con man" and warns those considering working with Mazzone and his Horn & Hardart Coffee venture. We have asked Mr. Mazzone for his version of events… and how things were resolved with those who paid for Horn & Hardart franchises.
(UnhappyFranchisee.Com)  In an April, 2016 article in the Philadelphia Business Journal, Philadelphia businessman Albert Mazzone stated that the iconic Horn & Hardart food chain was back… and franchising.
The article stated:
The company has signed about 16 franchise agreements throughout the United States, including New Jersey, Washington, D.C, Nevada, Pennsylvania and Delaware.

A master distributor has also signed up for Florida.

"I expect to open eight to 12 before the end of the this year," Mazzone said.

Franchise agreements have also been signed for London and Manila, the Philippines. Ian Soriano, surgeon at the Hospital of the University of Pennsylvania, is a partner in charge of developing the Philippines and other non-U.S. markets, Mazzone said.

While a few local locations will open up — including Wilmington, Del., and Marlton, N.J. — none have been signed for Philadelphia.
Mazzone claimed that the Horn & Hardart franchisees would be able to customize the concept to their individual location, choosing either an automated "automat" concepts, a cafeteria-style eatery, a sit-down restaurant or a combination.  Franchise locations would be between 1,250-1,800 square feet with between 20 and 40 seats he claimed — would have an art deco design motif and "retro" feel.
The Philadelphia business press continued to feature Albert Mazzone and his Horn & Hardart branded coffee venture, but mentions of the franchise program disappeared without an explanation.
What Became of the Horn & Hardart Franchise Investors?  Florida Master Steve Cohen Speaks Out
What became of those who signed the "16 franchise agreements throughout the United States, including New Jersey, Washington, D.C, Nevada, Pennsylvania and Delaware"?
What about those who bought the rights to London & Manila?
We only know what became of the "master distributor" for Florida – Steve Cohen.
Cohen contacted UnhappyFranchisee.Com, eager to share his story – and a warning about trusting Al Mazzone & Horn & Hardart.
Steve Cohen writes:
My name is Steve Cohen. I live in Florida. In 2016 Albert Mazzone, owner of Horn & Hardart Franchises, H&H Coffee & Donuts and Horn & Hardart Coffee approached me through a representative. He was referred to me by an acquaintance of both of ours (a bird dog) and sold me the Exclusive Master Developing Rights for Horn  & Hardart for the entire state of Florida and then later 50% of the State of New Jersey.  I paid Albert Mazzone $29,500 upfront as part of a total fee of $300,000 for the rights to the two states (The balance wasn't due until I sold franchises).  Additionally, I incurred $150,000 in costs developing and testing a pilot franchise location.  The term of the contract was 20 years, with an option for an additional 10 years.

5 months ago, I was notified that Albert Mazzone was no longer interested in franchising and was closing his Horn & Hardart Franchise division.  I was no longer permitted to sell Horn & Hardart franchises or H&H franchises or use the names in any way.  Albert Mazzone stated that he was out of the franchising business and said that he wanted to exclusively focus on his Horn & Hardart Coffee division.  He did not offer to reimburse me for my expenses or to compensate me for breaking our 30-year contract.  When I objected to his intention to breach our contract, he laughed and told me to sue him and that I couldn't win because his investors in the Horn & Hardart Coffee division were powerful attorneys and had all the money in the world to squash any lawsuit.

He said that it didn't matter what the contract said because I couldn't afford to fight them, let alone win.

I want my story to be a warning to anyone doing any kind of business with Albert Mazzone to be very careful. Contracts mean nothing to him. I would especially be careful of buying coffee from his precious Horn & Hardart Coffee Company. You might not get what you hoped to get.
Steve Cohen was to Develop the Prototype Horn & Hardart (H&H) Donuts,  Biscuits & Coffee
According to Steve Cohen, the agreement obligated him to develop the pilot (prototype?) location for the Horn & Hardart Donuts, Biscuits & Coffee franchise chain, which he did.  He opened and operated a single location under that name in Florida.  However, the pilot location failed in 5 months.  Cohen blames the failure on the inferior quality of the coffee:
Getting that pilot opened was a requirement of our contract. Gourmet donuts seemed a natural because of the Horn & Hardart great coffee, gourmet donut shops were opening everywhere and doing great, plus my lifetime experience was in the donut and coffee business by being raised in the Dunkin Donut business as my parents owned a three successful franchises. That and the iconic Horn & Hardart name seemed a natural fit.

The contract did say that I must get a Horn & Hardart pilot open in a two year period and I satisfied that requirement 3 months early.

The pilot closed in 5 months due to lack of sales and Horn & Hardart sending me coffee that was not Horn & Hardart coffee and far inferior. It was a firm requirement in our contract that I display and only sell Horn & Hardart branded coffee and packaged Horn & Hardart Coffee.  After all, I was a coffee and donut shop so I wanted the best coffee.

When the first shipment arrived I received a coffee called Presidential coffee. Mazzone told me that it was Horn & Hardart coffee just in a different package labeled Presidential and I must use it..

Our customers hated it. I knew by checking the cups of coffee when people left and far more often then not, most of the coffee was left in the cup.

Mazzone continued telling me I was receiving Horn & Hardart coffee and I must sell it. This continued from opening inventory til the closing of my shop. I called the supplier after I closed my shop and he stated that Presidential was not Horn & Hardart coffee and anyone can buy that brand rather than being exclusive to me. This may not seem major but great coffee in a coffee shop is more important than anything. I trusted Mazzone and assumed that he was telling me the truth the entire time my shop was open. I have all the invoiced from the coffee supplier to confirm I was sold only Presidential Coffee.
After the Initial Failure, Cohen Set Out to Develop a Second Horn & Hardart Concept
Steve Cohen writes:
Now that my shop was closed I was not deterred. I would build my franchise developing company by selling franchises using the famous Horn & Hardart name.

I hired a franchise developing company and was prepared to kick off my expansion but with a different, approved concept. Horn & Hardart French Dipped Sandwiches. This was permitted because in our contract the choice of menu was up to the Master Developer. I was ready to go.

Mazzone then informed me that he decided he was closing down his franchise division and I was no longer permitted to sell Horn & Hardart franchises or H&H franchises or use the names in any way. He was out of the franchising business and said that he wanted to exclusively focus on his Horn & Hardart Coffee division. This was a couple of sentences in an email.  I explained to him that this would put me out of business in both states and all the money that I sent him and spent on the pilot and two years of developing the company would be gone that I could now not recover by building my business. If there was no franchise company, I had nothing to sell.

Albert Mazzone still owned and controlled the name but it was no longer a franchise. I said that he couldn't do that as we had an iron clad, 20 year plus 10 year option contract.   I told him we had a default clause in the contract and a First Right Of Refusal clause if he ever sold his interest (which is what actually  happened by closing the franchise division and getting investors to put up money to build the coffee company).

He again said to sue him.
Steve Cohen Calls Albert Mazzone a "Con Man."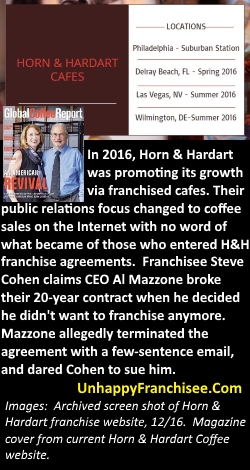 Steve Cohen writes:
It's now 5 month since I was notified [Albert Mazzone] was closing his Horn & Hardart Franchise division. I have hired an Attorney to fight him. All legal proceedings are in Penna. and I'm in Florida. A little inconvenient but my Attorney said it won't be an issue. He said we'll sue him and all his companies he's associated with. He has Attorneys in Penna.  He did agree my contract was iron clad and that Mazzone or anyone can't just break a contract because he didn't want to do it anymore.

The legal contract was prepared by my Attorney and paid for by me. Mazzone didn't have a single correction to the contract so I know it was iron clad except he wanted all legal proceedings in Penna, not Florida. He just wanted it signed and me to send him that $29,500. I asked him if I could pay in a few payments and he objected stating it all must be up front.

Mazzone also told me that he had sold Master Developing Agreements in Nevada, Delaware, Maryland and was going to continue building the company into a National name. This was a great inducement to me. Between him and I we would have the Horn & Hardart name all over the country. I later found out this was all a lie. I was the only sucker to buy in.

This Mazzone character cries the blues when other con men, fellow con men sell phony franchises on Craig list and other sources. You've been warned on this site about them. Mazzone tries to get their stories removed by crying that he's innocent. He's a charming guy. He's easy to trust. The most dangerous kind. He pleads that he has nothing to do with these guys selling Horn & Hardart franchises for $25,000.  Right.  Mazzone charges $29,500.

Mazzone will claim this experience I'm writing about is not accurate. He'll whine and cry innocence like he has before when negative stories come out about his company. Well, let him call any law enforcement agency. I'm actually hoping he sues. The loser pays all legal fees anyway and I won't lose. There's not one exaggeration in this story. I have the signed contracts good for 30 years from commencement, all invoices, all receipts and best of all, every single email. He can't just break a contract without offering to pay damages or offering a buyout. He offered neither. It'll cost him.  Hey Albert, you can still buy me out. It just costs you more for the stress. You see, I still own the rights by contract. My problem is that there is no franchise.  He can't just terminate the contract.  So he chose to take away the item I had to sell.  But the contract is still in effect. Just can't use it.  If he decides to renew the franchise name, everything is back.  But he says he just doesn't want to be a franchisor anymore.
Mazzone & Cohen Are No Horn & Hardart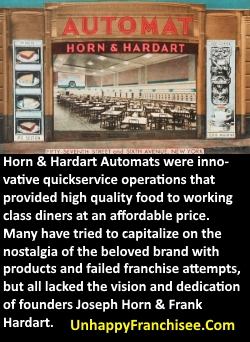 Joseph V. Horn and Frank Hardart opened the first Horn & Hardart in Philadelphia, on Dec. 22, 1888. It had a counter and stools, no tables.  They opened Horn and Hardart's first Automat in 1902.  It was an innovative and efficient concept that delivered hearty and delicious food quickly and economically for the working class populations of several major cities.
The Horn and Hardart Automat concept and the design was diligently planned, executed and continuously fine-tuned.  By the time Joseph Horn died in 1940, Horn & Hardart Automats had grown to 157 locations and were serving 500,000 meals a day.  Imagine the operational efficiency, and the food and labor cost control necessary to profitably deliver a breakfast of a fruit cup, eggs with bacon and home fried potatoes and toast for 25 cents (even at the prices of the day), as they did in 1940.
Contrast that with the cart-before-the-horse (or, more accurately, horseless cart) approach of Mazzone & Cohen, who had decided to sell franchises to a concept before they had even fully developed, refined and proven the prototype franchise concept.  If Cohen's story is accurate, Albert Mazzone seems to be little more than a trademark holder willing to license it out for products or concepts that bear little to no connection to the original brand.
And while Steve Cohen may have a legitimate beef (so to say) with Al Mazzone, he had creative and operational control over the prototype location – which failed in 5 months on his watch.  As someone who grew up in the coffee and donut business, he should have known not to open for business with weak and crappy coffee.  Still, it's unlikely that generic foodservice coffee alone was the reason for the Horn & Hardart pilot store demise.  The donuts and biscuits received rave reviews, but customers cited a poor location and there appeared to be insufficient local marketing, and little promotion of catering or outreach to hotels or businesses.  If Mazzone & Cohen couldn't identify and address these issues in a single prototype unit, they had no business selling or supporting franchises.  Cohen's solution of moving farther from both the Horn & Hardart brand and his own expertise by selling H&H Au Jus French Dip beef sandwiches out of a trolley car seems to be a stretch, to say the least.
The moral of this story seems to be:  develop, test and prove a business concept worthy of franchising before you start promoting franchises.
And don't invest in a franchise business that's based on a famous name but that doesn't execute the same values that built the brand in the first place.
NOTE:  We have invited all parties discussed to share corrections, clarifications, explanations, rebuttals, and alternative points of views.  Opinions and representations expressed are those of the parties alone; do your own research and make up your own mind.  We are a discussion site and invite all opinions from all points of view which can be left as comments or submitted to UnhappyFranchisee[at]gmail.com for possible publication.  Anonymous commenting is fine.  Please consider supporting our effort with a contribution to Unhappy Franchisee.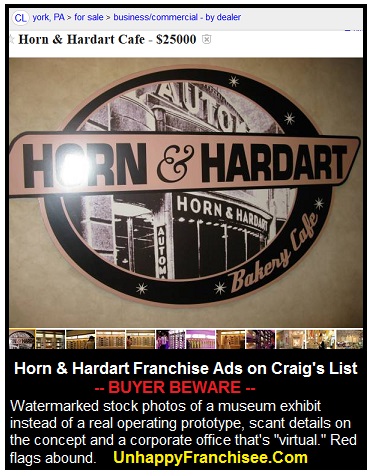 UnhappyFranchisee previously reported about Horn & Hardart franchise ads being run by a reputed scammer named Dennis Mason (pictured, right).  Albert Mazzone admitted knowing Dennis Mason but claimed the ads were run without his authorization:
HORN & HARDART Franchise: Legit? Or Scam?
HORN & HARDART Franchise Scam Ads Linked to Dennis Mason
ALSO READ:
FRANCHISE DISCUSSIONS by Company
ARE YOU FAMILIAR WITH THE HORN & HARDART FRANCHISE, ALBERT MAZZONE, OR HORN & HARDART COFFEE?  PLEASE SHARE A COMMENT BELOW.
TAGS: Horn & Hardart,  Horn & Hardart Automat, Horn & Hardart franchise, Horn & Hardart Coffee, Albert Mazzone, Al Mazzone, Dawn Mazzone, Steve Cohen, H&H Beef Au Juice, H&H Coffee Donuts, Dennis Mason, unhappy franchisee .