HORN & HARDART Franchise Scam Ads Linked to Dennis Mason
Bogus Horn & Hardart franchise ads, which disappeared after being flagged as suspicious by UnhappyFranchisee.Com, were not placed or authorized by Horn & Hardart Franchise Group, according to the company.  The Craig's List ads appear to have been possibly placed by NJ-based franchise seller Dennis Mason.
(UnhappyFranchisee.com)  More than a dozen Horn & Hardart franchise ads on Craig's List announced a great opportunity to "own a piece of history" for only $25,000… by owning your very own Hard & Hardart franchise business.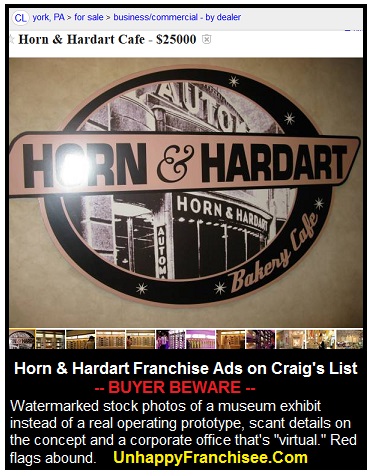 The ads said to call "David Malin" at (888) 550-8020.
Unhappy Franchisee.com raised a number of red flags, questioning the authenticity of the ad in the blog post HORN & HARDART Franchise: Legit? Or Scam?
One of our red flags was that the number (888) 550-8020 is associated with controversial franchise broker Dennis K. Mason, and the name "David Malin" is similar to an alias he used in YoFresh Yogurt Café ads (Mr. Malinsky).  Clicking on the "Other ads by the same user" button revealed that the author of the Horn & Hardart franchise ads was also running ads for Kwench Juice Café franchises and NY Bagel Café franchises – both franchise opportunities Mason is believed to be promoting.
Almost immediately after the blog post appeared, all of the Horn & Hardart ads disappeared from Craig's List.
The ads were quickly replaced with the generic message "This posting has been deleted by its author."
Here's an example of a now-deleted Horn & Hardart franchise ad:
HORN & HARDART CRAIG'S LIST FRANCHISE AD – DELAWARE
Horn & Hardart Says Franchise Ads Were Unauthorized.
In response to the blog post, Horn & Hardart Coffee (@HH_Coffee) replied through its Twitter account:
@UnhappyZ [that's us] We do not use outside parties to market our franchise and did not authorize the craigslist ad you reference.  TY [thank you] for the notice.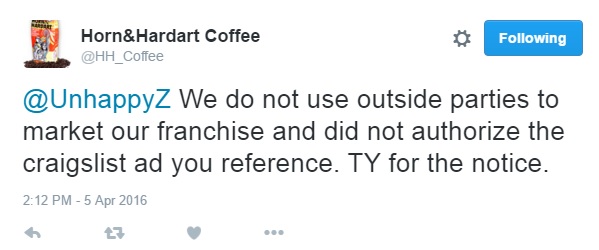 We emailed Albert Mazzone, President of Horn & Hardart Franchising Group about whether his company or one of their representatives ran the ads.
Mr. Mazzone wrote:
NO, THEY ARE NOT OUR ADS. WE ARE NOT CURRENTLY USING AN OUTSIDE COMPANY FOR SALES.
When asked if he was familiar with franchise broker Dennis Mason and his company Franchise Ventures, Inc., and whether Mason was a sales representative for Horn & Hardart, Mr. Mazzone wrote:
I AM FAMILIAR WITH MR. MASON. HE DOES NOT REPRESENT US AND ANY ACTIVITY HE MAY HAVE ENGAGED IN WAS NOT WITH OUR APPROVAL.
We have emailed Dennis Mason and asked him if he would confirm or deny placing the Horn & Hardart franchise ads, but have not received a response.
Dennis Mason Sold Ill-Fated Horn & Hardart Franchises in 2000s
It appears that franchise broker Dennis Mason sold Horn & Hardart franchises during the last unsuccessful H&H franchising attempt.
This might explain Albert Mazzone's familiarity with Mr. Mason.

According to a PR professional who worked with Horn & Hardart during this period, Harold Katz and his son launched a Horn and Hardart franchise chain in early 2000.  After selling and opening a number of franchised locations, and after the elder Katz' death, the chain became mired in "ugly" franchisee disputes, failures and lawsuits.
Our crack research team located this 2002 classified franchise ad [pictured here] for the Horn & Hardart franchise opportunity.  The phone number is the same as that used for many years by Dennis Mason.
Kwench Juice Café Franchise Tied to Bogus Ads
  Kwench Juice Café CEO Chris Gregoris claims that Dennis Mason does not market or sell franchises for him.  Last night he wrote to us:
…you have plastered your blog stating that Dennis, Ken, Anthony, David or whatever other name you put out there sells Yofresh & Kwench Franchises. THAT IS NOT THE CASE. No franchise brokers represent either brand.
However, at least one of the bogus Horn & Hardart franchise ads, posted to the North Jersey Craig's List page, blended promotional copy from H&H with Chris Gregoris' Kwench Juice franchise.
The ad had the headline:
Horn & Hardart Café – $21,500
But the copy was for Kwench Juice Café, reading:
KWENCH JUICE CAFE, a dynamic Franchisor in the fresh Fruit & Vegetable juice industry is now offering new franchises within the state of New Jersey area. Our menu consists of fresh fruit & vegetable squeezed juices, acai bowls, fresh squeezed kosher smoothies, soups & salads, lite sandwiches, frozen yogurt, ice cream, vegan foods and more….
Be part of the fastest growing health foods industry. Franchise Fee $21,500 for a Single store and $29,500 for three (3) stores.
No Royalty or Advertising Fees

Full Site Location, Lease Negotiations with Landlords

Full Training at Franchisee's Location

Full Support, hiring and training of Crew

Prime Sites Available in New Jersey

100% Financing Available over the $21,500/ $29,500 Franchise Fee for Qualified Applicants

Low investment

For full detail call Anthony at (855)252-6334 toll free

www.kwenchjuicecafe.com
While Chris Gregoris may deny that Dennis Mason is (or was until very recently) the Kwench sales agent operating under the alias "Anthony," he confirmed that Mason was, in fact, Anthony Stewart after the exchange in this post:  KWENCH Juice Café Franchise Seller Anthony Stewart is Really Dennis Mason.
Whether it is Dennis Mason or someone using his phone number, it's clear that the person running the bogus Horn & Hardart ads was also, until very recently at least, running ads for the Juice Café franchise and Joe Smith's NY Bagel Café franchise.
The bottom line:  Be very careful to make sure the ads you are answering are legitimate, and that you know who you are speaking to… Especially when you are dealing with one of these companies or other opportunities on Craig's List.
ALSO READ:
FRANCHISE DISCUSSIONS by Company
HORN & HARDART Franchise: Legit? Or Scam?
DENNIS MASON Franchise Lawsuits, Controversies, Aliases & Warning
DENNIS MASON Franchise Complaints
Joe Smith, Dennis Mason & NY Bagel Café Franchise Exposed: 10 Things You Should Know
HAVE YOU HAD EXPERIENCE WITH DENNIS MASON, DAVID MALIN, HORN & HARDART FRANCHISE ADS OR THE KWENCH JUICE CAFE FRANCHISE?
SHARE YOUR EXPERIENCE BELOW.
TAGS:  Dennis Mason, Dennis K. Mason, Franchise Ventures, Anthony Stewart, David Malin, Horn & Hardart,  Horn & Hardart franchise, Horn & Hardart franchise group, Albert Mazzone, Craig's List, Franchises on Craig's List