CUPPY'S COFFEE: Despite Challenges, Cafe Opens in Wilmington, DE.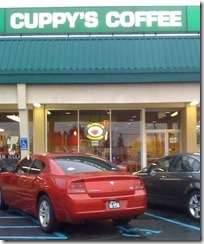 (FranchisePick.Com) Congratulations to Claudia & Alan Robbins on the opening of their brand new Cuppy's Coffee cafe franchise in Wilmington, DE!
If you're in, near or passing through Wilmington, DE stop in, show your support and get caffeinated at:
Cuppy's Coffee
Millcreek Shopping Center,
4567 Kirkwood Hwy.
Wilmington, DE
The Robbins will be putting together a grand opening with a ribbon cutting some time around the 13th.
It's been a long, hard road to get open.
Back in March, 2008, on one of the many fakey Cuppy's promotional blogs (Coffee Knut Insider/ Coffee Real Estate)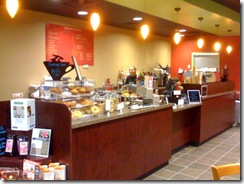 James Anderson wrote:
Wilmington DE now will have another reason to celebrate. Many pockets of the city are populated by different groups of people with various European heritages. This ethnic diversity contributes to several very popular ethnic festivals held every spring and summer in Wilmington. Now that Elite Manufacturing is working on bringing the new Cuppy's Coffee cafe up to trade dress, Wilmingtonites will soon enjoy a true Italian experience.

Elite estimates that the new Cuppy's Cafe should be completed sometime in April. There soon after, Cuppy's should have their Grand Opening to introduce the citizens of Wilmington to decadent espressos, real fruit smoothies and a whole lot more.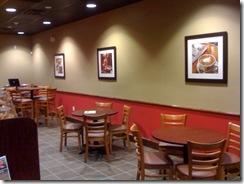 Unfortunately for Claudia & Alan Robbins, the April opening was just one more Cuppy's Coffee / Elite Manufacturing fairy tale.
Little did they know, the Robbins would have to battle through the change in the ownership of Cuppy's Coffee & Elite Manufacturing, missed deadlines, broken promises, fallout from a lawsuit against Elite Manufacturing by subcontractor SBT, and the seeming collapse of both the franchisor and its construction arm.
During the process, the Robbins' reportedly had to seize control of their own building process and oversee their own contractors to get their buildout finished, incurring additional costs and a 7 month delay in the process.
Please join us in wishing the best of luck to Claudia & Alan Robbins and Cuppy's Coffee of Wilmington, DE… they certainly have earned it.
WHAT DO YOU THINK?  SHARE A COMMENT BELOW.
__________________________
Visit FRANBEST's: Unbiased franchise information, franchise interviews and detailed, searchable information on 400 franchise and business opportunities.
.
Franchisees, customers & experts vote for their favorite new franchises at Top New Franchise: Who's hot. Who's not.
photo credits: Cuppy's Coffee of Wilmington, DE