CORK & OLIVE: Probst Prison Wine (Humor)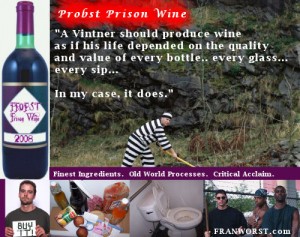 The folks over at FranWorst.com are dedicated to celebrating the worst franchise opportunities and the worst product ideas in franchising. They have asked Unhappy Franchisee and Franchise Pick readers to serve as a focus group for a potential new line of wines based on the Olde World tradition of handmade prison wine. For decades, prisoners have made their own wine by mixing common ingredients such as stale bread, fruit, ketchup, and sugar in their cell toilets and fermenting each batch in plastic garbage bags.
CLICK IMAGE TO ENLARGE.
If Cork & Olive's wine connoisseur Michael Probst were to go to prison, the collaboration between this reknowned wine retailer and resident prison winemakers (many of whom have spend 30 years, 40 years to life perfecting their craft) could spark a renaissance in prison wine and create a whole new wine niche.
The market for this wine would be both ex-inmates and parolees who developed a taste for this vintage but haven't been able to purchase it since their release, and fine wine drinkers who realize the quality produced by those who could get shanked for a single bad bottle.
Cork & Olive stores would be given priority purchasing tights and even have the option of private labeling some of the specialty lines, like San Quentin Reserve, Cell Block C, Lifer's Liebfraumilch and the specially aged 20 to Life.
WHAT DO YOU THINK? WOULD YOU BUY/SELL PROBST PREMIERE PRISON WINE?