COLLEGE PRO PAINTERS Franchise Defender Says Shut the F Up!
The College Pro Painters franchise has drawn much criticism, with detractors calling it a predatory scam.  Commenter Peter Wilson has tolerated as much College Pro bashing as he can handle, and tells the whiners to "Shut the F up about it."
(UnhappyFranchisee.Com)  Peter Wilson is livid after reading the disparaging comments left about the College Pro Painters franchise here:  COLLEGE PRO PAINTERS: Great Opportunity or Franchise Scam?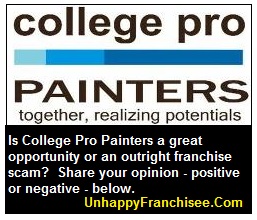 He admits that he didn't make much money
Commenter Peter Wilson writes that he didn't make money, went into debt and had to drop out of school, but CPP-bashers Should shut the F up!
There's more to investing in a business opportunity than getting a return on your investment.
Peter writes:
Ok so I'm steaming about some of the comments on here!

.

CPP is NOT a scam.

.

I ran a franchise in Denver for two years. Ok I didn't make much money, in fact I owed quite a lot on credit cards and to the paint store at summers end, but the Company College Pro said I was a success, and gave me an award to prove it

.

Isn't success more important than making money? I got a plack, with an engraved thing on it showing how successful I was, I hit the companies targets for me.

.

Yes, I had to drop out of school briefly to make money at the sports store to pay for tuition but CPP says I'm a success.

.

Some people criticize the 30% royalty rates the company takes. yes this is alot but importantly the company places alot of TRUST in you (me) the franchise owner.

.

My painters didn't make much money either it seems and yeah they want to blame me, but I told them the company says I'm a success so shut the f up about it all

.

CPP ROCKS!
Perhaps those who lost money with College Pro Painters should look on the bright side, like Peter, who sees the paint can as half-full.
He has a plack.
A respected national company has dubbed him a success.
And few can dispute that he learned an important lesson about trust, investing and franchising that he will never forget… one that will guide him through the rest of his business career.
Plus, he got a plack!
ALSO READ:
FRANCHISE DISCUSSIONS by Company
COLLEGE PRO PAINTER Complaint: Untrained Employees, Dissatisfied Customers
COLLEGE PRO PAINTERS Franchise Complaints
COLLEGE PRO PAINTERS: Great Opportunity or Franchise Scam?
ARE YOU FAMILIAR WITH THE COLLEGE PRO PAINTERS FRANCHISE OPPORTUNITY?  DID YOU GET A PLACK?  TELL US WHAT YOU THINK… SHARE A COMMENT BELOW.
TAGS: College Pro Painters, College Pro, cpp, College Pro Painters franchise, cOLLEGE pRO franchise opportunity, College Pro Painters franchise complaints, CPP franchise, College Pro Painters franchise opportunity, College Pro Painters franchise scam, College Pro Painters rip-off, unhappy franchisee