CHERRYBERRY Franchise Closure: Springfield, Missouri
The CherryBerry frozen yogurt franchise location in Springfield, Missouri has closed.
(UnhappyFranchisee.Com)  The CherryBerry location, which required an initial investment between $200,000 and $300,000 was open just 15 months.
In June, 2011, the Springfield Business Journal reported:
"CherryBerry Self-Serve Yogurt Bar
"Patrick and Christina Tasset opened CherryBerry Self-Serve Yogurt Bar on May 20 at 4127 S. Kansas Expressway, Ste. 124.
"The yogurt bar is one of 22 in the nation and is independently owned by the Tassets, who pay a licensing fee for the store, which started in Broken Arrow, Okla.
"Christina Tasset said the startup cost for the business was between $200,000 and $300,000.
"The couple, who employ 12 at the 2,800-square-foot facility, received a U.S. Small Business Administration-backed loan through Triad Bank in Tulsa, Okla., for an undisclosed amount, Christina Tasset said.
"CherryBerry yogurt is 39 cents per ounce and made from real dairy products and all natural ingredients, Christina Tasset said.
"Tasset said CherryBerry also offers a free party room for birthday parties."
CherryBerry of Springfield, Missouri Survived 15 Months
May 5, 2011 – July 23, 2012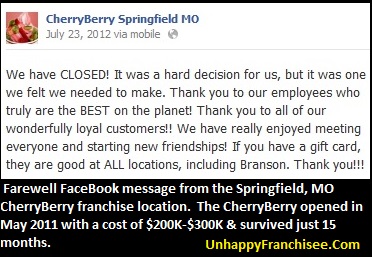 The farewell FaceBook post read, in part:
We have CLOSED!  It was a hard decision for us, but it was one we truly had to make.

Thank you to our employees who are truly the BEST on the planet!

Thank you to all our wonderfully loyal customers!!

… Thank you!!!
.
The Springfield, MO CherryBerry is one of at least 10 CherryBerry franchises to close in recent months.
Read about recent CherryBerry franchise closures here:
CHERRYBERRY Texas Franchise Failures
CHERRYBERRY Franchise Closure: Claremore, Oklahoma
CHERRYBERRY Franchise Closes, Cites Poor Sales
CHERRYBERRY Franchise Closure: Fayetteville, AR
CHERRYBERRY Franchise Closure: Sand Springs, Oklahoma
UnhappyFranchisee.Com sends Patrick andChristina Tasset and their staff our condolences on the closing of their franchise, and wishes them the best of luck with all future endeavors.
ARE YOU A CHERRYBERRY FRANCHISE OWNER OR FRANCHISEE?  ARE YOU FAMILIAR WITH THE CHERRYBERRY FRANCHISE OPPORTUNITY OR BEAUTIFUL BRANDS?  SHARE A COMMENT BELOW.
TAGS: CherryBerry, CherryBerry Frozen Yogurt, CherryBerry franchise, CherryBerry Frozen Yogurt Franchise, Froyo, Froyo franchise, Frozen Yogurt franchise, Beautiful Brands International, Dallas Jones, Robyn Jones, David Rutkauskas, franchise failures, franchise closures, franchise graveyard, Unhappy Franchisee, Springfield Missouri, CherryBerry Springfield MO, Patrick Tasset, Christina Tasset