BEAUTIFUL BRANDS Franchise Complaints
Beautiful Brands International (BBI), multi-brand franchisor of Camille's Sidewalk Café, Freshberry & Rex's Chicken, has received stinging criticism from former franchise owners who allege Beautiful Brands is only interested in collecting upfront franchise and development fees, that BBI provides little-to-no ongoing franchise support, and that Beautiful Brands is indifferent to the widespread failures of its franchisees.
Are you familiar with the Beautiful Brands International or their franchise opportunities? Please share a comment – positive or negative – below. Company rebuttals or clarifications are welcome.
Some of these allegations appeared as comments on our post regarding the high SBA failure rate of Camille's Sidewalk Café franchise.  Camille's is listed by the SBA among the worst franchises by SBA loan default.
Beautiful Brands is selling record numbers of franchises
According to Fast Casual magazine in June, 2012:
Beautiful Brands International (BBI) has reported record franchise unit sales and store openings of its franchised brands for the first quarter of 2012. This includes a record-breaking 28 units opened in the first quarter, 61 new stores under construction and franchised sales of more than 200 stores…

BBI set its highest sales mark to date in 2011, selling more than 370 franchises and master franchise agreements. The company is already on pace to upstage that number, with 200 franchise deals in the first quarter of 2012 alone.

In addition, BBI has surpassed last year's first quarter store openings by more than double, and it has 160 stores under development slated to open in less than 24 months.
The article adds that "BBI, a Tulsa, Okla., restaurant innovation company founded in 2008 by David and Camille Rutkauskas, is responsible for the development and worldwide launch of franchised brands including Camille's Sidewalk Café, FreshBerry Frozen Yogurt Cafe, Rex's Chicken, Caz's Chowhouse, Dixie Cream Donut Co., Ludger's Bavarian Cakery, CherryBerry Self-Serve Yogurt Bar, Sushi Freak, Roxberry Juice Co., Smallcakes A Cupcakery, MyCamille's and Fresco Wood Fired Italian Kitchen."
It seems that Beautiful Brands has turned into a franchise-selling machine.
But how is its track record in servicing and supporting franchise owners once their agreements are signed and their checks have cleared?
Beautiful Brands' Coney Beach was a franchise failure
The allegations that Beautiful Brands is focused solely on the upfront sale of franchises and not on what follows seems to be borne out in the BBI Coney Beach fiasco.  Before BBI even had a single prototype for its retro hot dog concept, BBI had sold 14 Coney Beach franchises. According to a 2007 post on the Camille's website:
The first Coney Beach unit will open in Tulsa in April [2007]. Initial expansion also will include Jackson, Miss., with other targets of St. Louis and Kansas City, Mo., Dallas, Houston, Oklahoma City, Birmingham, Ala., Atlanta, Little Rock, Ark., Omaha and Chicago. The goal is to open 20 locations in 2007, 20 in 2008, and 100 in 2009.
The Coney Beach concept was a failure from the start, and was eliminated by 2010.  BBI founder David Rutkauskas admitted to doing no research into hot dog consumption before selling the untested hot dog franchise, telling Tulsa World "I don't think we realized that people don't eat hot dogs three times a week."
In 2008, a Coney Beach franchisee wrote to CNN for advice on unloading the now-worthless rights to its Coney Beach franchise:
I own two territories of a Coney Beach franchise near Brandon, Miss. I never developed them and now the franchisor and I have agreed I have one year to resell these territories. I don't know where to begin. Thoughts?
BBI's Camille's Sidewalk Café franchises are failing (58% SBA loan default rate)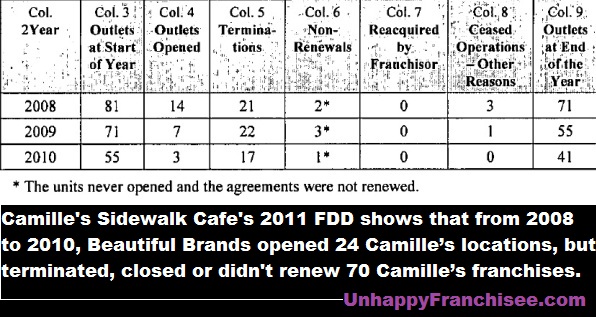 In 2007, Beautiful Brands claimed that it had 100 Camille's Sidewalk Cafés open and "more than 800 franchise agreements worldwide."
The Camille's Sidewalk Café 2011 Franchise Disclosure Document (FDD) indicates that in the beginning of 2008 there were 81 Camille's franchises open in the U.S..
By the end of 2010, that number had dropped to just 41 U.S. franchises.
As of June, 2012, there are 32 Camille's U.S. locations listed on their website.  The Camille's U.S. franchise network has shrunk 60% since 2008.
According to the 2011 FDD, between 2008 and 2011, Beautiful Brands had opened 24 Camille's locations, but terminated, closed or not renewed 70 Camille's franchises.  Additionally, the Camille's FDD shows that there were 20 franchise agreements signed for locations that had not opened.  Several franchisees claimed they paid for franchises that they were never able to open.  Refunds are not given for undeveloped franchises.
According to the Small Business Administration, Camille's Sidewalk Cafe franchisees have received 66 SBA-guaranteed loans; more than half of those loans have been defaulted on by Camille's Sidewalk Cafe franchise owners.
Beautiful Brands franchise owner complaints
While Beautiful Brands is aggressively signing up new franchise owners, former franchisees are speaking out (See CAMILLE'S SIDEWALK CAFE Franchise Complaints) about an alleged lack of support and deceptive business practices.
Anon wrote:
Camille's sidewalk cafe has a high default rate because there is no support. Franchisees cannot get a hold of them and they put no effort into helping them with support….
A franchisee wrote:
As a former Camille 's Sidewalk Cafe franchisee, we can speak from a painful experience that there is no support from the franchisor. There continues to be a great deal of deception as well in alluding to the so-called "development" of several hundred franchises world wide!!

…Camille and David collect their franchise fees, including the required additional development fees, when there is no possibility for development, no support staff, and no enforcement of operational standards. With all of these major problems causing a high rate of restaurant closures, they continue to turn their heads, once they have their money, and move on to other concepts, leaving the franchisee on his/her own to survive with a total lack of support.
Another franchisee wrote:
Don't walk away from this opportunity. Run like a greyhound. We signed up for 50K for three sites, they turned down every location and after 3 years we asked to get out and they said it was 50K for services rendered…. Forget Camille's and her greedy husband… I am a firm believer that what goes around comes around and they will get what they deserve…
Anonymous wrote:
I am an ex-franchisee of Camille's who ended up losing every penny I had earned and saved. My family and I lost everything.

…in essense this company and it's leader desire nothing more than to take the money of people they convince their concept is great. I was lied to about food and labor costs and profit margins.

…We had zero support from day one through the last day… Once you are in trouble they stop taking your calls period…

Stay away, run as fast as you can, this is nothing more than a scam designed to take your money with no support in exchange.
Another franchisee wrote:
Well I could on w this scenario for pages. Simply put Dave R should be tried and prisoned for the way he treated us and other franchisees. We had purchased rights to 7 locations in MN and opened 2…  Although they helped in opening the sites that was it!

All support was gone when we continued to struggle… Two other franchisers in Minneapolis opened 4 restraunts and despite long experiences in the restaurant business were unable to make a go of it. The whole ordeal cost me millions, frustration, drove my to son to drink and leave the business, and a law suite and judgement for payment on a long term lease. All in all it comes down to lack of support and pricing that Camille's couldn't offer. Dave was interested in selling his franchises collecting his money and and leaving town…
Please share a comment, opinion or insight – positive or negative – below.  Company rebuttals welcome.
ARE YOU A BEAUTIFUL BRANDS FRANCHISE OWNER OR FORMER BEAUTIFUL BRANDS FRANCHISEE?  ARE YOU FAMILIAR WITH BEAUTIFUL BRANDS FRANCHISE OPPORTUNITY?  PLEASE SHARE A COMMENT BELOW.
Tags:  Beautiful Brands, Beautiful Brands International, BBI, Beautiful Brands franchises, Camille's Sidewalk Café franchise, Rex's Chicken franchise, Freshberry franchise, Cherryberry yogurt franchise,  Beautiful Brands complaints, franchise opportunity, restaurant franchise, frozen yogurt franchise, franchise failure rate, worst franchise, sba failure rates, SBA franchise loans, franchise information, David Rutkauskas, Camille Rutkauskas