Are DICKEY'S BARBECUE PIT Franchise Owners Being Exploited?
A Dickey's Barbecue Pit franchisee predicts that the company will soon face a backlash from the exploitation of franchise owners by a greedy Dickey's franchisor. He claims the Dickey's is receiving kickbacks (rebates) on franchisee purchases and hides franchise failures by churning locations.
(UnhappyFranchisee.Com)  We received a disturbing email from an anonymous reader who claims to be a long-time Dickey's franchise owner.
He claims that after years of being a part of the "Dickey's family" and following all of the rules, he finds himself in the worst sales month in memory.
He claims he was sold the dream that he could build up a successful store and be able to retire before long.
He says the dream has turned into a nightmare in which he and his family work harder and harder "just to keep the lights on."
The Dickey's franchisee's message includes two powerful opinions that prospective franchisees should definitely investigate and consider:
That Dickey's is not only collecting 9% in royalties and advertising fees, but is making most of its income from vendor rebates (which would add to franchisee's costs), and
That Dickey's is hiding its many franchise failures by reselling failed franchises to new owners, a practice called "churning" which hides franchise failures by classifying them as "transfers." (We discuss this complaint here:  Is DICKEY'S BBQ Hiding Franchise Failures?)
Are Dickey's Barbecue Franchise Owners Getting Burned?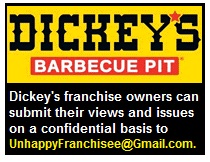 The Dickey's Barbecue Pit franchise owner has concerns that Roland Dickey and Dickey's management are profiting from their expenditures.
He claims franchisees are not only paying royalties and advertising fees, their purchases are also funding kickback-like rebates being funneled back to Dickey's corporate.
He writes:
A few years back one of my family members took a position at the Corporate Office in the legal team, and they shared with me that the largest profit center wasn't from the 5% they collect in royalties, or the 4% they collect in the marketing fund, instead its in the money they get back from their vendors that is the largest profit driver in the company and the reason why the family is so admit about 100% purchasing compliance.

.

The sad part about hearing this is that I started out wanting to own several locations, but after they took the 9% they outlined in my contract and then took more behind my back, I am left trying to scrape by and working 70 hours a week…

.

I have read all about Quizno's and their lawsuits with the Franchisor, and I expect for this to happen to Dickeys as well, however my savings are depleted and I could not even dream of paying a retainer for a law firm to represent me, but I will jump as fast as possible on the class action suits when they happen.

.

Should you decide to buy a Dickeys, then call the Owners in your area for their feelings on the brand. If you own a Dickeys, I was told these are the people you would want to subpoena for your lawsuits:

.

Tim Sharp – Former Vice President of Operations
Jeff Forrester – Former Vice President of Purchasing
Sarah Walters – Former Council
Carlos Reyes – Former Chief Financial Officer
Daniel Sibley – Former Regional Director of Operations
Corey Wilsey – Former Regional Director of Operations
Stephen Gellman – Former Regional Director of Operations
JT Thomson – Former Area Developer in Utah
Meg Heinzelman – Former Area Developer in Pennsylvania
Greg Walacheck – Former Area Developer in South Carolina
Sonny Dewitt – Former Area Developer in Indiana
UPDATE on Dickey's Vendor Rebates
After posting the above, we checked in the Dickey's 2014 Franchise Disclosure Document (FDD) and found this diclosure:
Certain approved suppliers currently or may hereafter pay to Dickey's or an affiliate compensation or otherwise credit the account of Dickey's or an affiliate sales incentives or rebates in amounts based on a certain percentage of the purchases you may make from such suppliers. During the fiscal year ending May 31, 2014, Dickey's and its affiliates realized $6,224,041 from vendor rebates or credits which represented 20.4% of Dickey's total revenues of $30,544,859. Dickey's and its affiliates apply such sums to defray its costs in discharging its duties and obligations to its franchisees, to partially fund the Marketing Fund, and to generate revenues.

.

Percentage of Total Purchases Represented by Required Purchases
We anticipate that the required purchases and leases from approved suppliers will constitute the substantial majority of all purchases by you for the development and operation of the Restaurant.
Dickey's estimates that up to 50% of your initial investment to establish and open the Restaurant shall be applied to required purchases and leases, and that up to 75% of your expenditures to operate the Restaurant shall be applied to required purchases and leases.
At the time the FDD was published, there were 403 Dickey's franchises open.
So the yearly rebates Dickey's corporate receives amounts to about $15,000 per franchise.
We investigate the second allegation that Dickey's is hiding franchise failures, here: Is DICKEY'S BBQ Hiding Franchise Failures?
We are all patiently waiting for the class action suits to come, should you file one, please let all of us know on this website.
Also read:
DICKEY'S BARBECUE PIT Franchise Complaints
DICKEY'S BARBECUE Franchise, Jerrel Denton, Roland Dickey Jr. Sued for Fraud
DICKEY'S Franchise: Open Letter to Roland Dickey, Jr.
DICKEY'S BBQ Is Dickey's Overselling its Franchise Opportunity?
DICKEY'S BARBECUE PIT Franchise: Roland Dickey Sells to, Then Sues, Registered Sex Offender
DICKEY'S BARBECUE PIT Makes an Unhappy Franchisee Happy… Then Sues Him
ARE YOU FAMILIAR WITH THE DICKEY'S BARBECUE PIT FRANCHISE OPPORTUNITY?  SHARE A COMMENT BELOW.
Tags:  Dickey's Barbecue Pit, Dickey's Barbecue Pit franchise, Dickey's franchise lawsuit, Dickey's Barbecue Pit franchise complaints, Dickey's Barbecue Pit franchisee lawsuit, Roland Dickey Jr., Roland Dickey, Dickey's Barbecue Pit closed, Dickey's complaints, Jerrel Denton, Dickey's Jerrel Denton,