TERIYAKI MADNESS Franchise Warning
Teriyaki Madness is a franchise opportunity with a website promising "FLAMING HOT SUCCESS BABY!  $225K INVESTMENT, $224K PROFIT."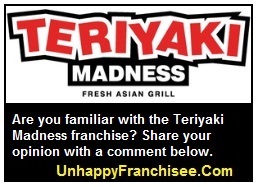 Teriyaki Madness has sent the needle of our franchise hype-meter into the red, so we suggest you approach this franchise opportunity with extreme caution and skepticism.
The Teriyaki Madness website promotes a video in which franchisee Dean Clarino brags about his million-dollar store.
"I started in 2006-2007 with the first store, in 2011 I built my second establishment…" says Clarino.  "This particular store, this year, we're looking at doing over a million… my first store does over $800,000 (It used to do $400,000 five years ago)…"
"We never have a bad day, we always have a good day…"
As franchise attorney Michael Webster points out in his article below, the $224,000 profit number is extrapolated from a single company-owned store – not even a franchise.
Of the few stores documented in the company's Item 19 Financial Performance Representation in its 2012 FDD, there is no documentation of a $1M+ franchise location.
The following article by Michael Webster was originally published on The International Association of Franchisees and Dealers website, and is reprinted here with permission via Creative Commons license.
How Much Can I Make with a Teriyaki Madness Franchise?
By Michael Webster on July 1, 2013 10:09 AM

One of the important findings in behavioral economics is the discovery of "anchoring".  Anchoring is responsible many poor financial decisions and this is how it works in franchise sales.
Science has discovered that when we are presented with an estimate or percentage measure from a population that we know nothing about, we tend to anchor on the estimate and act as if it was true -even though we understand that we have no real knowledge.
Here is an example, from a QSR interview and Teriyaki Madness, which states how much you can make with Teriyaki Madness.
"He says that not only are potential franchisees attracted to the impressive numbers operators are pulling off–including an average 23 percent same-store sales increase; AUVs of $855,000; and profitability of 16-21 percent–but also to the uniqueness of the concept, which combines Asian flavors with healthy items."
Now you and I have no idea whether the AUV is correct, what the average is based upon, or how "profitability" was calculated.  However, the science says that you will anchor on these numbers and act is if they were true – despite not knowing what the Item 19 actually stated.
You will also notice that this claim made in an interview could not be compliant if it were an ad – the required disclaimer about how many units achieved that AUV is not present.  QSR can make this claim on behalf of Teriyaki Madness only if the interview is not a paid advertorial.
So for fun, let's take a look at the numbers behind the claim.
This is from Terriyaki Madnesses' 2012 FDD – and things could have changed by then.  Even so, the real numbers are revealing.
Teriyaki Madness Item 19 (2012)
We have provided the following information: the high and low annual gross revenue information for each year that the franchised locations were open; the average same store sales percentage increases for each year; the average unit volume of the group for each year; and the  number and percentages of franchisees that met or exceeded the average unit volume for each year.
For 2011, four (4) Teriyaki Madness restaurants were in operation for the entire year and for the years 2008 to 2010 only three (3) Teriyaki Madness restaurants were open for the entire year.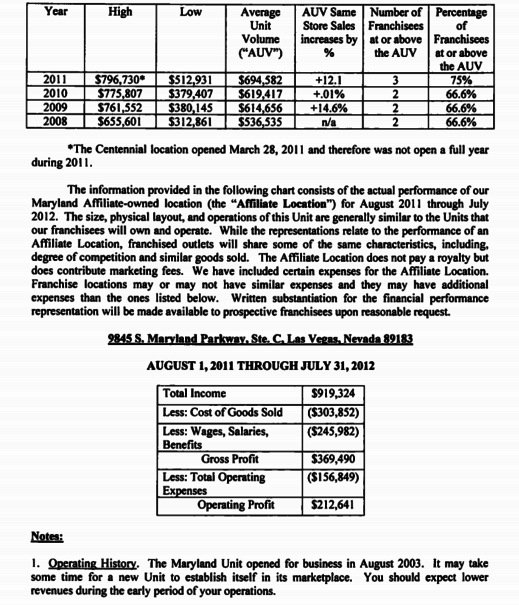 The financial picture disclosed in the Item 19 looks very different from the rosy picture described in the QSR article.  We find out that we have reporting only from 4 units, and two of those units had an AUV between $380,000  and $615,000 for the three years 2008-2010.
A new store would likely face a similar ramp up period.
Even the reported high is less than the AUV reported in the QSR story, compare $796,000 to an AUV of $855,000.
Further, the profitability story is taken not from a franchisee store but a company or affiliate store.
All of the reporting is designed in the writers minds to paint the glossiest story that he or she can tell – but, a smart reader like you knows to go beyond the anchoring effect, read for youself the Item 19, request the back-up for the Item 19,  and then come to a more realistic conclusion.
ARE YOU AN TERIYAKI MADNESS FRANCHISE OWNER OR FRANCHISEE?  ARE YOU FAMILIAR WITH THE TERIYAKI MADNESS FRANCHISE OPPORTUNITY?  SHARE A COMMENT BELOW.
TAGS: Teriyaki Madness,Teriyaki Madness franchise, Teriyaki Madness franchise warning, Teriyaki Madness complaints, Teriyaki Madness franchise investment, marketing sherpa, franchise earnings claims, franchise financial performance representations, Item 19