SOMETIMES SPOUSE No Longer Franchising Says CEO Christy Ogle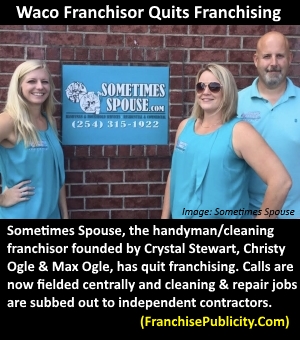 Sometimes Spouse handyman & home cleaning service is aggressively promoted as a successful franchise company that enables individuals to own their own businesses and spend more time with their families.  CEO of the Waco, TX-based company Christy Ogle calls it a "Try Before You Buy" franchise that generates $40,000 – $150,000 in earnings for its "Managing Partners" in the first year.  When asked to furnish the company's Franchise Disclosure Document (FDD) or other substantiation of her franchise claims, Ms. Ogle abruptly claimed "Sometimes Spouse does not currently sell franchises.  Sometimes Spouse has company owned stores."
Some years ago, a seller of Italian Ice franchises suffered a series of franchise failures and lawsuits by franchisees.
Knowing that disclosing those failures in his Franchise Disclosure Document (FDD), as required by the Federal Trade Commission's Franchise Rule, would negatively affect his sales, the franchisor decided to stop using the word "franchise."
He promoted the same basic program with the same marketing materials, but simply changed the word "franchise" to "license" or "business opportunity."
He stopped abiding by franchise laws, stopped providing prospects with an FDD and began making blatant, unsubstantiated earnings claims.
However, the FTC doesn't care what a seller calls its business opportunity.  If the offering meets the 3 criteria of a franchise (Use of a common name, adherence to proscribed business system, payment of a fee) the seller must adhere to the franchise sales and pre-sale disclosure regulations dictated by The Franchise Rule.
The FTC hit the franchise seller with a substantial fine ($100,000) and a permanent injunction, barring him and his company from advertising or selling franchise or business opportunities.  Ever.
Is Sometimes Spouse Selling an Illegal Franchise?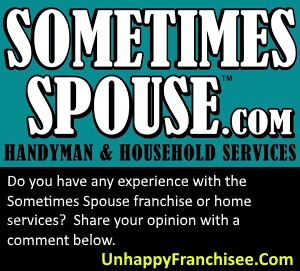 Our recent bizarre and confusing exchange with the principals of the Sometimes Spouse handyman & home cleaning makes us wonder if Max & Christy Ogle and Crystal Stewart are making the same mistake as the aforementioned franchise seller.
Up until the publication of our previous post on 11/4/19 (SOMETIMES SPOUSE Franchise – A Great Opportunity?), the company founder Christy Ogle aggressively promoted both herself as a successful franchisor and Sometimes Spouse as an amazing "Try Before You Buy" franchise opportunity offering "uncapped earning potential."
The Sometimes Spouse website featured a dedicated section called "Franchise Opportunities" and featured a map with 40+ locations in Texas and neighboring states.
The Sometimes Spouse Facebook page was (and is) jampacked with links to videos & podcasts touting the success of the Sometimes Spouse franchise concept.
The Sometimes Spouse franchise Facebook page featured a video of Christy Ogle promoting the franchise opportunity in Addison, TX on 11/3/19.  In the franchise presentation,  Christy Ogle says they have franchisees throughout Texas and two new franchisees in the Dallas Fort Worth area.  She says people can start as Managing Partner in a market and be eligible to buy the franchise in 6-12 months.
"We're still franchising in the state of Texas… in June of 2020, we're going nationwide." Sometimes Spouse CEO Christy Ogle, 10/13/19
In the 10/13/19 Plan B podcast, Christy Ogle is promoted as "Franchise CEO" of Sometimes Spouse.   In the interview, Ogle states that they put together their Franchise Disclosure Document (FDD) and began selling franchises 3 years ago.  When the interviewer asks how many Sometimes Spouse franchisees there are, Christy Ogle answers "We have 46 people actively working in the business."
She says "I've got so many others lined up here making tons of money."
"What are the plans for the future?"  asked the interviewer.
Christy replied:  "Right now, we're still franchising in the state of Texas… and then in June of 2020, we're going to go nationwide.  And then in 2025 we want worldwide domination for Sometimes Spouse."
In her video posted October 11, 2019, Christy explains that Sometimes Spouse is a "Try before you buy" franchise in which you can pay a fee as low as $97 and operate as a Managing Partner for 6-12 months before committing to the full franchise agreement.
"Try before you buy franchise.  You'd be a Managing Partner for the next 6-12 months to make sure that we fit well together in this marriage of business.  And after that time you're given the opportunity or sometimes awarded a Sometimes Spouse franchise."
She says that Managing Partners' "first year earnings can range from anywhere from $30,000 to $150,000 through a combination of bonuses and commission structure that we have here at Sometimes Spouse."
"Sometimes Spouse does not currently sell franchises.  Sometimes Spouse has company owned stores."  Sometimes Spouse CEO Christy Ogle, 11/4/19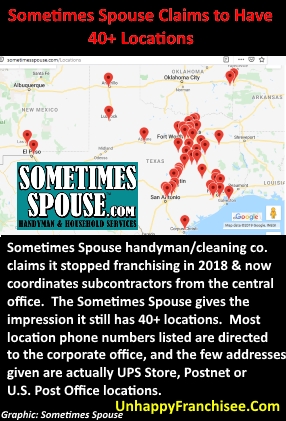 The Sometimes Spouse franchise opportunity – to put just $97 down and be able to generate up to $150,000 in the first year without further legal obligation  – sounded too good to be true.
The day of our initial post, we sent emails to Sometimes Spouse principals Max Ogle, Christy Ogle & Crystal Stewart (formerly Crystal Sherrard) requesting a copy of the current Sometimes Spouse Franchise Disclosure Document.  As a franchisor, Sometimes Spouse would be required to provide a valid FDD to prospective franchisees at least 14 days before accepting money or a signed franchise agreement.  In its FDD, Sometimes Spouse would have to substantiate its first year earnings representation, and to provide detailed information about the company, any franchise litigation,  the terms of the deal, and how many franchises had been sold, opened, closed or been transferred to new owners in recent years.
The Sometimes Spouse FDD would also include the names and contact information for current franchise owners, as well as any owners who had left the system in the previous year.
When I requested a copy of the Sometimes Spouse Franchise Disclosure Document, "Franchise CEO" Christy Ogle claimed Sometimes Spouse is not a franchise.
I received this email reply from Christy Ogle:
Sometimes Spouse does not currently sell franchises.  Sometimes Spouse has company owned stores.  I believe you have been given some incorrect information.

Smiles,

Christy Ogle
I responded that the information I had was from the Sometimes Spouse webpage, in the prominent section titled "Franchise Opportunities."
She answered:
Good Evening!

Thank You for letting me know that was on the website.  It is being changed as we speak.

Sometimes Spouse has the Managing Partner Opportunity, which is company owned Sometimes Spouse's.

We have not sold franchises since 2018.

Smiles,

Christy Ogle

Sometimes Spouse
Not selling franchises?  In the Addison, Texas presentation Ogle referred to her recently graduated Managing Partners as "new franchisees in the Dallas Fort Worth area" as she pitched the Sometimes Spouse franchise opportunity.
I continued to send Christy, Max & Crystal requests for an explanation, and inquired as to the whereabouts and well-being of the dozens of the now-missing Sometimes Spouse franchise owners, but the questions were ignored.
Instead of addressing these basic questions, the Sometimes Spouse team focused on purging the company website of the word "franchise."
Within 24 hours, the "Franchise Opportunities" section had been renamed "Opportunities" and all but 6 or so instances of the word "franchise" had been deleted.
Is the Sometimes Spouse Managing Partner an Inadvertent Franchise?
We are not franchise attorneys and do not render legal advice.
However, we would recommend that Sometimes Spouse and anyone involved with promoting the Managing Partner opportunity consult with an experienced franchise attorney to be sure that they aren't violating franchise laws.
The FTC states that there are three criteria that defines an arrangement as a "franchise" and subject to regulation under The Franchise Rule:
… a commercial business arrangement is a "franchise" if it satisfies three definitional elements. Specifically, the franchisor must:

(1) promise to provide a trademark or other commercial symbol;

(2) promise to exercise significant control or provide significant assistance in the operation of the business; and

(3) require a minimum payment of at least $500 during the first six months of operations.
The Managing Partner relationship clearly (in our opinion) meets criteria (1) and (2).  The definition of "minimum payment" is very broad, so a $97 monthly fee ($582) would trigger that requirement.  The corporation's expected revenue in the first six months (the MP is promised expected commissions of $15,000 – $75,000) might also be counted as "required payment" as well.
We invite Sometimes Spouse and their attorney (or attorneys) to weigh in on this important issue, and welcome input from others in the franchise industry.
Note to Sometimes Spouse LLC, Sometimes Partners, LLC Max Ogle, Christy Ogle, Crystal Stewart:  All companies and individuals discussed on UnhappyFranchisee.Com are invited to provide rebuttals, clarifications, corrections or other statements for publication.  Email us at UnhappyFranchisee[at]gmail.com or leave a comment below.  We have emailed you a link and a request for FDD through corporate email & your website.  We value honest, open and respectful dialogue.
ALSO READ:
FRANCHISE DISCUSSIONS by Company
ARE YOU A SOMETIMES SPOUSE FRANCHISE OWNER OR MANAGING PARTNER?  ARE YOU FAMILIAR WITH THE SOMETIMES SPOUSE FRANCHISE OPPORTUNITY OR SERVICE?  SHARE A COMMENT BELOW.
TAGS: Sometimes Spouse, Sometimes Spouse franchise, Sometimes Spouse franchise opportunity, Sometimes Spouse franchise complaints, Sometimes Spouse managing partner, illegal franchise, accidental franchise, handyman franchise, home repair franchise opportunity, Max Ogle, Christy Ogle, Crystal Stewart, Crystal Sherrara, Max & Christy Ogle, Sometimes Partners, Sometimes Love, unhappy franchisee .