NY BAGEL CAFE Owners: Were You Sold an Illegal Franchise?
NY Bagel Cafe & Deli franchise… NYC Bagel & Sandwich franchise… New York Bagel Cafe franchise… No matter which name you signed up under, there's a good chance Dennis Mason (aka Brian Scofield, aka Denis Maason) and Joe Smith violated the Federal Trade Commission (FTC) regulations governing franchise sales.  Here are 10 questions that will help you determine whether you were tricked into signing an unenforceable contract.
(UnhappyFranchisee.Com) 
We have literally reviewed dozens of disclosure documents given to victims of what we call the NY Bagel Scam f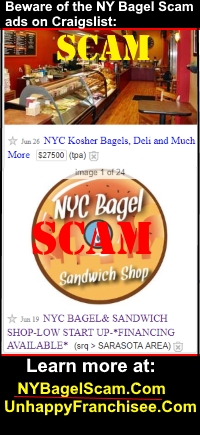 ranchise.
While most victims pay their franchise fees and never open a bagel shop, some do manage to open and continue paying the franchisor or bowing to their threats as they believe they signed a valid, enforceable contract.
We are not attorneys and don't give legal advice – but the 10 questions below can help you determine whether you may have been fraudulently induced into buying a franchise with documents that contain fraudulent misrepresentations and material omissions.  In other words, you may have been tricked into signing bogus documents by two individuals (Joe Smith, Dennis Mason) who have been violating franchise laws for years.
NY Bagel Franchisees:  What you should know.
Over the years, the NY Bagel Scam has operated under different names, including NYC Bagel & Sandwich Shop, NY Bagel Cafe & Deli, New York Bagel Cafe & Deli, and others.
They have many different websites used to snare victims.
The NY Bagel Scam has used a number of different corporate entities and addresses as its franchisor corporation, including:
SMS Franchise LLC 2 University Plaza Hackensack, New Jersey 07601 (877) 859-1760 (DaVinci virtual office suite)
SMS, Inc. 300 Delaware Ave, Suite 210, Wilmington, Delaware 19801 (DaVinci virtual office suite)
21301 Powerline Rd, Boca Raton Florida 33433 (833)372-2740  (844)348-6098 (DaVinci virtual office suite)
New York Bagel Enterprises, Inc.  301 Rt 17N Suite 800 Rutherford New Jersey 07070 (DaVinci virtual office suite)
New York Bagel Franchise, Inc., 30 Plank Road, Newburgh, NY (Company store, now closed)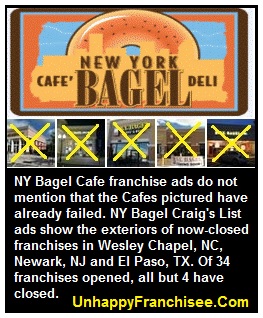 The NY Bagel Scam sales person who pitches (or pitched) you via phone and email (franchiserep@gmail) is named Dennis Mason, but he has used a number of aliases and spellings to hide his identity including:
Brian Scofield, Brian Schofield
Keith Samuels
Ken Mason, Kenneth Mason
Denis Maason
Mr. Malinsky
David Malin
10 Questions for NY Bagel, New York Bagel or NYC Bagel Franchise Owners.
If you have signed a franchise or license agreement with Joe Smith and Dennis Mason and paid them money, the documents they provided to you and the representations they made to you were likely in violation of the Federal regulations for franchise sales established by the Federal Trade Commission (FTC). Three state regulatory agencies have investigated Joe, Dennis and the NY Bagel Cafe franchise and found their franchise sales practices violated franchise laws.  They ordered Joe Smith to rescind the franchise agreements and repay the franchisees named in their complaints.
Here are some ways you can tell if you were sold a NY Bagel franchise unlawfully:
1)  Were you furnished with a Franchise Disclosure Document (FDD) at least 14 days before you signed or paid any money?  The FDD is a lengthy document that must contain 21 separate Items of information, including lawsuits and bankruptcies, plus attachments such as audited financial statements for three years and contact information for all franchisees who recently left the system? 

2)  Did ITEM 1 of the Franchise Disclosure Document (FDD), include disclosure of the NY, DE and NJ predecessor companies for the previous 10 years listed above?

3)  Did ITEM 1 of the FDD, include a physical address for the franchisor Home Office, exclusive of PO Boxes, mail drops or virtual suites (like those listed above)?

4)  Did ITEM 2 include a 5-year work history of Dennis Mason?

5)  Did ITEM 2 include a 5-year work history of Joe Smith that included his positions with the entities listed above?

6)  Did ITEM 3 include a long list of franchisee lawsuits, civil judgements, state actions and restrictive orders, decrees and enforcement actions from the states of Maryland, Virginia and Washington for deceptive and illegal sales practices?

7) Did ITEM 4 of the FDD they provided include Dennis Mason's bankruptcies (1987, 2009)?

8)  Did ITEM 20 of the FDD indicate that there no NY Bagel stores 3-4 years prior, that 14 or fewer opened in recent years and there were no closures or failures?

9)  Did ITEM 20 of the FDD include full and accurate contact information for every current franchisee, and every franchisee who closed, ceased to do business, or transferred their franchise in the previous year?   To see if your list is complete, compare it to the list here:  http://www.unhappyfranchisee.com/ny-bagel-cafe-franchise-many-closed/

10)  Did ITEM 21 of the FDD include audited corporate financial statements for the most recent three years in a form that compares at least two fiscal years. (All a 1 page, 9-line "Balance Sheet" is not audited financial statements.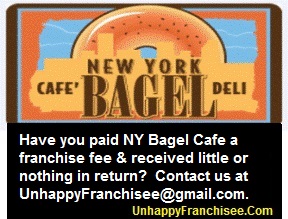 If you answered no to one or more of these questions (or YES to #8) there's a good chance have induced you to sign an unenforceable agreement in violation of the Federal Trade Commission (FTC) Franchise Rule.
While we are not attorneys, we will be happy to review the documents NY Bagel provided to you (and any other franchisees) and give you some indication as to whether you may have been sold a franchise illegally.
If you have, we can also provide you some recommendations for next steps.
Our email address for confidential correspondence is UnhappyFranchisee[at]gmail.com.
ALSO READ:
NY Bagel Scam website
NY Bagel Scam links on Unhappy Franchisee
NY BAGEL CAFÉ Franchise: How Many Have Closed? [UPDATED]
NY Bagel Café Franchise Scam Overview
FRANCHISE DISCUSSIONS by Company
ARE YOU FAMILIAR WITH THE NY BAGEL CAFE aka NYC BAGEL aka NEW YORK BAGEL SCAM, JOE SMITH, DENNIS MASON (AKA BRIAN SCCOFIELD)?
PLEASE SHARE A COMMENT BELOW.
TAGS: NYC Bagel & Sandwich Shop, NY Bagel Cafe, NY Bagel Cafe & Deli, NYC Bagel, NYC Bagel & Sandwich Shop, New York Bagel Cafe, NY Bagel Franchise, Joe Smith, Joseph Smith, Dennis Mason, Brian Scofield, NY Bagel Scam, NYC Bagel Scam, New York Bagel Scam, Craigslist Scam franchise, NY Bagel Cafe franchise opportunity, NY Bagel franchise, NY Bagel franchise opportunity, franchise complaints, unhappy franchisee