Curves, the women-only 30-minute fitness franchise, once boasted it was the fastest growing franchise chain in history.
Curves now has the dubious distinction of probably being the fastest-failing franchise chain as well.
According to the company's franchise disclosure document filings, Curves grew to a record 7,877 U.S. franchise locations in 2005.
Just six years later, the Curves system had fallen to just 3523 clubs.
The women's fitness chain shrunk by more than 50%, a total loss of 4354 U.S. clubs.
Thousands of once-hopeful Curves franchise owners suffered severe personal and financial losses as a result of their failed clubs.
Many who closed prematurely suffered the additional indignity of being harrassed and sued for thousands of dollars in "failure fees" and liquidated damages by Curves International, even after they had lost their entire investments. 
(See more than 1000 comments from Curves franchisees here:  Curves Franchise Complaints.)
Are you familiar with the Curves franchise? Please share a comment below.
Curves Lost More Than 4300 Franchise Clubs in Six Years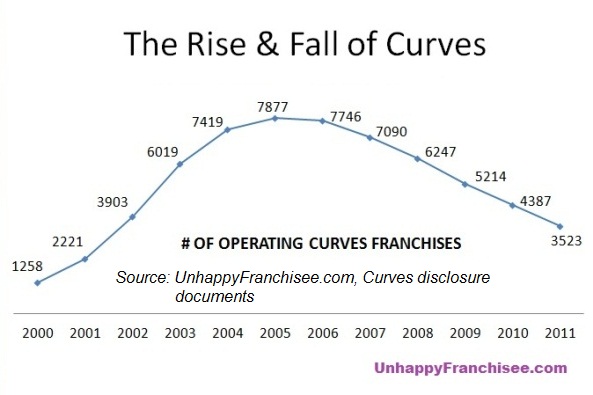 Curves founder Gary Heavin opened the first Curves club in 1992 in Harlingen, Texas, and the first independently owned and operated Curves opened in Paris, Texas, in 1995.  The Curves website currently boasts of its rapid growth, fueled by the personal investments of owner-operator franchisees:
Curves caught on like wildfire and opened clubs at an astronomical rate, sometimes more than doubling its number of locations from year to year. This was all done by word of mouth until Curves launched its award-winning national advertising campaign in 2003. What took McDonalds 25 years and Subway 26 years to do—open 7,000 locations—Curves did in under a decade.
The "History" section of the Curves website does not mention that more than half of those locations would close just as quickly.
Franchisees complain that the company failed to innovate, failed to adapt to the changing economy, and failed to keep women interested in the dated, limited workout.  Many charge that, during its growth frenzy, Curves oversold and overexpanded, selling clubs in hopelessly small, unsustainable markets and allowing franchisees to cannibalize each other's sales.
CEO Gary Heavin Blamed Curves Failures on Greedy Franchisees.
The Curves growth frenzy and subsequent decline spawned a secondary market of Curves "resales," established Curves franchises sold from original or 2nd or 3rd franchise owners to new owners.  When Curves was hot, many owners unloaded their clubs on hopeful new owners for prices that would prove to be exorbitant.  As Curves' struggles became more apparent, many franchisees had trouble selling their clubs at bargain prices as low as $1.00.
CHART: Curves Franchise Resales (Transfers)
Year
Transfers

(Resales)
Difference

from prior year
Total Franchise Outlets
Difference

from prior year
2000
191
 
1258
 
2001
214
23
2221
963
2002
281
67
3903
1682
2003
421
140
6019
2116
2004
729
308
7419
1400
2005
890
161
7877
458
2006
1267
377
7746
(131)
2007
1069
(198)
7090
(656)
2008
792
(277)
6247
(843)
2009
552
(240)
5214
(1033)
2010
379
(173)
4387
(827)
2011
318
(61)
3523
(864)
In comments on the widespread closures, the management of this private and notoriously non-communicative company blame Curves franchisees for the franchise failures. 
In 2009, CEO Gary Heavin was quoted as saying that high SBA loan defaults of Curves franchisee loans were a result of "the overpriced resales of franchises between third parties."  (Source: CURVES: Franchise Resale Buyer Alleges Fraud).
In 2010, then-President Mike Raymond was quoted by the Wall Street Journal as saying that the widespread closures were the result of a corporate effort to "prune the system" to correct the damage from greedy franchisees.  According to the Curves WSJ story:
Franchisees and industry experts point to a failure to keep up with changing trends—including more flexible hours for busy working women—cheaper competition and the tough economy as major reasons for Curves' decline.

The company disagrees with its critics, contending that much of the club closings were intended as part of a plan to "prune the system," according to Curves President Mike Raymond. Some owners had bought into Curves for the wrong reasons, he says, "they were motivated primarily as investors rather than owners."
UnhappyFranchisee.com has been covering the troubles and decline of Curves for years.  See CURVES: Curves Posts on Unhappy Franchisee.
ARE YOU FAMILIAR GARY HEAVIN, CURVES INTERNATIONAL & THE CURVES FRANCHISE?  PLEASE SHARE A COMMENT BELOW.
Are you familiar with the Curves franchise program in Australia?

Please share what you know with a comment below.
In the past, UnhappyFranchisee.com has focused its reporting on the troubles of U.S. Curves franchisees.
(Read CURVES: Robert Lay's Story  – 1000+ comments – Or CURVES: Curves Posts on Unhappy Franchisee for a complete list of posts)
Frankly, we don't know how exactly the Curves franchise operates in Australia.
We have heard that more than 52 Curves franchises have closed since 2010.
We do know that more than 60 Curves in Australia are for sale on the BuyCurves.com resale website.
And we know one more thing:  We get lots of emails from Curves franchisees in Australia that mirror the complaints of Curves everywhere else:
Complete lack of support.
Corporate indifference to the plight of franchisees struggling to survive.
Cold calculated legal demands forcing clubs to close and pay damages and future royalties, even from franchisees who have lost everything.
Aussie Z wrote:
I wish I never heard of Curves and Gary Heavin… Things were going great for the first 18 months then things started going down hill, repeatedly emailed CI for some sort of help got nothing. Then Curves Smart came and I borrowed more money as Curves said this would really make my club profitable. What a crock. Just meant I am in more debt.

Cornered Gary at Convention and he promised that when he got back to America he would get in touch with me to see what he could do to help. LIAR he never did. I am now on the verge of having to bankrupt myself so I hope Gary and CI are proud of themselves. So much for the god fearing person he portrays himself to be. Made me sick to see him on "Secret Millionaire" giving away thousands of dollars to strangers and wont do anything to help the people who made him rich in the first place.

When I started my curves up there was over 400 in Australia now there are 273 clubs left. One regional club couldn't even give her club away for $1 so she just closed down as well. Very very sad.

Dont get sucked in by the hype. Certainly don't help Gary get any richer.
A rural Australian Curves owner complains of the lack of support and threat of termination:
I bought a Curves resale in rural Australia. it wasn't doing well mainly due to the owner at the time, she did a lot of damage and I've been trying to rebuild it. I have continually asked Curves for support during this time but NOTHING. So my issue is mainly with the royalty / ad fee repayments.  Some months go through others don't from lack of members (financials).  So they now issued me with a pay $8000 you owe us on 10 days or your agreement will be terminated.
Another Australian Curves owner emailed us:
… I am in the same situation as everyone else who has purchased Curves, and has encountered their unprofessionalism…

I live in Australia, and I have been forced to terminate my franchisees, and havebeen sent a letter from a Law Firm in Melbourne, Australia.

Last year we were forced to be closed for some time due to a natural disaster, and since then we have fallen behind in royalty fees etc….

I have just received a letterlast Friday (27th August) from a Law firm in Melbourne, Victoria, stating that I need to close my clubs ASAP, and also pay then a huge amount of money, including  future royalty fees.

I cannot offer any money as I am broke..
"A Desperate Aussie" wrote:
I am from Australia and things are not good here.

Tried to get assistance from CI to consolidate 2 clubs into a single club that may have a chance of surviving. 2 clubs will certainly both fail and very soon, so we are closing one immediately.

We have paid royalties for 3 years from the closing club and 2 years for the one that may survive BUT CI (Jim J and Gary H have both said that population is large enough to support 2 clubs and will not allow us to consolidate. They just say sell one and concentrate on the other. If the closed club were to be resold then the 2 clubs would fail quickly.

We need support and asked for their help and had the door slammed in our face. The population figures they use to justify a viable club is so out of date and does not in any way reflect the environment clubs operate in these days.

We are frightened that CI will access all our funds and force us into Bankruptsy.

I know of several other clubs that are in big trouble also and will have to close sooner that later. CI just does not care. When you no longer supply funds to them they just want you to sell your franchise. It is all about keeping the cash rolling in and to hell with the damaged lives that lay in the wake of the failed businesses.
ARE YOU FAMILIAR WITH THE CURVES FRANCHISE IN AUSTRALIA?  PLEASE SHARE YOUR INSIGHTS, OPINIONS OR INFORMATION BELOW.
Contact UnhappyFranchisee.com.

Did CURVES President Mike Raymond Get "Pruned"?
If so, many franchisees who lost their Curves clubs, retirement savings,  positive credit scores and investments as part of a process Raymond called "pruning" might call that "poetic justice."
In a 2010 interview with the Wall Street Journal, Curves President Mike Raymond stated that the failure of more than 1000 Curves clubs, and the closing of 1/3 of all domestic franchises, was simply a healthy "pruning" of the system.
He also blamed the closures on Curves franchise owners, who had an "investor" mentalities (Read:  CURVES Franchise Owners React to Comments That They're Being "Pruned")
CURVES President Mike Raymond Steps Down With No Fanfare
In the brief February 14th story Curves President Steps Down on ClubIndustry.com, Stuart Goldman wrote:
Mike Raymond, who had been the president of Curves International, Waco, TX, since 2005, resigned in December.

Raymond is now a senior advisor to the company and continues to serve on the Curves board of directors. He has been with Curves since 2002 and had served as its senior vice president of marketing prior to his promotion to president. He succeeded Gary Findley, who is now the chief operating officer for Snap Fitness, Chanhassen, MN.

"I wanted to do some other things," Raymond says. "I'm still very actively involved with the company, and I still have an office there and do a lot of work there."

Raymond says he is teaching at Baylor University, which is in Waco.

A company spokesperson says Curves has no immediate plans to fill its president's role.
If A Tree Is Pruned and No One is There to Hear It…
Anyone find it odd that the President of a large company like Curves International steps down and no one notices?
There were no press releases or announcements that Mike Raymond stepped down.
The industry's own trade magazines didn't report it for 2 months.
The brief ClubIndustry.com mention raises many questions:
Was Mike Raymond "pruned" as being unnecessary, like the pesky Curves franchisees he referenced in the Wall Street Journal article?
(Also read:  CURVES: 1000 Franchise Clubs Failed Last Year)
What are the "other things" Mike Raymond wanted to do?
Will he parlay his pruning skills into an entrepreneurial venture, like raising bonsai trees?
If Mike Raymond still has an office at Curves, what does he do in it?
If Mike Raymond is gone and is not being replaced, does that mean that Gary Heavin was just calling all the shots anyway?
Well, if Mike is feeling low about stepping down after 8 years, he can always commiserate with the thousands of Curves franchisees who know what it's like to get "Pruned."
You can talk to them here, Mike:  1000+ Comments from Curves franchise owners.
Just don't mention that when you left, you got a golden parachute instead of threatening letters and a collection agency hounding you.
WHAT DO YOU THINK?  SHARE A COMMENT BELOW.
If ever a group of franchisees needed a strong independent franchisee association, that group would be the embattled franchise owners of Curves International.
Once touted as the fastest-growing franchise in history, Curves has now achieved the distinction of also being the one of the fastest-failing franchises in history.
According to an article last summer in the Wall Street Journal, "Curves now has about 4,000 U.S. locations—half the number at its zenith in 2005."
WSJ reporter Richard Gibson stated "Last year 833 clubs, or 16% of the chain's domestic presence, closed across the U.S., turning what many franchisees thought would be comfortable incomes and retirement nest eggs into money pits.
On the UnhappyFranchisee.com website, unhappy Curves franchisees have outspokenly detailed and protested their alleged mistreatment, bullying and harrassment at the hands of Curves International.
Thousands of franchisee comments, ranging from sad to scathing, have been posted at CURVES: Robert Lay's Story, on the CURVES: Curves Posts on Unhappy Franchisee and on other Curves franchise articles.
Curves Franchisee Association (CFA) 2006-2011.  RIP.
The Curves Franchisee Association held its first meeting in October, 2006 and was laid to rest Sept 30th 2011.
Just 2 years earlier before being pronounced dead, Curves International's funding and support of the CFA prompted the American Association of Franchisees and Dealers to name Curves International, Inc., its Franchisor of the Year for 2009.
According to the AAFD news release:  "Notwithstanding the challenges of rapid growth, and dynamic involvement in multiple channels of distribution, [Curves International, Inc.] has embraced a collaborative culture with its franchise network and has enjoyed a very positive relationship with its members as a result.
"AAFD Chairman Robert Purvin cited Curves' exemplary franchise culture as the primary focus of the AAFD's recognition. 'Curves management has encouraged and supported the organization of an independent franchisee association, including a willingness to engage the association's elected leadership.'"
CFA Autopsy by Attorney Ron Gardner
What killed the much-needed Curves Franchisee Association?
According to CFA attorney Ron Gardner, the fatal wounds were self-inflicted.  It was the distractions of franchisee infighting, bickering, and petty politics that rendered the Curves Franchisee Association ineffective.  Ultimately, the death blow was that Curves franchisees were unwilling (or unable) to fund their own association.
According to CFA attorney Ron Gardner, a number of contributing factors led to the demise of the CFA, including franchisee infighting, bickering, petty politics and Curves franchisees' unwillingness (or inability) to fund its franchisee association. In the end, the Curves Franchisee Association simply ran out of steam.
In his final letter (and autopsy report – posted below), Ron Gardner had nothing but praise for Gary Heavin and Curves International management.  Not only was CI open to hearing the ideas of the CFA, Gardner praised Curves for "so generously funded the organization through its infancy."
Do you agree with Ron Gardner that Curves franchisees killed their own organization? Share a comment below.
Here is Ron Gardner's post-mortem and farewell letter, originally posted on the CFA website:
So Long … For Now

As someone who has practiced franchise law for almost two decades, I could have predicted that this day was coming several years ago.

The reality is that most franchise associations go through a lifecycle quite similar to that experienced by the most recent iteration of the Curves Franchise Association:

(1) lots of excitement by lots of people to get an association formed and to move forward;

(2) a lot of time, effort and hard work in setting the association up by a smaller number of people;

(3) continued hard work as the association tries to find its feet, both in terms of its goal and purposes, and its independent voice – by a smaller number still;

(4) a longer period of time in which a few people continue the work of the association, working hard to make the system better for all franchisees, but increasingly feeling unappreciated by the "membership"; and

(5) resignation by the few remaining members that, given the volunteer nature of the work, it is no longer worth the effort.
Let me be clear – none of the current CFA Board members have expressed to me a "resignation" that their service was not worth the effort. But, to be fair, I could see it in their eyes, hear it in their voices.
On a brighter note, however, it has also been my observation over the last two decades that an association like the CFA has laid too much groundwork for a franchisee voice to simply be ignored by the franchisor. Whether that voice is in the form of the CFA or some successor organization that is most certainly sure to spring up (if it has not already) is something that we will all have to wait and see about. However, during this "lull" in activity by an official independent franchisee association, it probably behooves all of us to take stock of the lessons that we have learned through the lifecycle of the CFA, as well as providing our sincere thanks to those who worked so hard, and quite frankly, accomplished so much, in pioneering this effort.
Among the lessons we have learned: while Curves certainly prefers to do things its way, it is willing to listen to reasoned and rationale viewpoints that are divergent from their own. Look, we all know that franchising is different than most people think it is when they first start – but, having a franchisor that is willing to listen to the concerns of the franchisee, and consider them, is a significant step in the right direction. I am not suggesting that you should not be dissatisfied with your franchisor at times, and maybe even most of the time depending on your situation. But, we know that screaming, yelling and suing each other rarely brings the parties closer to together to gets things moving in a more cooperative direction. One of the most refreshing things that I observed during my work for the CFA was the willingness of Curves senior management, including Gary Heavin, Mike Raymond, Roger Schmidt, and a host of others, to listen when we had something to say. Often times, Curves would agree with our observations, and change their approach, or at least consider serious modifications. We did not win all of our battles, but we most certainly had a lot to say, and Curves is a better system for it.
We learned that, not surprisingly, a collective voice is much louder than an individual one. As you know, Curves has thousands of franchisees, and is broken into several subparts. Just getting the attention of your franchisor can be difficult if you do not have a collective voice to go through. The franchisee association, in its heyday, was a loud voice for franchisee rights, and helped many individual franchisees find solutions to problems that they were not able to find on their own.
Of course, not all the lessons that we learned were positives. We learned that franchisee associations cannot function productively if they have to spend a significant portion of their time battling the viewpoints of other franchisees – rather than executing strategies aimed at changing the behavior of the franchisor. To my great dismay, the CFA and the people who committed so much of their time and effort to making the CFA a better organization, spent far too much of their time being victims of unjustified rumors, accusations, and other frivolous distractions. It is my sincere hope that the next time an independent association rises in this system, that those members who choose to disagree or not participate with those who are doing the work, choose to merely sit on the sidelines and/or voice their displeasure at the ballot box, rather than undertaking a campaign of personal attacks that make it certain that nothing productive can ever get done.
Another lesson that is not surprising that an association cannot survive, long term, no matter how much value it is adding to its member, if those members are not willing to fund the organization. Among one of the most remarkable things I will remember about the CFA was the way in which Curves so generously funded the organization through its infancy – never demanding in return that we take their particular viewpoint, or refrain from challenging them on any of their initiatives. Unfortunately, that was an unappreciated gesture by the vast majority of Curves franchisees, and when that money ran out, the value that the CFA was delivering to the members was either unappreciated, or unknown, and members were not willing to step up and contribute even a small amount to keep the organization vibrant. Again, my hope for the future is that Curves franchisees remember this the next time around, and that they might give generously to those who worked so hard to protect their rights.
Of course, the end of the CFA does not mean the end of issues between Curves and its franchisees. Therefore, if you find yourself in a situation in the future where you either have business disputes and/or legal disputes with Curves, it is my sincere hope that you realize that resources were developed over the years that will exist into the future – even if the CFA does not. I am virtually certain that most CFA Board members would be happy to share with you their experiences on particular business issues if you were to reach out to them in a time of need. Likewise, to the extent that you need legal help in your dealings with Curves, my contact information has not changed. You can still contact me at rkgardner@dadygardner.com, and I will be happy to share my knowledge and information with you about my insights into the Curves culture, contracts, and likely responses to particular situations.
In closing, I want to take one moment to extend a personal thanks to the Board members who I have worked with over the years (many of whom became very good friends), and most importantly to the four women who chaired the organization over the last several years, Melanie Schaengold, Mary Ella Young, Teri Bertrand, and Carole Keyes. Their wisdom, insight, leadership, and enormous commitment of time on your behalf can likely never be repaid. Thanks as well to those Board members who participated year after year after year, against difficult odds, giving of their time and sacrificing their businesses and their families, to try and make things better for the system. While I am sure I will forget some, I particularly want to thank Sandie Maddux, Shelly Ronfeldt, Angie Wisler, Darlene Bayer, Brad Steinberg, Don Marshall, and Cheryl Hdarecky. While these Board members did not always see eye-to-eye with each other, I firmly believe they all always had the best interests of the Curves franchisee members in mind as they went about their work.
So, at this point, it is not goodbye. It is so long – for now. I look forward to the day our paths cross again.
– Ron Gardner
In reacting to this post, Mr. Gardner added this clarification:
"While I do think it is likely that WITHOUT committed leadership AND adequate funding (one or the other is not enough), most franchisee associations will ultimately fail, such associations can be widely successful (and there are many examples) when the Association finds a way to groom and foster effective leaders for the future AND finds a reliable and on-going source of funding."
Are you familiar with the Curves Franchisee Association (CFA)?  What do you think? Share a comment below.
Contact the author or site ADMIN at UnhappyFranchisee[at]gmail.com
Related reading:  CURVES: Robert Lay's Story (1000+ comments)
CURVES: Curves Posts on Unhappy Franchisee (Curves story links)

(Unhappy Franchisee) Not long ago, there were three Curves franchised fitness clubs in Palo Alto, CA.  Now there is one.
According to Zohra Ashpari's story in the Palo Alto Weekly, franchise owner Susan Empey is battling a poor economy and lower priced competition to keep from joining the growing ranks of Curves failures.
Curves' express women's fitness competitor Butterfly Life is faring no better.  Butterfly Life's Fashion Island branch closed a few years ago, and its last remaining Palo Alto branch is closing April 15th.
Reasons cited for Curves failures:  saturation, economy, price & apathy
Ashpari (who, incidentally, read UnhappyFranchisee.com in researching Curves), indicates a number of reasons for the Curves closures in Palo Alto and elsewhere.  Do you agree?  Feel free to add your opinion below.
Market saturation.  According to broker Todd Lipton, "the proliferation of franchises quickly saturated the market."
Recession.  Curves franchisee Empey says "People are losing their jobs, and exercise to some may have become a non-essential expense."
High price point.    "The up-and-coming franchises and licensing companies that we see now are priced… as low as $10-19 a month," according to Lipton.  "Curves currently charges about $44 a month, a few dollars more or fewer depending on services."
Member apathy.  Curves may simply be failing to motivate or inspire members to make its program a priority:  "Curves club member Anna Richert of Menlo Park said that some may have walked away because they were paying but not going to the gym."
According to the article, the Susan Empey's gym was the first of Curves franchise to open in Palo Alto.  Now it is "the last one standing."
We hope that the closings of the other clubs will now allow Empey's franchise to survive… and that Curves will not sell new franchises in areas, like Palo Alto, where previous franchisees have failed.
WHAT DO YOU THINK?  SHARE A COMMENT BELOW.
Attorney General Eric T. Schneiderman has announced that Curves International must establish a restitution fund to repay members of 60 Curves franchise fitness clubs that closed in New York in 2009.  Additionally, Curves must pay an additional $60,000 to New York State for the costs of the investigation.
In New York, franchisors are liable for refunds on closed franchised health clubs
The Attorney General launched an investigation after receiving complaints that a Suffolk County Curves franchise had closed without notice. Since that club failed to secure a bond as was required by law and refused to provide refunds to its members, consumers sought refunds from Curves International – its franchisor.  However, Curves International failed to immediately provide refunds, denying any responsibility for the independently-owned club.
New York State General Business Law states that any contract between a consumer and a franchised health club is also enforceable against the franchisor. According to the Attorney General's office, Curves International refused to honor that legal obligation and failed to provide refunds to the consumers.
"If you do business in New York, then you have to play by the rules. Curves International – like any franchisor operating in the state – must refund the customers who prepaid for memberships they ultimately could not use," Attorney General Schneiderman said. "My office will continue to ensure that consumers are treated fairly, and I encourage New Yorkers to learn their rights and report offenses to our office so that we can take action."
More Than 60 'Curves' Health Clubs Across the State Accepted Fees, Then Suddenly Shut Their Doors…
In 2009, 60 Curves health clubs across New York state went out of business without providing refunds to their members. 
According to the Attorney General's press release, the closed Curves franchise club locations, by county, include:
| | | | | | |
| --- | --- | --- | --- | --- | --- |
| County | Curves Closed '09 | County | Curves Closed '09 | County | Curves Closed '09 |
| Albany | 3 | Madison | 1 | Queens | 4 |
| Bronx | 1 | Monroe | 1 | Rensselaer | 1 |
| Broome | 1 | Montgomery | 2 | Richmond | 1 |
| Chautauqua | 1 | Nassau | 9 | Rockland | 1 |
| Cortland | 1 | New York (Manhattan) | 1 | Saratoga | 2 |
| Dutchess | 3 | Niagara | 1 | Schenectady | 1 |
| Erie | 6 | Oneida | 1 | Suffolk | 3 |
| Kings (Brooklyn) | 3 | Oswego | 4 | Wayne | 1 |
| Livingston | 1 | Putnam | 1 | Westchester | 4 |
More than 1000 Curves franchises closed in 2009
From 2007 to 2009, the Curves franchise chain shrunk by about a third in the U.S., from 7,748 at the beginning of 2007  to 5,208 U.S. sites at the end of of 2009. 
In 2009, more than 1,000 Curves franchises closed their doors, while just 35 new locations opened.
Read:  CURVES: 1000 Franchise Clubs Failed Last Year
When asked for the reason for the widespread closings, Curves president Mike Raymond said it was part of a plan to "prune the system," sparking outrage from the Curves owners whose investments and livelihoods suffered from the pruning of franchisee-owned clubs.
Read:  CURVES Franchise Owners React to Comments That They're Being "Pruned"
According to this month's Franchise Times, Curves International has been sued by more than 266 franchisees and franchise groups.  Curves franchise owners have documented their struggles and frustrations by posting thousands of comments on posts on UnhappyFranchisee.com.
Read:  CURVES: Curves Posts on Unhappy Franchisee
How New York members of Curves clubs that closed in 2009 can apply for a refund.
The NY Curves restitution fund is being adminstered by the Better Business Bureau.  Consumers who believe they are entitled to a refund from Curves International should contact the Better Business Bureau at 212-358-2857 at 30 East 33rd Street, 12th Floor, New York, New York 10016. 
New Yorkers who have had a similar experience with a different business and would like to file a complaint are encouraged to contact the Attorney General's Consumer Helpline at 1-800-771-7755.
Source:  New York Attorney General's Office
WHAT DO YOU THINK?  SHARE A COMMENT BELOW.
Unhappy Franchisee – Curves founder Gary Heavin and his wife Diane will be featured in an episode of the new "inspirational" ABC series "Secret Millionaire."
We ask:  Do Curves franchisees perceive Heavin's Secret Millionaire participation as positive brand exposure that will benefit existing clubs? 
Or do they perceive it as a slap in the face, an ego-fueled insult to the thousands of failed or failing Curves franchise owners who are now, themselves, suffering financial hardship by investing in Heavin's franchise?
Feel free to share your view below. 
There's more to this story than it seems… – Gary Heavin
The promo clip for the episode begins with ominous music and a dramatic voiceover:
[Narrator:]  "Tonight… A couple who has created a health club empire…
[Gary Heavin:]  "We're kind of the McDonald's of fitness…"
[Narrator:] "…Will experience life in one of the nation's poorest cities…"
[Diane Heavin:] "I'm not sure I understand poverty in America like this…"
[Narrator:] "…For six days days they will be stripped of all luxuries…"
[Gary Heavin:] "Six dollars and fifty cents a day… Wow…"
[Narrator:] ""…And assume new lives as secret millionaires… Looking for deserving people who need their help… In the end they'll surprise community heroes with tens of thousands of dollars of their own money…"
[Diane Heavin:] "We really want to do something special…"
[Narrator:] "After revealing their secret identities as…"
[Gary Heavin:] "There's more to this story than it seems…"
[Narrator:] "The Secret Millionaire."
For six days they will be… looking for deserving people who need their help… – Narrator
A television show about the founders of Curves having to search for deserving people in financial crisis may strike some as a tad ironic.
The Wall Street Journal reported 1000 franchises Curves clubs failed in 2009 (Read CURVES: 1000 Franchise Clubs Failed Last Year).  Since 2007, 2/3 of Curves domestic franchises – more than 2500 clubs – closed their doors.  The financial toll on many franchise owners has been devastating.
On UnhappyFranchisee.com, failed and failing Curves franchise owners have reported that instead of receiving assistance and support from their philanthropic franchisor, they have received threatening letters, demands for closing fees and payments, and been mercilessly harrassed by an IL law firm/collection agency claiming to represent the Heavin's company. 
Curves franchisees, many of whom were "stripped of all luxuries" long ago, have voiced their discontent in more than a thousand comments on UnhappyFranchisee.com (Read CURVES: Robert Lay's Story and  CURVES: Curves Posts on Unhappy Franchisee).
None have, so far, reported receiving a call from Gary or Diane Heavin offering to do something special for them.
We really want to do something special… – Diane Heavin
The Secret Millionaire series will debut on Sunday, March 6 at 9/8c.   
The short clip above is a teaser from one of the first episodes of Secret Millionaire, which features Diane and Gary Heavin, scheduled to air on April 3.
WHAT DO YOU THINK?  SHARE A COMMENT BELOW!
Ex-Curves franchise owner Deborah blames "corporate greed, lack of quality control and a very poorly run infrastructure" for the once-proud Curves for Women fitness concept becoming (what some have called) the "trailer park of gyms."
In a recent Curves franchise discussion (CURVES: Robert Lay's Story), Deborah recounted what she describes as the unscrupulous overselling of the Curves franchise opportunity, and the resulting damage to the Curves for Women brand image:
When we bought a franchise in 2003, there were a few thousand clubs and the closest club was over 5 miles away. You had to have 30,000 or more in population to constitute a "territory". It does not take many brain cells to realize that when Curves started selling "territories" with as few as 5,000 total population, that a) such territories were not large enough to support a club or b) that existing clubs would suffer member and revenue losses.

We went from a purist apporach to selling everything Curves could throw at us (even an overpriced travel service) in order to shore up corporate and club revenues. What was "contemplated by the parties" in contract terms at the time we signed our franchise agreement and what transpired thereafter, were at odds. Also, there was absolutely no quality control and some clubs were little more than slums. This caused a tarnishing of the Curves brand and I had some people tell me that Curves was the "trailer park of gyms".
According to Deborah, Curves clubs cannibalized each other's sales, spreading too-few members across too-many clubs.  Add in lack of support and infrequent-to-nonexistent field visits and you have a recipe for widespread failure:
As the person who sold me the franchise said, they don't care anything about you or what your are like or what your skills are if you have the money to buy. I was four years into my franchise before I even saw an area director. By that time, we had gone from having one or two other clubs in the area to having six. My membership numbers had peaked at around 600 and, by 2006, were at 300 and falling.
According to Deborah, Curves International would sell a franchise to anyone whose check would clear, including many who were neither qualified nor prepared for business ownership:
My experience with other owners was that some were reasonable business people, but many were naive and had no experience in business. I will never forget my training in Waco. The guy sitting next to me was a chicken farmer whose mother in law had bought him a franchise. As my salesman had said, Curves did not care if you had the money. This guy was a train wreck waiting to happen. By the time I got out of the franchise, three of the six clubs in the area had closed.
The Curves closures in Deborah's area are consistent with national averages (Read: CURVES Franchise Owners React to Comments That They're Being "Pruned") .  It's been reported that 1000 domestic Curves locations closed in 2009 alone, and that in the past three years 1/3 of all domestic Curves clubs went dark.  Yet despite the devastating losses suffered by Curves franchise owners, franchisor Curves International is enjoying healthy profits.  Curves International actually increased earnings as a percentage of sales, with 2009 earnings of $16.4 million on revenue of $84.1 million.
According to Deborah, the demise of the Curves brand is the result of corporate greed and substandard franchisees:
The Curves disaster is down to corporate greed, lack of quality control and a very poorly run infrastructure…. Lack of care in chosing franchisees impacted the brand. I have no moved back to the Southeast. My local Curves has tacky and cheap paneling that is peeling off the walls, ancient and poorly maintained equipment and (horror of horrors) plastic flowers in plastic vases. The owner is fat, complaining and has the energy of a slug. Am I a member? You answer that one.
WHAT DO YOU THINK?  HAS CURVES BECOME THE "TRAILER PARK OF GYMS"?  SHARE A COMMENT BELOW.
In the Curves International 2010 Franchise Disclosure Document (FDD) issued March 25, 2010, 28 civil actions were disclosed in the Item 3 Litigation section.

5 are individual or group actions by Curves franchisee owners alleging such things as breach of contract, fraudulent inducement, negligent misrepresentation, etc. on the part of Curves International.
7 are lawsuits by Curves members allegedly injured on pieces of equipment or on premises.
5 are by vendors, employees and a competitor (Weight Watchers) against Curves International.
11 are lawsuits by Curves International against its franchisees, most seeking recovery of damages (non-payment of fees) resulting from their alleged "abandonment of the franchise."
Curves International, Inc. Settlements With Franchisees Who Sued

The mandatory disclosures of litigation in the Curves FDD make public the following "confidential settlements" between Curves International, Inc. and the Curves franchisees who sued them.  For more information on the allegations and court venues, consult the CURVES International 2010 Franchise Disclosure Document (FDD).
Healthy Directions Northwest, Inc. v. Curves International, Inc., George Blaine and Sandy Blaine d/b/a Curves.
"…A confidential settlement between the parties and this case was dismissed by the court on 4/9/09 in which We [Curves International] paid $5,000 in full and complete settlement of all claims."
Linda G. Woodward, Susan Taylor Harper, Lydia S. Romero, Jeffrey P. Kalbfleisch and Stephanie Kalbfleisch v. Curves International, Inc.
"…We paid $3,500 in settlement of all claims filed by said plaintiff [Woodward], and her claims were dismissed from this lawsuit by the Court on 2/13/08.  Confidential settlements have been reached between the 4 remaining plaintiffs and Us… execution of the settlement documents and dismissal motions are pending."
Kareen Lay v. Curves International, Inc.
"On 3/20/09, an action was filed against Us by a franchisee seeking recovery of damages in an undisclosed amount for alleged breach of the franchise agreement by an alleged failure to mediate.  As of the date of this Disclosure Document, this case is still pending."
Kinnie Gibson v. Curves international, Inc.
"On March 9, 2010, an action was filed against Us by a former master franchisee in Germany… regarding the franchise relationship.  As of the date of this Disclosure Document, the case is still pending.
Momentum Sales & Services, Inc., et al. v. Curves International, Inc. and Howard Gary Heavin.
This is the largest group action lawsuit by franchisees against Curves International, Inc.
17 plaintiffs' claims were dismissed with NO payments being made by Curves International, Inc.
29 confidential cash settlements totalling $204,400 were made by Curves International, Inc. resulting in their claims being dismissed.  The average settlement amount was $8,290.
As of the date of the FDD, the case is still pending with 81 plaintiff groups remaining.
Date Settled
Plaintiffs
Amount CII Paid
2/7/08
Lori Brickel & Jill Kalatucka
3,000
2/7/08
Jo-Ann Garvey
10,000
4/29/08
Jan Santagate
20,000
5/14/08
Diana L. Dahlin, Peggy Matson
20,000
1/13/08
Catherine Maser
20,000
3/20/08
Angeline Bednar
17,500
5/14/08
Carol L. Rooney, Jaclyn A. Rooney
7,500
5/14/08
Jamey Kirchner
25,000
6/11/08
Sheree Corde Carter
5,500
5/8/08
Denise Alabach, Diane Schneck
5,000
6/27/08
Judith Haddad, Tringo, Inc.
10,000
5/13/08
Sandra L. David
3,500
3/11/09
Karen Wilson
7,900
3/11/09
Pauline Snowberger
8,000
5/19/09
Gloriously Fit Inc., Janet & Russell McTier
1,000
6/24/09
Akute LLC, Royce Makil, Gracy James
6,000
6/24/09
Doobly Ventures LLC, Doobly Ventures III LLC, Deborah B. Myers
7,000
11/20/09
Carol Riedel, Marie Fitness Inc.
12,000
1/8/10
Betty J. Boyd
2,500
2/2/10
Geralin Inc., Linda Coughlin, Geraldine McClary
4,500
2/24/10
S&P Wolf Inc., Peter & Sarah Wolf
3,000
3/5/10*
Karen Costner Leighton
24,000
3/5/10*
Melinda Rowe
2,500
3/5/10*
Keeno Lampman
5,000
3/5/10*
Fitness etc. LLC, Yvonne Samuels
2,500
3/5/10*
RM&R Fitness Inc., Mary Stark
2,000
3/5/10*
Elaine & Robert Taylor
2,000
3/5/10*
Sandy Harrington
1,500
3/12/10*
Treetoad LLC, Teresa Soderberg
2,000
TOTAL
$240,400
Average
$8,290
* Agreement date.
Settlement pending.
WHAT DO YOU THINK?  SHARE A COMMENT BELOW.
Curves International 2010 Franchise Disclosure has been released.  Here is the PDF version of the Curves FDD issued March 25, 2010, registered with the State of California.  It is separated into 2 parts.
Curves2010FDD.part1 (PDF)
Contains:
Item 1. The Franchisor and any Parents, Predecessors, and Affiliates
Item 2. Business Experience
Item 3. Litigation
Item 4. Bankruptcy
Item 5. Initial Fees
Item 6. Other Fees
Item 7. Estimated Initial Investment
Item 8. Restrictions on Sources of Products and Services
Item 9. Franchisee's Obligations
Item 10. Financing
Item 11. Franchisor's Assistance, Advertising, Computer Systems, and Training
Item 12. Territory
Item 13. Trademarks
Curves2010FDD.part2 (PDF)
Contains:
Item 14. Patents, Copyrights, and Proprietary Information
Item 15. Obligation to Participate in the Actual Operation of the Franchise Business
Item 16. Restrictions on What the Franchisee May Sell
Item 17. Renewal, Termination, Transfer, and Dispute Resolution
Item 18. Public Figures
Item 19. Financial Performance Representations
Item 20. Outlets and Franchisee Information
Item 21. Financial Statements
Item 22. Contracts
Item 23. Receipts
Here are most of the required exhibits and attachments that accompany the 2010 Curves FDD.  Missing is the list of locations, which may be added later:
Curves Franchisees Who Left The System in 2009
The file "Curves Franchisees Who Left The System 1" also contains a partial list of international locations and the list of Agents for Service of Process.  The list of franchisees begins after that.
CurvesFranchiseesWhoLeftSystem1
CurvesFranchiseesWhoLeftSystem2
Also read:  CURVES Franchise Lawsuit Settlements to see the lawsuit settlement amounts Curves paid to franchisees in table form.
ARE YOU FAMILIAR WITH CURVES INTERNATIONAL & THE CURVES FRANCHISE?  SHARE A COMMENT BELOW.