Michael Probst & Deborah Augenti are at it again.
We received a tip that Probst & Augenti, the same people responsible for creating the Cork & Olive franchise fiasco, have launched a new franchise opportunity using the name Solera Distributors, which they promoted on Craig's List.
The domain name for Solera Distributors was registered March 1, 2009 by Deborah Augenti:
Registrant:
 Deborah Augenti
 681 Turnberry Ct
 Tarpon Springs, FL 34688
 US

 Domain name: SOLERADISTRIBUTORS.NET

 Administrative Contact:
    Augenti, Deborah  d.augenti@yahoo.com
    681 Turnberry Ct
    Tarpon Springs, FL 34688
    US
    +1.7272781028
Corporation records from Sunbiz.com show that Deborah Augenti was President & Robin Hoover was CFO of Solera Wine Distributors, Inc. from the corporate inception in March, 2008 until August 3, 2009. An August 3, 2009 amendment ( ) named Michael Probst CEO/President & Deborah Augenti is Registered Agent; Robin Hoover's name was removed.
Florida Profit Corporation

SOLERA WINE DISTRIBUTORS INC.

Principal Address

C/O MICHAEL PROBST

681 TURNBERRY COURT

TARPON SPRINGS FL 34688

Changed 08/03/2009

Registered Agent Name & Address

AUGENTI, DEBORAH

681 TURNBERRY CT

TARPON SPRINGS FL 34688 US

Officer/Director Detail

Title PS

PROBST, MICHAEL CFO

681 TURNBERRY COURT

TARPON SPRINGS FL 34688
The FTC prohibits the promise of success or profits in franchise marketing materials.  However, the Solera Distributors franchise website is filled with illegal earnings claims promising franchisee success & profitability:
…Franchisees should be able to support their basic living requirements for 4-6 months while building the foundation of their business.  Franchisees will work in a defined territory.  The potential of each territory will allow the franchisee the opportunity to obtain at least 40 to 50 accounts out of approximately 100 to 120 identified in the territory… 

Area Developers have investment options that range in accordance with the potential of the territory, with capital outlay ranging from $200,000.00 to $400,000.00.  We anticipate Area Developers will return investment within the first twelve to fourteen months of operation…

Franchisees will generate their profit from the mark up of wine products to the retailer.  Area Developers will generate their profit from the mark up of wine products to the franchisee and receive half of the initial and ongoing fees of their 40 – 60 Franchisees.  Because of the low costs to Solera, both the franchisee and the retailer will enjoy significant profits while maintaining a low price list at the retail level.
WHAT DO YOU THINK?  SHARE A COMMENT BELOW.
Also read: 
Cork & Olive Franchise: $2.5 Million in Debt? June 16th, 2008  Cork & Olive Wine Franchise Co. Files for Bankruptcy June 10th, 2008  What REALLY Uncorked Cork & Olive? June 6, 2008  Cork & Olive Franchise Corp. Collapse: What's the REAL Story? June 6th, 2008  Cork & Olive's Probst Abandons Franchisees June 5, 2008
.
.
.
.
.
.
.
.
The contents of two bankrupt Cork & Olive wine stores are up for auction.
See them here:  Bay Area Auction Services
Read more about the Cork & Olive WINE STORE FRANCHISE woes here:
ARE YOU FAMILIAR WITH CORK & OLIVE?  SHARE A COMMENT BELOW.
Image:  Bay Area Auctions
You can't keep a good man down. Despite the recent plunge into bankruptcy that left his Cork & Olive wine store franchise chain in turmoil, his newly-launched franchisees stranded without the promised support, and employees without jobs or paychecks, C&O founder Michael Probst is launching his next entrepreneurial venture: Mergers & Acquisition Corp.
Commenter secret posted the link to document P08000107072 (available at www.sunbiz.org) showing that Probst formed a new corporation December 4, 2008. The corporate address of Merger and Acquisition Corp. is a home that sold in 2006 for $399,500  (See listing)… an amount equivalent to 6.6 $60,000 Cork & Olive franchise fees.
Florida Profit Corporation

MERGER AND ACQUISITION CORP.

Document Number:  P08000107072

Date Filed:  12/04/2008

State:  FL

Status:  ACTIVE

Principal Address:  418 CASCADE LANE  PALM HARBOR FL 34684

Registered Agent Name & Address:  PROBST, MICHAEL  418 CASCADE LANE  PALM HARBOR FL 34684 US

Officer/Director Detail

Name & Address  Title PCEO  PROBST, MICHAEL  418 CASCADE LANE  PALM HARBOR FL 34684

Title SCFO  PROBST, MICHAEL  418 CASCADE LANE  PALM HARBOR FL 34684
It's good to see that someone has weathered the Cork & Olive typhoon without it dampening their entrepreneurial spirit!  No doubt there will be exciting things to come from Merger and Acquisition Corp.!
What do you think?  Share a comment below.
Related posts:  CORK & OLIVE: Ex-Employee Has no Sympathy for Franchisees, CORK & OLIVE: Overview & Blogliography,  CORK & OLIVE: The Probst Method of Guilt Avoidance, Cork & Olive Files Chapter 11 Bankruptcy, What REALLY Uncorked Cork & Olive?
Unhappy Franchisee is sponsor-supported. Sponsored links:
Responding to the post Cork & Olive's Probst Abandons Franchisees, Cork & Olive ex-employee "H" states that it is karma, not failed franchisor Michael Probst, that's to blame for the woes of Cork & Olive franchisees.
"H" contends that the very idea of the Cork & Olive wine store is a sham designed to use upscale decor and salesmanship to trick vino newbies into overpaying for cheap wine.  "H" claims that Cork & Olive franchisees are hypocrites who pirate copyrighted music and hoodwink unsophisticated customers, yet are morally outraged to find that they've been bamboozled.  What do you think?
Writes "H":
As a former store-level employee, I have a hard time feeling bad for the franchisees. Sure, you were ripped off in the worst of ways, but I'd have to say that the responsibility for not spotting a fraud falls on you. Working in the store, I knew things weren't kosher from the very beginning when I noticed that our official store play list included original Beatles recordings. Nobody can afford the licensing for that, not even major motion pictures like 'I Am Sam.'

Our markup was astronomical, completely unprecedented, and basically unfounded. Our pricing was entirely random, based solely upon Stephanie's opinions of what people would pay. Stephanie, a woman with literally no knowledge of wine, has no business guessing such things. The average cost to the company was $3 – $4 per bottle. We sold some bottles for $9, most for about $15, and some for $30 or more. This was absolutely inexplicable. There was no standard percentage for the markup, just whatever we thought we could get.

How one $3 bottle of wine seems worth $32 while another is worth only $8 is beyond me, but it should have raised serious concerns among people considering the $300,000 price tag for one of these stores. With a little research, you would have found that the average wine shop shoots for around a 33% profit margin per bottle while we were aiming for 70% or more on AVERAGE!

This might have seemed like a really great way to make a lot of money, but if you weren't buying a business you knew nothing about, you would have realized that it actually equates to selling a low quality product at the price point of a high quality product. In other words, you're hoping to prey on the average consumer's lack of knowledge about the difference between cheap wine and fine wine. You made them feel like they were purchasing a quality product by showing them a pretty store with a neat layout and free samples, but now you're mad that Michael and his goons swindled you with a similar set of smoke and mirrors. Excuse me if I'm not overwhelmed with sympathy, but it seems an awful lot like karma to me.

I know nothing about cars, so I'm not going to go into business as a mechanic. I don't understand the stock market, so I'm not going to set up shop as a financial advisor. Wine novices have no business running wine shops, and if they choose to do so, they shouldn't be mad when things go poorly.
WHAT DO YOU THINK?  SHARE A COMMENT BELOW.
Sponsored links:
SPONSORED LINKS:

_________________________
Former Ex reports that the Cork & Olive store in Oldsmar, FL has reopened. Who is the current owner? Who is at the helm? Will other closed stores begin to reopen? Share a comment below.
Oldsmar has reopened – no way in this econmoy will C&O be able to rebound… went in tasted listened to there stories… Same old wine, same old story, no uniforms, looking desperatly for experienced help… Glad to see no familar faces fell for there BS….

I DIDN'T PURCHASE AND WOULD NEVER PURCHASE ANY C&O PRODUCTS
The Ocala Star Tribune reports that
OCALA – This week two of the biggest retail stores at Market Street at Heath Brook silently opened their doors.

Friday afternoon, excited and bewildered shoppers marched into DSW Shoes and Old Navy happy that their anticipated openings had come. Both stores opened Thursday, but Old Navy customers wondered why there was no fanfare, advertising or notice about the opening. There was only a white, roadside billboard on State Road 200 with a list of the stores opened.
* * * * *
Many storefronts throughout the retail and restaurant development are posted with signs of what's to come. They include:…

* Cork & Olive, a try-before-you-buy wine and spice store. The opening date is unknown.
WHAT'S THE STORY? IS CORK & OLIVE STAGING A BOLD COMEBACK? IF SO, WILL THEY SUCCEED?


Rumors are flying that Rainer Appold has led a group of investors in buying what's left of the Cork & Olive franchise company, currently in bankruptcy. Unconfirmed rumors (posted at UnhappyFranchisee.com) also have it that Appold's group plans to resume franchise expansion and franchise sales of Cork & Olive stores.
Is there any basis to these rumors? Any verifiable info posted on these developments?
Also, how are the Cork & Olive stores – left in the lurch by founder Michael Probst – doing since the bankruptcy? How are sales? Are you holding your own?

A key skill for CEOs of imploded franchise companies is denial, accompanied by a ninja-like avoidance of any admission of responsibility. Unsurprisingly, that same trait usually helped them get in that situation in the first place.
Cork & Olive's Michael Probst demonstrated his prowess in another hardhitting interview with Tampa Bay Online: Cork & Olive Owner Hopes To Reopen Stores Here are a few of the implicit questions asked, and the answers given.
Q. Why is the Northwoods Cork & Olive store closed?
A. "Repairs"
This lie is a non-issue for both Probst and the writer, who refers to the dishonesty of the "Closed for repairs" sign as a "euphemism."
Q. Why did Cork & Olive parent Probst's Estate Wine Group file for chapter 11 bankruptcy protection?
A. "a key investor backed out of a deal"
Well done. It was the fault of a "key investor." No one will point out that if he did not invest, he was not an investor. And if he was not an investor, how was he "key"?
Q. Did Probst leave franchisees high and dry?
A. Not at all. He "set them free."
Brilliant! Bravo! Franchisees each paid you $60,000 franchise fees only to be uncaged and set free like little songbirds!
Q. Will the store open
A. Shortly. "We are waiting on an investment group to step in and take over"
Not the masterful subtlety. A "key" investor group would have been overkill. He doesn't say there is one, just that they're waiting. Of course, the reason he originally gave for the investor backing out was his unwillingness to let them "take over." But that was weeks ago.
Q. Why did the Cork & Olive franchise company fail?
A. "'I really think that, looking back, it grew too fast,' Probst said."
That darn company! How many times did he tell it to slow down? But you know companies… got a minds of their own. Spending like drunken vintners. Running up millions in debt.
It's a good thing for Michael Probst set the franchisees free and got out of there when he did! Think of what that darn Cork & Olive might have done to his good name!
In Pruno Veritas. What is Pruno? In prisons, it is cellblock wine made from fruit, sugar and, often, moldy bread. It is potent, easy to brew and best drunk with nose pinched. One writer describes it is "a full-bodied wine with a bouquet redolent of moldy peaches and a finish that can evoke everything from all-purpose bathroom cleaner to uric acid."
The most famous recipe for jailhouse pruno comes from Jarvis Masters, a death row inmate at San Quentin who won a PEN Award for his 1992 poem "Recipe for Prison Pruno."
Recipe for Prison Pruno

Take orange peels, fruit cocktail and water and heat it for 15 minutes in your sink with hot water. Keep mixture warm with towels for fermentation. Leave hidden and undisturbed for two days. Add sugar cubes and 6 teaspoons of ketchup. Heat for 30 minutes. Wrap and leave undisturbed for three more days. Reheat daily for 15 minutes for three more days. Skim and Serve.
The poem ends: "May God have mercy on your soul."

In his 1994 Book "You are Going to Prison" by Jim Hogshire, Jim offers tips on making prison wine:
"Prison hooch can be made in your cell toilet (as long as you don't mind using other people's toilets or finding some other solution), or more often, in plastic trash bags. The recipe is simple: make a strong bag by double or triple-bagging some plastic trash bags and knotting the bottoms. Into this, pour warm water, some fruit or fruit juice, raisins or tomatoes, yeast, and as much sugar as you can get ahold of (or powdered drink mix). Now tie off the top of the bag, letting a tube of some kind protrude so the thing won't explode while it gives off carbon dioxide. Now hide the bag somewhere and wait at least three days. A week is enough.

If you choose to brew your wine in your cell, you'll need to hide it behind your bunk and do what you can to hide the smell. Burning cinnamon as incense is one way. Spraying deodorant around is another. Normal wine takes at least a month if not six weeks to make at all properly — but in hell, this is all you get."
One of the problems you have right away with making wine in prison is the difficulty getting yeast. It's a strictly forbidden item and you might not be able to get any. In this case you can improvise the by using slices of bread, preferably moldy (but not dry) and preferably inside a sock for easier straining.
Perhaps the Cork & Olive franchisees might chip in and buy Michael and Stephanie each a copy of Hogshire's "You are Going to Prison." It might be a fitting parting gift.
RELATED STORY: FranWorst.Com Prison Wine Franchises Available
WHAT DO YOU THINK? LEAVE A MESSAGE.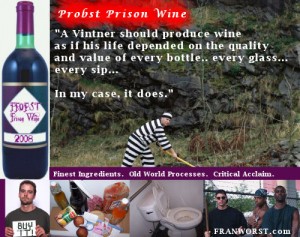 The folks over at FranWorst.com are dedicated to celebrating the worst franchise opportunities and the worst product ideas in franchising. They have asked Unhappy Franchisee and Franchise Pick readers to serve as a focus group for a potential new line of wines based on the Olde World tradition of handmade prison wine. For decades, prisoners have made their own wine by mixing common ingredients such as stale bread, fruit, ketchup, and sugar in their cell toilets and fermenting each batch in plastic garbage bags.
CLICK IMAGE TO ENLARGE.
If Cork & Olive's wine connoisseur Michael Probst were to go to prison, the collaboration between this reknowned wine retailer and resident prison winemakers (many of whom have spend 30 years, 40 years to life perfecting their craft) could spark a renaissance in prison wine and create a whole new wine niche.
The market for this wine would be both ex-inmates and parolees who developed a taste for this vintage but haven't been able to purchase it since their release, and fine wine drinkers who realize the quality produced by those who could get shanked for a single bad bottle.
Cork & Olive stores would be given priority purchasing tights and even have the option of private labeling some of the specialty lines, like San Quentin Reserve, Cell Block C, Lifer's Liebfraumilch and the specially aged 20 to Life.
WHAT DO YOU THINK? WOULD YOU BUY/SELL PROBST PREMIERE PRISON WINE?


According to the June 25, 2008 story by Carl Orth in The Suncoast News, Cork & Olive Trinity is positioned to "uncork the secret to success" after the collapse of the franchisor company. The store is heavily discounting its wines up to 75%? May be changing its name?
Cork & Olive Trinity has remained open at 10700 S.R. 54, manager Jesse Boblooch reports, even while the nine-store chain based in Tampa collapsed.

"We weren't affected by corporate closing because we are an independent franchise," Boblooch said. "However, I feel business was affected because of the articles (which) ran, people assumed we were closed."

The store is moving in new directions, with a name change possible in the future, Boblooch reports.

"We have brought in a bunch of new sweet wines to our store, people around here always ask" for them, Boblooch said. To give the store its own personality, the staff has hand selected wines such as Villa Rose Moscato, Jonesy Port and Hey Mambo.

In the meantime, the corporate inventory of wines has been heavily discounted by as much as 75 percent off.

"We are coming up with some new ideas, and plan on making some changes to the whole store concept," Boblooch pointed out. "We will still feature the free daily wine tastings that is a great way for us to get to know our customers and find out what they are looking for."
Is Trinity part of the franchisee co-op? Is this article accurate?
WHAT DO YOU THINK? SHARE A COMMENT BELOW.