SERVPRO: Is ServPro a Scam?
SERVPRO Fire & Water – Cleanup & RestorationTM   claims that: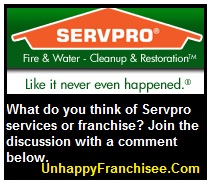 "Whether you need emergency restoration or top-to-bottom home cleaning following fire, water or mold damage, you can trust your local SERVPRO Franchise Professional to make your house feel like home again. Our goal is to help you regain control to make your damage 'Like it never even happened.'"  (Source:  Servpro website)
However, the Internet contains numerous and widespread complaints that the franchised ServPro company inflicts more damage than it mitigates.
In fact, many consumers claim that they've been Servpro is a scam operation run by thieves.
(Also read: SERVPRO Franchise Complaints)
On the Serv-pro reviews website, ezakimak10 wrote:
Servpro are scam artists! I could write a book about servpro and all the unethical practices they use. Tripling the quote they give you; Stealing items from your home; putting liens on your home; refusing to send you a detailed bill; Their tactics are criminal like just to say the least. I have no idea how our system allows them to survive by taking advantage of helpless people and also insurance fraud at its best.
3233 wrote:
What a scam company…Water damage due to ice maker break…Serv Pro recommended by insurance co and they came. Set up fans for a week -kept saying it was still wet and tore out ceiling etc.Wanted to come back to replace and when I told them I had a carpenter the manager became belligerent…. The bill was way over the top , not dated and not itemized. Insurance is fighting them…Wouldn't call them to clean up dog's mess.
Sadpro wrote:
Servpro have numerous violations listed with the better business bureau. They are at best a load of con men, crooks and liars. Do not use their ineffective and impotent services.
made wrote:
long story short- dont use serv pro

the bill was ridiculous! THEY COMPLETELY LIED ABOUT THE HOURS AND JOBS! it was after our house almost burnt down in a fire. amyways now we have an ongoing battle against the 10,000 DOLLAR BILL!
underconstruction wrote:
ServPro of Decatur/Forsyth was hired by my insurance company. They over charged thousands of dollars for work that would never need to be performed. Submitted a second estimate and intentially over charged again. Damaged thousands of dollars worth of my property and to my home. Refuses to return calls, refuses to complete the job they were paid to do and refuses to return the remaineder of my personal property. ServPro employee's even stole items from my home when they were here.
Have you dealt with SERVPRO Cleanup & Restoration?
Is SERVPRO a scam?  Does SERVPRO overcharge, steal and do shoddy work as so many claim?
If not, why do you think they attract so many complaints?
Is the company or its franchise owners and employees the problem?
Please share a comment, opinion or insight below.
ARE YOU FAMILIAR WITH SERVPRO?  PLEASE SHARE A COMMENT BELOW.
To contact the site admin, email UnhappyFranchisee[at]gmail.com.