Beware the OTR Truck Lease Scam
The Over-The-Road (OTR) Trucker is an American icon.

Who hasn't passed, or been passed by, an eighteen-wheeler and fantasized about leaving it all behind and becoming an interstate truck driver?
The freedom of the open road.
The late night solitude of the interstate, far from snooping bosses and annoying co-workers.
The steady drone of the interstate and hours with your own thoughts.
The independence and freedom of owning your own truck and calling your own shots.
Unfortunately, where there's a seductive dream, there're usually plenty of sales scams ready to exploit the starry-eyed dreamer.
Where there's a dream, there's a scam to exploit it.
We received this email from a respected trucking industry insider, who asked not to be named:
One thing you should investigate is the owner-operator leasing scam in the trucking industry.

Big trucking companies (or not so big trucking companies) aggressively market this ploy: they try to get the truck driver to buy a truck from the trucking company, thus making him an owner-operator. He then continues to be leased to the trucking company, while making his payments. It sounds great, the driver invests very little money up front, and if he makes the payments over the length of the agreement, he ends up owning the truck.

The devil is in the details, though. Many times, once the driver signs up, these trucking companies cut his miles, or otherwise make it difficult for him to make his payments. Once he finally defaults, they get the truck back, and keep whatever payments he has already made.

I suppose there may be some legitimate lease to purchase deals out there, but most are scams.
72% of Truck Leasing Participants Say They Were Scammed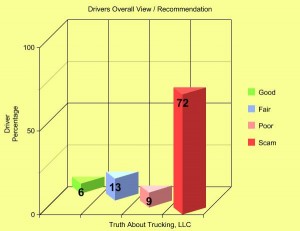 Aubrey Allen Smith, publisher of Ask The Trucker and The Truth About Trucking, seems to be as relentless in getting the word out about the truck leasing scam as UnhappyFranchisee.com is about exposing predatory franchise practices.
In 2011, Smith released the findings of his survey on owner-operator company lease purchase programs.  The survey pulled in 3,611 responses from professional truckers across the country.
Smith found that "although there are company lease drivers who have done well with these lease programs, the majority of these trucking company lease purchase programs are designed for the driver to fail."
74% of respondents reported that the Owner Operator Lease Purchase Program they were under required no money down and no credit check.
80% of the drivers claim they were promised that they would be driving (and getting paid for) 2500 – 3000 miles per week.  In reality, nearly half of the drivers reported driving only 1000-2000 miles per week.  Nearly 80% drove fewer than 2500 miles per week.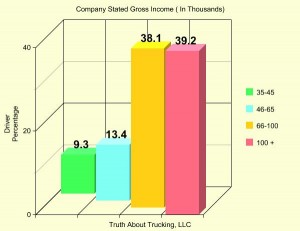 The truckers were asked "Which of the choices below best describes the amount of gross income the company said you would be able to make as an owner operator under their lease purchase plan? (yearly)"
The results:
9.3% – $35K to $45K
13.4% – $46K to 65K
38.1% – $66K to $100K
39.2% – Over $100K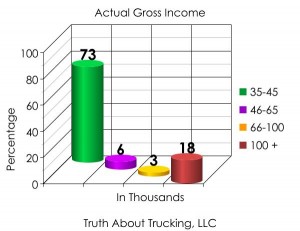 The truckers were asked "What was your ACTUAL gross income? (yearly)"
The results:
73% – $35K to $45K
6% – $46K to 65K
3% – $66K to $100K
18% – Over $100K
The driver comments included these warnings:
"It's a way to put drivers in the seat of a truck they own and not have to pay out any benefits, social security or workers comp.  All you are is a cheap driver for them.  Cheap labor."
"They are one-sided. Only designed for company profit.  You are just a glorified company driver.  Company does not care whether you make a profit or complete the lease.  They will just pass it on to the next sucker."
"After all expenses, maybe $5,000 if I'm lucky."
"I'm on target for earning a MINUS $2,000."
"Lucky if I make $20,000 this year."
"Net amount that I owe the company : $16, 910.78."
"In 29 days, I sent $600 home to my family."
"On track to make $9,600 this year after all lease and lease related expenses."
"I'll have a MINUS $9,000 loss."
"All income went to the company.  My annual loss will be more than $9,000 as reported by my accountant."
"Take home pay was $15,000 for the year."
You can read the full survey here:  Company Truck Lease Purchase Program SURVEY RESULTS  July 15th, 2011
Graphics:  TruthAboutTrucking.org
ARE YOU FAMILIAR WITH OTR TRUCK LEASING PROGRAMS?  WHAT DO YOU THINK?  SHARE A COMMENT BELOW.