MY GYM Franchise Complaints
My Gym franchise opportunity:  Are you familiar with it?
If so, please share your experience, opinions or insights with a comment below.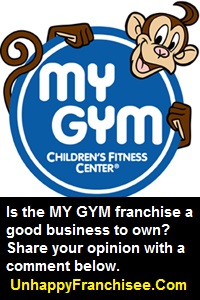 The My Gym franchise information packet on the My Gym website claims "My Gym has grown by leaps and bounds in the last several years. We currently have over 200 locations and are in over 25 countries. We have been named as one of the top 300 franchises by Entrepreneur Magazine's 'Annual Top 500 Franchise List' and also listed on their 'Annual Top 200 International Franchise List' for the past 5 years."
My Gym claims that risk-reduction is a benefit of their franchise.  Their info packet states:
"THE BENEFITS OF BUYING A FRANCHISE
…in purchasing a well-structured franchise, you greatly minimize the risks and strains of starting a new business….
"Our pre-opening, post opening and continuing support to our franchisees is unparalleled in the field of franchising.
"My Gym Children's Fitness Center is a proven, productive business with locations across the country.
"Comprehensive financial, marketing and administrative systems help you avoid the mistakes and perils independent business owners must combat alone."
However, according to Entrepreneur, My Gym locations declined from 179 US franchises in 2008 to 152 in 2011
According to data released by the Small Business Administration (SBA), My Gym franchise owners who qualified for SBA-backed franchise loans have an outrageously high loan failure rate of 51%.
That earns My Gym a spot in UnhappyFranchisee.com's list of WORST FRANCHISES IN AMERICA (by SBA loan defaults)
My Gym franchise owners have an outrageous 51% SBA default rate.
The apparent drop in My Gym franchises in recent years and the high loan default rates are franchise due diligence red flags.
| | |
| --- | --- |
| My Gym Franchise | |
| My Gym U.S. franchises in 2008: | 179 |
| My Gym U.S. franchises in 2011: | 152 |
| Growth in franchise units 2008 – 2011 (#) | -27 |
| Growth in franchise units 2008 – 2011 (%): | -15% |
| SBA loans granted since 2001: | 68 |
| SBA loan failure rate: | 51% |
| Sources: Entrepreneur (growth), Coleman report (SBA) | |
The inability to repay an SBA-backed loan (or any franchise loan, for that matter) indicates a serious situation for the franchisee.
It's likely that My Gym franchise owners who received SBA loans may have collateralized their franchise loan with their homes or other personal assets, and many were unable to repay those franchise loans… despite the serious incentive to do so.
Are you familiar with the My Gym franchise opportunity?
What do you think accounts for the SBA loan failure rate of My Gym franchise owners?
What steps should My Gym be taking to stop further franchise failures?
Has My Gym taken serious action to address the problems that led to these loan failures?
Please share a comment (anonymous is fine) or Contact UnhappyFranchisee.com.
If you are a My Gym franchise representative or employee, please feel free to leave a comment or email us at UnhappyFranchisee[at]gmail.com.
ARE YOU FAMILIAR WITH THE MY GYM FRANCHISE OPPORTUNITY? 
ARE YOU A CURRENT OR FORMER MY GYM FRANCHISE OWNER? 
PLEASE SHARE A COMMENT BELOW.
My Gym, My Gym franchise, My Gym franchise complaints, My Gym complaints,  My Gym Enterprises, MGE, children's franchise, Kid's franchise, fitness franchise, gym franchise, children's gym franchise, franchise failure rates, SBA franchise loans, worst franchises, Cory Bertisch, Jamie Bertisch, Mike Chalovich, Monique Vranesh, Randy Bertisch, Susi Sherman, Yacov Sherman