LET'S DISH Fairfax, VA Restaurant Equipment Auction
Another meal preparation franchise bites the dust.
Let's Dish food preparation and assembly kitchen is closings its Fairfax, Virginia, and will make a complete liquidation of all late model, like new equipment, furniture, fixtures and smallwares via an online auction by Rasmuss Auctioneers.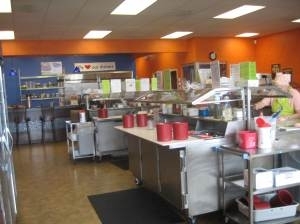 Location:
11215 N. Lee Highway, Suite N, Fairfax Centre (Chili's Restaurant parking lot) 11215 Lee Highway Suites N & P (Go down around the back of the shopping center), Fairfax, VA 22030
Online Bidding Only
Starts Closing At: Tuesday, July 19, 2011 at 11:07 PM EDT
Inspection
Begins: Monday, July 18, 2011 at 10:00 AM EDT
Ends: Monday, July 18, 2011 at 4:00 PM EDT
Click here for the Let's Dish Auction Details.
A few of the auction items include:
10793.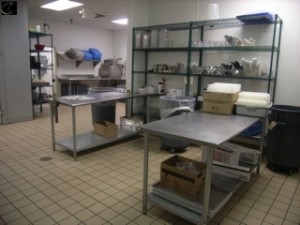 SANDWICH PREP STATION BEVERAGEAIR SP7218C 72W X 37.5D X 55H, 3 DOOR WITH 2 DOOR MEGA TOP, OVERHEAD SNEEZE GUARD, SS REMOVABLE MEGA TOPS, 17IN WHITE POLY CUTTING BOARD, 3 DOOR LOWER REFRIGERATOR ON CASTERS RM FRONT KITCHEN
10760.
REFRIGERATOR DELFIELD MFPT2-S REACH IN 2 DOOR SS WITH 2 REAR GLASS DOORS, 56W X 36D X 76H, ON CASTERS RM FRONT KITCHEN
10860.
WALK IN REFRIGERATOR FREEZER ARCTIC INDUSTRIES 4F12X7.10 EXTERIOR DIMENSIONS 186W X 12FT DEEP. INTERIOR HEIGHT OF 116IN. PEBBLED GALVANIZED FINISH RAISED FLOOR, RAMPED DRILLED FOR SPRINKLER, TOP MOUNTED COMPRESSOR, BUYER TO DEINSTALL AND REMOVE RM REAR KITCHEN
10758.
MICROWAVE AMANA RCS10MPA 22W X 18D X 14H RM FRONT KITCHEN
10883.
PREP TABLE EAGLE 60W X 30D X 34H SS ROLLED FRONT AND REAR EDGE GALVANIZED LOWER SHELF, UNEVEN RM REAR KITCHEN
ARE YOU FAMILIAR WITH LET'S DISH OR OTHER MEAL ASSEMBLY FRANCHISES?  SHARE A COMMENT BELOW.