FRANCHISE ATTORNEYS Share: What Every Franchisee Should Know (But Many Don't)
Join our franchise-industry-wide discussion: What should every prospective franchise owner understand about the franchise relationship that many don't? On this post, America's top franchisor lawyers and general franchise attorneys share their thoughts. See related pages for input we've received from others. Share a comment below or email us a UnhappyFranchisee[at]gmail.com.
(UnhappyFranchisee.Com) In our previous post, we ask: What should every prospective franchise owner and franchisee understand – but that many don't?
America's top franchisor and general franchise attorneys are sharing their invaluable experience, opinions and insights by answering the question.
Below, we have posted responses that we have received thus far and will continue adding to them as they are received… so check back often.
Join our Franchise-Industry-Wide Discussion & Educate Tomorrow's Franchisees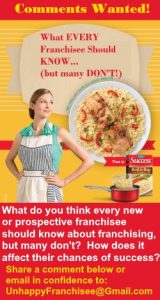 We're asking franchise owners, former franchise owners, franchisors, franchisee attorneys, franchisor attorneys, franchise consultants and franchise experts these important questions:
What should every prospective and new franchise owner know about franchising and the franchise relationship – but many don't?
What misunderstandings or misconceptions do even established and seasoned franchise owners hold?
How does it work against them… and the brands they represent?
Franchisees: What do you wish you had known when considering your franchise investment?
We want to hear your opinion. Please post a comment below or email us at UnhappyFranchisee[at]Gmail.com.
You don't need to give your name or the franchise organization you are (or were) part of, but please use your real email address (its not visible) and state your role and years in the industry.
We will compile all responses and share them by type of commenter (franchisees, franchisors, attorneys, etc.)
See comments from other franchise professionals as they are posted:
Franchise Attorneys Share: What Every Franchisee Should Know (But Many Don't)
Franchisors Share: What Every Franchisee Should Know (But Many Don't)
Franchisees Share: What Every Franchisee Should Know (But Many Don't)
Franchise Professionals Share: What Every Franchisee Should Know (But Many Don't)
Franchisor & General Franchise Attorneys Weigh In
John Gotaskie, Partner
Fox Rothschild, LLP, Pittsburgh, PA
I think that the biggest thing prospective franchisees need to understand is that they are not just small businesses, but brand ambassadors.
Especially if you are the first with a new brand or concept in a market, you will be the face, the heart and the soul of that brand in that market.
You truly are investing more than time and treasure into the business.
The upshot? You had better love your brand.
For established franchisees, the best are fantastic mentors of young franchisees.
Their invaluable experience can help brands—or competitors—grow their businesses.
I think that healthy competition pushes brands to greater success.
Andy Hall , Legal Counsel
KAH-LAW, PC Greater Minneapolis-St. Paul Area
At the beginning, all franchisors preach about how the franchisor and franchisees are partners in a system using the terms partners or family.

The key to new franchisees is learning which of the several franchisors they are considering truly mean it – talk to exiting franchisees but, as important, talk to those who are former franchisees.

Take the latter's story with a grain of salt, but listen to what they are saying about how the franchisor treated them when the business was not performing as expected.

Some franchisors sell the team and family concept but really are just interested in that initial fee or big development agreement, to the detriment of a franchisees long term prospects.

For existing franchisees, there comes a time when it should be clear that the business is not working, that the system is not what you expected.

Don't chase losses; don't develop that additional location if the first one or two or three are not working.

Better to lose a development fee than dig yourself in further. First rule of holes – when you are in one, stop digging.
Thomas O'Connell, Partner
Best Best & Krieger LLP Los Angeles, California
Thomas O'Connell offered this advice to prospective franchisors, but the lesson is relevant to franchisees as well: Make sure the business is suited for franchising, and that the franchisor is keeping up and adapting to new technology and changing trends.
By far the most important thing that a prospective franchisor needs to understand is whether their franchise is "franchisable." Not every successful business is suited for franchising whether it is because the brand hasn't established marketable credibility, it is not replicable, or even that the shift in focus could actually have an irrevocable effect on the previous success of the business.

The most significant lesson that established franchisors should be learning–particularly over the last several years–is that what worked in the past may not be what works in the future. Every market is evolving and the goal for every franchise should be to identify market trends and to determine whether those trends merit a response.
Kelsie Ackman, Esq., V.P., General Counsel
College Hunks Hauling Junk and Moving, Tampa, Florida
One thing prospective franchise owners should understand about the franchise relationship is that it's critical to love the business model you are looking to purchase.
It's imperative to their success to follow the playbook and not try to reinvent the wheel.
They need to understand that the Franchise Agreement is in place to protect the brand as a whole if/when franchise owners attempt to deviate from the playbook/model.
It is not a punitive tool for the well-performing owners who engage with the Franchisor and put in the work to grow their location and the brand, so don't be scared off by a long legalese document.

Regarding established franchisees: it's imperative to stay engaged and evolve their business as the brand and systems evolve and change for the better. No matter how long they have been operating, there is more to learn from the home office who is dedicated to strengthening the brand.
Don't let your ego get in the way and disengage because you think you have all the answers.
The Franchisor will always remain committed to driving the bottom line of the franchise owners regardless if they disagree or agree with the changes being made.
Manal (Zakhary) Hall, Corporate & Franchise Counsel
Jones Waldo, Salt Lake City, Utah
One thing that many franchisees really should know but don't seem to really "get" is that while they are buying an "independent" business, it is still part of a larger system that often has tight controls and standards that necessarily have to be followed for the integrity of the brand as a whole.
Too often, many franchisees think they are buying "their own business" without fully understanding the import and obligations of being part of a national/global brand.

For established franchisees, along the same lines, is the recognition of their individuals roles in the System as a whole.
When each franchisee is following the guidelines, ops. manual, etc., they are supporting the value and integrity of the brand as a whole and, therefore, increasing the value of the brand as a whole as well.
From a legal compliance perspective, this is critical to proper functioning of the whole system as well as increasing the value for all involved.
So many issues can be avoided if new and existing franchisees took a more wholistic approach to running their business, as opposed to just seeing it as their own individual location/business and nothing more.
Franchise Attorneys: WHAT SHOULD EVERY FRANCHISEE KNOW (But Many Don't)? How are franchise misconceptions detrimental to franchise success? SHARE A COMMENT BELOW.



TAGS: Franchise law, franchise attorneys, franchise lawyers, Buying a franchise, Franchising 101, Franchising Basics, Best franchises, finding a franchise, franchise, franchise opportunity, franchise complaints, franchise, franchise opportunity, franchise buyer's guide, Franchise Advice , unhappy franchisee
Cover image borrowed, revised and adapted from "That is Success" by Jessica Lyonford is licensed under CC BY-NC 4.0
We are not affiliated with Success Rice or any company connected with this image.