CUPPY'S COFFEE: Ochsenreiter Sues Medina & FranSynergy for $132M
UnhappyFranchisee is Sponsor Supported. Sponsored links: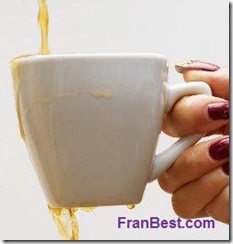 (FranchisePick.Com)
CUPPY'S COFFEE, Java Jo'z, Elite Manufacturing, Medina Blogliography7 months ago, Cuppy's Coffee parent Medina Enterprises joyfully announced the appointment of Don Ochsenreiter as Executive VP and CFO.
7 months ago Ochsenreiter was excited about all that Medina had accomplished, all it was going to accomplish, and its contribution to the local business economy.
A lot sure can change in 7 months.
In that amount of time, Medina was purchased by Dale Nabors' Fransynergy, Ochsenreiter was reportedly let go, the staff was cut, the company is beseiged with lawsuits, and Medina's final contribution to the local economy was renting the trucks to move the Home Office to Muscle Shoals, AL.
Oh, and Donald Ochsenreiter sued Medina & FranSynergy for $132,306,000.
Today, jd reports:
Well, it looks like a new lawsuit has been filed in federal court, this time with Medina and Fransynergy named as defendants:

http://dockets.justia.com/docket/court-flndce/case_no-3:2008cv00457/case_id-51868/

Doing a quick search on the name, it appears that this is the former CFO and Exec VP of the company. Also looks like he is demanding quite a bit of money. No documents have been filed at this time.
Looks like troubles continue to mount for Medina & its owner Fransynergy:
OCHSENREITER v. MEDINA ENTERPRISES, INC. et al
Plaintiff: DONALD C. OCHSENREITER
Defendant: MEDINA ENTERPRISES, INC. and FRANSYNERGY, INC.
Case Number: 3:2008cv00457
Filed: October 9, 2008
Court: Florida Northern District Court
Office: Pensacola Office [ Court Info ]
County: Okaloosa
Nature of Suit: Contract – Other Contract
Cause: 28:1332 Diversity-Breach of Contract
Amount Demanded: $132,306,000.00
The details of the suit are not yet clear, but one thing is:  you can never anticipate the next twist or turn in the ongoing saga of Cuppy's Coffee.
WHAT DO YOU THINK?  SHARE A COMMENT BELOW.
__________________________
UnhappyFranchisee is Sponsor Supported. Sponsored links:
Photo credit:  FranBest.com used by permission