BOYCOTT STUPIDITY: Support BP Franchise Owners!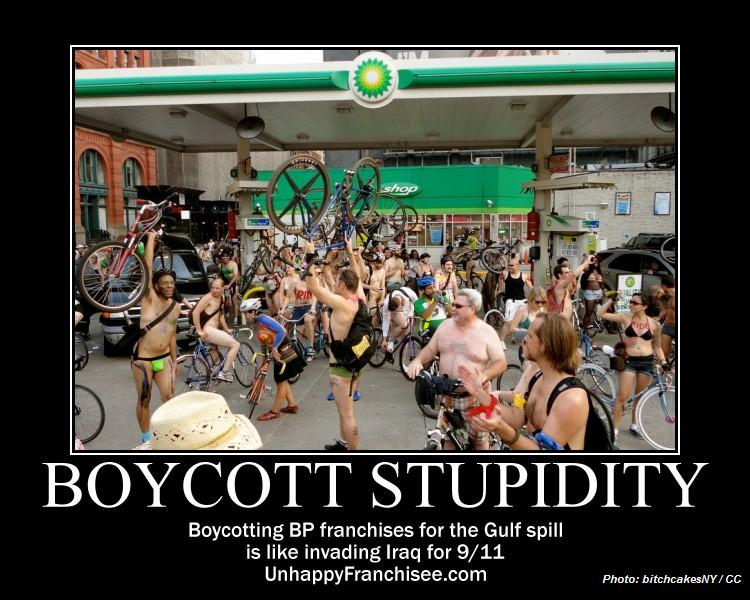 BP franchisees are small business owners.
They are employers, taxpayers, homeowners & community members.
They have expenses, loans, payrolls and mortgages to pay.
They have families to support.
Yet their American dreams and livelihoods are under attack by a huge insurgency of adversaries calling for their demise and plunge into bankruptcy.
Some of these adversaries are well-meaning but misinformed activists who are either too callous, too lazy, or too empty-headed (or all of the above) to actually think through their call for the destruction of local small business owners.
Others calling for a BP station boycott are rich & powerful groups and celebrities who are shamelessly exploiting an environmental catastrophe for their own gain.
Exploiters range from multimillionaire energy-wasters like Lady GaGa & Justin Bieber to has-beens like Korn & The Backstreet Boys.
Shameless opportunist celebrities and their teams of publicists are all too willing to toss hardworking franchise owners under their gas-guzzling tour buses for easy headlines and a little more attention from their moronic fans.
BOYCOTT STUPIDITY! SUPPORT BP FRANCHISE OWNERS WITH YOUR PATRONAGE… AND A COMMENT BELOW!
Photo credits:
BP Pirate protester by Infrogmation. License:  Creative Commons
NY BP station (World Naked Bike Ride) by bitchcakesny. License:  Creative Commons