Deadly Myths of Franchising: The Hot New Franchise Myth By Sean Kelly
When people find out I'm in franchising, they invariably ask: So what's the hot new franchise?
The idea of the hot new franchise – that exciting new company or concept that bestows instant multimillionairehood upon those in the right place at the right time who have the savvy to act (and invest) quickly – is one of the most prevalent and dangerous myths in franchising.
The siren song of the hot new franchise has drowned the hopes and dreams of thousands of normally prudent people by luring them to invest in such unproven, high risk ventures as eBay drop-off store franchises, meal preparation/meal assembly kitchen franchises, men-only fitness clubs, all-cereal restaurants, drive-thru coffee kiosks and more.
The hot new franchise concepts would be high-risk ventures even as independent start-ups, but once the burdens of franchising are heaped on, they are almost invariably toxic and doomed to fail.
To avoid falling into the hot new franchise trap, you must understand The Basic Franchise Value Equation, and why a better (albeit less fun) question is "So what are the tested, proven & successful franchises?"
The Basic Value Equation of Franchising
Here's the single most important concept you need to understand about franchising: When you buy a franchise, you agree to start a business with some inherent & significant burdens.
Burden #1 is an upfront franchise fee, typically between $30,000 to $50,000, that you must pay the franchisor.
Burden #2 is that you must continually pay a percentage of your gross sales (regardless of whether you're profitable) through the duration of your franchise agreement. If you fail before the end of your term, you may still be liable for an approximation of what royalties might have been had you remained open for the full term of your agreement.
Burden #3 is your loss of autonomy. Forget all those franchise ads about being your own boss and calling your own shots… when you buy a franchise you agree to do what you're told, and to adhere to the rules and restrictions imposed by the franchisor. When you buy a franchise you can be told what you can sell, who you can buy from, how you can market, and how you price your products and services.
So why buy a franchise? Prospective franchisees assume that they will gain benefits from the franchisor that far outweigh these significant burdens. Some of these benefits may include instant name and brand recognition, efficient, established operational procedures, tested marketing programs and techniques, powerful national or regional advertising, group buying power, and the backing of a support team with years of experience.
If a given franchise requires the burdens of extra fees, royalties, restrictions and requirements but fails to provide benefits to (more than) offset those burdens, the franchise will likely fail fast and hard.
The Franchise Appeal of Boring, Old & Successful
McDonald's is a good example of a franchise that works. A McDonald's franchisee takes on the upfront burden of paying a $45,000 franchise fee and paying a 4% royalty, plus advertising fees and co-op contributions. In addition, McDonald's franchisees must do what they're told – such as maintaining the controversial Dollar Menu, and adding required equipment and products – whether they like it or not.
Few would dispute that the benefits McDonald's provides – from expertise in site selection to universal name recognition to powerhouse national advertising – far outweigh the burdens. McDonald's provides a proven system, finely tuned from years of trial and error, that takes the guesswork out of business ownership.
Strangely, many hot new franchises, despite having unproven concepts, no track record or national advertising, charge fees and royalties equal to or exceeding those of franchise giants like McDonald's.
Here are a few examples of Hot New Franchises from recent years:
iSold It In 2007, iSold It was named Entrepreneur magazine's hottest new franchise. They charged a $22,000 franchise fee, a 10% royalty and 3% advertising contribution for an unproven, experimental storefront concept selling people's stuff on eBay. With an initial investment of $138,000 – $198,000, iSold it sold more than 400 franchises. Just over 200 opened before it was clear that the experiment was a failure and the chain crashed. The original franchisor is gone, and a smattering of stores remain.
Cereality is a cutesy, all-cereal restaurant still sold by Kahala, franchisors of Cold Stone Creamery, Blimpie, and other much maligned franchises. Donnie Deutsch on CNBC's The Big Idea said "I love this. This is genius." USA Today wrote: "The latest fast-food concept is so absurdly simple, self-indulgent… well, how can it fail?" Obviously, it can fail quite easily, as every one of the $200,000+ cafes have failed… some in less than 6 months. Despite the fact that just an airport kiosk and a tri-branded location remain, Kahala (aka Bad Ideas in a Bowl) is still hawking the Cereality franchise opportunity.
Make & Take Gourmet was one of a number of much-hyped "meal assembly kitchen" franchises with clever names like Dream Dinners, Super Suppers, Supper Thyme USA & My Girlfriend's Kitchen. The hot new idea was to charge busy, professional women a fee to use a commercial-type kitchen where they could prepare gourmet meals to freeze and serve later to their families. Amazingly enough, it turned out that working women actually have their own kitchens and freezers in their homes! The Make & Take Gourmet chain imploded and most of the meal assembly kitchens have disappeared, along with the $300,000+ each they burned up in the process.
Not Every New Franchise is Necessarily Bad
The failure of hot new franchise concepts is not an indictment of every new franchise company or new franchise brand.
Five Guys Burgers and Fries is a successful, relatively new franchise company. But Five Guys was a variation of an existing concept based on a proven fact: We know people will eat burgers and fries, and we know what they will pay for them. Five Guys Burgers and Fries had the benefit of decades of established data, experienced management and an established industry & supply chain.
Compare that to the hot new franchise concepts, which are predicated on unproven assumptions, such as gamble that people will pay others to sell their junk on eBay, will pay regularly pay $6 for a bowl of Fruit Loops, or will pay someone else for the privilege of making their own frozen food.
Other hot new franchise owners are gambling that online access to video game software won't wipe out every video game store, that people will buy gourmet food (at gourmet prices) from a food truck, or that people will pay to send Fido to summer camp.
There's nothing wrong with trying an experimental, high-risk, innovative business venture … just don't pay for the safety of a proven system when the concept itself is an experiment.
If you want to innovate, do it as an independent business.
If it works, you can always franchise it yourself… once it's an old, boring, and highly successful business.
ARE YOU FAMILIAR WITH THE HOT NEW FRANCHISE MYTH?  WHAT DO YOU THINK? SHARE A COMMENT BELOW.
Tags: Franchise myths, hot new franchise myth, Sean Kelly, franchise due diligence, how to buy a franchise, best franchises, how to open a franchise, franchising, franchise information, franchise warning
How Franchisors Should – And Shouldn't – Respond to Internet Criticism by Sean Kelly, UnhappyFranchisee.Com
No company offering franchise opportunities enjoys having to publicly defend the image that they've carefully crafted through their marketing and public relations efforts.
No franchise company wants to air or discuss its dirty laundry in plain sight of customers, employees, shareholders, franchisees and prospective franchisees.
But now, thanks to the Internet, blogs like UnhappyFranchisee.Com and BlueMauMau.com, and social media sites like Facebook and Twitter, public discussion and scrutiny of franchise opportunities is a fact of life… and it's not going away.
Here's the story of two franchisors of fast-casual cafes that reacted very differently to similar complaints against them.
The first company reacted with anger, threats and legal action.
The second company reacted by taking the complaints seriously, by publicly addressing factual errors, and by acknowledging and taking steps to correct its shortcomings.
In the end, the way the franchisors chose to react to criticism will have a greater impact on their public images and ability to grow than either the original criticism or their well-crafted marketing/PR personas.
Guess which company is posting steady improvements and growth, and which is stalled out and attracting increasingly bad press?
Camille's Sidewalk Café: Old School Bullying Backfires

In July, 2012 UnhappyFranchisee.Com posted that, according to a Small Business Administration report, Beautiful Brands International (BBI)'s Camille's Sidewalk Café had a 58% SBA franchise loan default rate.
In the post CAMILLE'S SIDEWALK CAFE Franchise Complaints, we also published that, according to the company's own disclosure document, the Camille's U.S. franchise network has shrunk 60% since 2008.
The post attracted an outpouring of comments from a number of former Camille's franchisees, who claimed that Camille's and BBI CEO David Rutkauskas had misrepresented the opportunity, had failed to provide the necessary franchisee support, and was indifferent to whether they succeeded or failed once the initial check cleared.
Camille's franchisees reported having lost as much as a million dollars, and many recounted the personal financial struggles, including bankruptcy, they endured as a result of investing in the Camille's franchise.
UnhappyFranchisee.Com contacted David Rutkauskas, CEO of Beautiful Brands International, and offered to publish his response, clarification, or rebuttal to the allegations.  We told Mr. Rutkauskas that if there were merit to some of criticism, that we would be happy to report what steps he and Beautiful Brands have taken or were taking to address and correct these problems.
Instead of responding to numerous offers to join the conversation, David Rutkauskas had his attorney send threatening letters to the former franchisees who had shared their experiences and posted comments under their real names.
UnhappyFranchisee.Com did not take down the comments.  We once again offered Mr. Rutkauskas a chance to address the criticism.
Beautiful Brands then filed a lawsuit against me (then later dismissed it) for expressing my opinion on another website.
In subsequent interviews, David Rutkauskas tried to maintain the success-story façade he had created for his chain, and, when confronted with the unavoidable facts, he blamed the franchisees themselves, he blamed the economy, he blamed partners for backing out of deals, he blamed misrepresentations on writers printing "off-the-record" comments, and he blamed UnhappyFranchisee.Com for focusing on the 70+ Camille's franchisees that failed instead of the 28 or so that have survived.
In frustration at not being able to control the story, David Rutkauskas posted dozens of fiery personal Twitter attacks on me that included vulgarities, profanity, threats, homophobic (though I'm not gay) and anti-semitic (though I'm not Jewish) insults and invitations to come to Tulsa to fight him ("settle this like men").
Instead of expressing concern for the plight of the franchisees who failed, instead of taking some responsibility or at least addressing the concerns that were raised, Beautiful Brands and David Rutkauskas' responded in such a way that reinforced the franchisees' claims that BBI is indifferent to their struggles, and will use bullying, threats and intimidation to hide their shortcomings.
Tropical Smoothie Café:  Transparency, Concern & Action

Also in July, 2012 UnhappyFranchisee.Com posted that, according to a Small Business Administration report, Tropical Smoothie Cafe had a 23.58% SBA franchise loan default rate.
In the post TROPICAL SMOOTHIE CAFE Franchise Complaints, we also that the 300+ unit chain appeared to have a termination/reaquisition rate of about 18%.
While the Tropical Smoothie Café numbers were not nearly as disturbing as those of Camille's Sidewalk Café, and while their post did not attract negative comments from franchisees, TSC did not attack us, sue us, or insult us on Twitter.
In contrast to Rutkauskas and BBI, Tropical Smoothie Cafe, LLC VP, Franchise Development Charles L. Watson sent us a report that indicated that they were aware of the problems, and had taken serious steps to reduce their franchise failures.
TSC had already hired franchise research firm FranData to do an analysis of their SBA loan default rate, and to assess the effectiveness of measures they had previously taken to reduce their franchise failure rates.
FranData reported that the SBA had overstated the TSC default rate, which is actually 15.54% (not 23.58%, as previously reported).
Furthermore, FranData reported that measures taken by Tropical Smoothie Café, including the raising of franchisee net worth requirements  and adjustments in site selection criteria, had resulted in a reduction of franchise failures every year since 2007.
Even though the SBA loan failure rate of Tropical Smoothie Café is lower than the average for similar franchises (according to FranData), Watson told us they consider it still too high, and that the company "is working hard to bring it down through continued focus on franchisee profitability and business practices."
Additionally, Mr. Watson reported a number of systemwide improvements, including:
The addition of protected territories for franchisees,
A positive ownership change and improving financials,
The hiring of additional experienced franchise professionals to help support franchisees and build the TSC brand,
Steadily increasing Average Unit Volume (AUV) which is now over $500,000.
Rather than threatening us with lawsuits  and insults, Tropical Smoothie's Charles Watson wrote to UnhappyFranchisee.Com:  "I thank you for your efforts on behalf of prospective franchisees, we use your site to help guide us on what we need to fix / alter / do better with our system – you are providing some great free consulting, for prospective franchisees and franchisors!"
Why Internet Criticism is Good for Good Franchisors… And Franchising
Here's the difference between good franchisors and bad franchisors when it comes to franchise marketing and franchisee recruitment:
Bad franchisors are on a hunt for the naïve, the trusting, and the inexperienced.
Bad franchisors want prospective franchisees who believe that franchising will give them unlimited freedom and the chance to be their own boss, to call their own shots, to control their destiny.
Bad franchisors want prospective franchisees who believe the bogus statistics that 95% of all franchises are successful, and that the few who failed did so because they didn't follow the system, or they killed the Success Fairy by asking too many questions and thinking negative thoughts.
Good franchisors want smarter franchisees who have done their homework and have realistic expectations.
Good franchisors want franchisees who understand that every new business venture comes with risk, whether its franchised or independent.
Good franchisors want franchisees who understand that their franchise is not a magic, guaranteed money-machine, and that they will provide the tools but the franchisee must build the business, that the franchisee's success will depend not only on the brand, the system, and the franchisee's hard work, but also external factors, such as location, market and competition, that may be out of their control.
Most of all, good franchisors want franchisees who aren't looking for some mythical perfect franchise system or "hot new concept," but are looking for an organization that is dedicated to supporting its franchisees, and growing through mutual success with their franchisees.
The truth is there ARE no perfect, complaint-free franchise companies and there ARE no magical short-cuts to small-business success.
Good franchise companies shouldn't fear online criticism.
As long as they are earnestly working to improve their franchise system and support their franchisees, they should be transparent about the challenges they are facing, and share the steps they are taking to overcome them.
They might lose some franchise prospects who are searching for the magic carpet to guaranteed, effortless success, but they will gain those who have realistic expectations, who know what they are getting into and who are up for the fight.
WHAT DO YOU THINKS?  SHARE A COMMENT BELOW.
TAGS: Beautiful Brands, Camille's Sidewalk Cafe, Tropical Smoothie Cafe, David Rutkauskas, Internet criticism, online criticism, online attacks, franchise public relations, franchise criticism, franchise marketing
Tropical Smoothie Café franchise loans guaranteed by the Small Business Administration have a 23.58% failure rate, according to an SBA report released September 30, 2011.
UnhappyFranchisee.Com included those initial results in two posts:  WORST FRANCHISES IN AMERICA (by SBA loan defaults), and TROPICAL SMOOTHIE CAFE Franchise Complaints.
However, a report compiled by franchise research firm FranData for Tropical Smoothie Café  concludes that the SBA report overstated TSC loan failures, with the actual rate being 15.54%.
In an email to UnhappyFranchisee.com,  Tropical Smoothie VP Franchise Development Charles L. Watson wrote:
"FranData's SBA Default report calculates a more realistic default rate for our brand.  It is still high, but we are working hard to bring it down through continued focus on franchisee profitability and business practices…
"This report shows we are far from perfect, but not as bad as the SBA data is saying we are.  Our SBA default rate is in reality lower than comparable franchise companies in our sector."
Tropical Smoothie Café SBA Franchise Loan Default Rate Dropping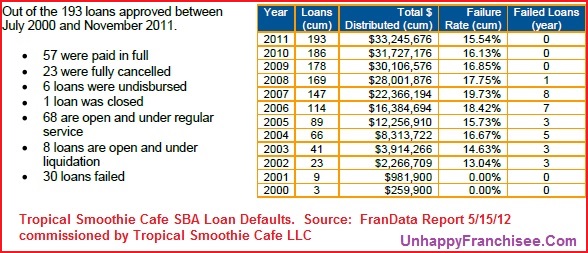 According to the Enhanced SBA Loan Loss Analysis for the years 2000 – 2011 on the Tropical Smoothie Franchise Brand prepared by FranData Lead Research Analyst Ritwik Donde:
Between 2000 and 2011, there was a significant increase of 600% in Tropical Smoothie's SBA loan disbursements, from 3 to 193. The total disbursed was $33.2 million or an average disbursed amount per loan of $172,257.

Out of the 193 loans approved between July 2000 and November 2011.

57 were paid in full 23 were fully cancelled 6 loans were undisbursed 1 loan was closed 68 are open and under regular service 8 loans are open and under liquidation 30 loans failed

During these 11 years, 30 of the 193 loans (15.5%) failed; 68 or 35% are open and performing normally; 8 are open and being resolved. The rest were either paid in full or cancelled before any money was disbursed.

While Tropical Smoothie's failure rate increased each year until 2007, it has since then declined every year, from 19.73% to 15.54%
According to FranData, the discrepency between the TSC failure rate in the FranData report (15.4%) and the TSC failure rate released by the SBA (23.58%) is the result of internal flaws and inconsistencies in SBA data collection procedures.
FranData claims that these widespread inconsistencies can affect the granting of SBA-guaranteed franchise loans, as "the lending community does rely on [the SBA-supplied] information to a considerable extent, sometimes deciding whether to lend at all to a brand and at other times incorporating it into loan policy decisions about specific brand and industry concentrations."
Increasing Capitalization Requirements Lowered Failure Rate, Report States
According to the FranData analysis, Tropical Smoothie Café was able to reduce its SBA loan failure rate by increasing the capitalization requirements for prospective franchise owners.
Prior to 2008, Tropical Smoothie required prospective franchisees to have a minimum cash liquidity of $50,000. The franchisor increased this requirement in 2009 to range between $100,000 and $150,000.
Prior to 2008, many new franchisees were undercapitalized.
According to FranData:
… Tropical Smoothie's number of real business failures steadily increased after 2000 peaking in 2007. The real business failures started declining from 2008 onwards. Tropical Smoothie's franchised café real business failure rate peaked at 8% in 2007 and declined to 4% in 2010. Based on management provided information, between 2000 and 2011, a total of 105 cafés left the system. The closures peaked at 21 in 2007 and then declined to nine in 2011.

Similarly, the number of failed SBA loans also peaked in 2007, after which no more loans failed. Undercapitalization of franchisees for the period between 2000 and 2007 could be one of the reasons for such high loan failure rate. Management realized issues with franchisee performance and took counter measures.
FranData concluded:  "Undercapitalization of franchisees led to high business failures for Tropical Smoothie franchisees, which in turn was one of the reasons for failure of SBA loans distributed to such franchisees."
READ THE FULL REPORT (PDF):  Tropical Smoothie Cafe SBA Loan Loss Analysis
Please share a comment (anonymous is fine) or Contact UnhappyFranchisee.com.
ARE YOU FAMILIAR WITH THE TROPICAL SMOOTHIE CAFE FRANCHISE OPPORTUNITY? ARE YOU A CURRENT OR TROPICAL SMOOTHIE CAFE FRANCHISE OWNER? PLEASE SHARE A COMMENT BELOW.
Tropical Smoothie Café, Tropical Smoothie Café franchise, Tropical Smoothie franchise, Tropical Smoothie Café franchise complaints, Tropical Smoothie Café failures, Tropical Smoothie Café closed, smoothie franchise, juice franchise, beverage franchise, quickservice franchise, franchise failure rates, SBA franchise loans, worst franchises, unhappy franchisee
Culver's franchise entity, Culver Franchising System, Inc., is being sued for alleged racial discrimination against two African-American franchise owners who wanted to develop Culver's franchises in black neighborhoods.
The filing of the lawsuit was reported by Mary Mitchell in the Chicago Sun Times (Former franchise owners' lawsuit accuses Culver's of racial bias)
In a federal lawsuit filed last week, the first black franchisees in the Culver's system… accuse Culver's of refusing to expand its brand into black communities because of racial bias.

Michael L. Jones and Michael G. Wilbern allege that they were thwarted in their efforts to open franchises in predominantly black neighborhoods in Chicago and Indiana.

The lawsuit alleges that Wilbern tried to open restaurants at 95th and Stony Island; 83rd and Stewart, and 119th & Marshfield on the far South Side. All three locations were turned down, even though Wilbern claims he notified Culver's there was the potential to obtain tax-increment financing."
The Sun Times article reports that refused to approve another South Side Chicago site for Wilbern, despite the fact the city had was willing to provide the lot for $1.00.
Culver's headquarters is in the Village of Prairie du Sac, WI.
The lawsuit maintains that the company is "owned and managed entirely by white citizens," and the "overwhelming majority" of Culver's restaurants are located in areas where African Americans are in the minority.
A quick check of Culver's home town at City-Data reveals that it's not exactly a bastion of ethnic diversity, with black residents comprising just .6% of the population:
Ethnic Make-Up of Prairie du Sac, WI
White alone – 3,677 (92.6%)
Hispanic – 190 (4.8%)
Two or more races – 41 (1.0%)
Black alone – 24 (0.6%)
Asian alone – 24 (0.6%)
American Indian alone – 8 (0.2%)
Other race alone – 7 (0.2%)
Native Hawaiian and Other Pacific Islander alone – 1 (0.03%)
What do you think?
Are Culver's franchising and site selection policies discriminatory?
Or do franchise companies like Culver's have the right to determine their own site-selection criteria, and no obligation to expand into locations they don't feel will succeed?
ARE YOU FAMILIAR WITH CULVER'S & THE CULVER'S FRANCHISE OPPORTUNITY?  SHARE A COMMENT BELOW.
tags: Culver's, Culver's franchise, Culver Franchising System Inc., Culver's franchise cost, Culver's franchising, opening a Culver's franchise, Culver's racist, Culver's racism, Culver's discrimination
Responding to an UnhappyFranchisee.Com Media Alert for Beautiful Brands International (BBI), QSR magazine has taken more than a dozen news stories offline.
It's not clear at this time whether the stories are being reviewed and/or edited, or whether they have been removed permanently.
The media alert issued by UnhappyFranchisee.Com was prompted by our concern that numerous potentially incorrect and/or misleading claims regarding BBI had been submitted via press release to media outlets, which had then been published by respected business and restaurant industry publications.
David Rutkauskas, CEO of Beautiful Brands International, claims his representations to the press are accurate:  BEAUTIFUL BRANDS' David Rutkauskas Defends BBI's PR Claims
Group Publisher Greg Sanders wrote to UnhappyFranchisee.Com:
Thank you for expressing your viewpoint.

It is the policy of QSR magazine to ensure the complete accuracy of all stories posted and not to post comments made off the record.

We are undergoing a review of stories posted to ensure these goals were met.

Best,

Greg Sanders

Group Publisher

Food News Media

QSR | FSR
We thank Greg Sanders for taking this matter seriously, and applaud QSR magazine for taking steps to ensure that its readers, who may be prospective franchisees or franchise services clients, receive accurate information on which to base their investment decisions.
It appears that QSR has taken more than a dozen BBI articles offline, including:
To Support Global Growth, BBI Opens Three New Offices  April 29, 2011 – QSR
BBI Breaks Records in 2011, Preps for Big 2012  November 1, 2011  – QSR
Beautiful Brands Reports Record-Breaking Q1  June 6, 2012 (QSR)
FreshBerry Breaks Sales Records with Store Openings  June 25, 2012  (QSR)
FreshBerry Launches its 20th Store in the Middle East   November 30, 2012 (QSR)
BBI Reports Record 2012   January 4, 2013 (QSR)
FreshBerry's Market Share in Middle East Now 53 Percent  February 13, 2013 (QSR)
We believe that QSR and other publications that have recently investigated BBI claims (Tulsa World, Franchise Times) are sending a strong message to franchisors who provide questionable claims in their press materials: It might work short term, but it will likely come back to bite you in the end.
Also read:
BEAUTIFUL BRANDS INTERNATIONAL (BBI): Behind the Hype
BEAUTIFUL BRANDS Partner Program: Behind the Hype
ARE YOU FAMILIAR WITH BEAUTIFUL BRANDS INTERNATIONAL (BBI)?  SHARE A COMMENT BELOW.
tags: David Rutkauskas, Beautiful Brands International, BBI, Camille's Sidewalk Cafe, Unhappy Franchisee, QSR, QSR magazine, Greg Sanders,
Is 7-Eleven a good franchise to own?
We don't know.  In fact, we don't even understand how their unique franchise arrangement works.
So we're asking 7-Eleven franchisees to explain how the franchise works, and whether they think it's a good franchise opportunity.
7-Eleven franchise owners, please answer some or all of these questions by leaving a comment or comment below:
What is the financial arrangement franchisees have with 7-Eleven, Inc. (SEI)?
What do franchisees pay for?  What does SEI pay for?
What are the advantages of this arrangement?
What are the disadvantages?
What are your greatest frustrations with SEI?
If you had it to do over again, would you become a 7-Eleven franchise owner?
Why or why not?
What should every prospective 7-Eleven franchisee know before signing up?
Thanks for your comments!
Are 7-Eleven franchisees really business OWNERS?
Some of the increasing numbers of unhappy 7-Eleven owners say the 7-Eleven franchise is like buying a low-paying job.
Others say it's worse.
Alex wrote:
This is how it works they split 50% percent of everything you make.  So pretty much after the split, payroll expenses, maintenance fees, taxes and the list goes on and on… you only make the hours you put in, so say you work 50 hours a week multiply $10 an hr x 50 = 500 x 4 weeks you could make only that 2k a month and if your lucky and 7 eleven decides to give u a good month profit then you can make a couple more g's or else u can also go negative.

I realized with this company it's all about luck not how hard you work or how smart you are. They don't know shit and don't do shit to help you make money but waste money.  It's bad enough we deal with the store 24/7 but dealing with the consultant who comes every week to help to supposedly help improve sales is the worst part of the week and If you don't get along with them too bad bc his boss is just like him/her.

If you complain all they say is to sell your store.  That's the worst thing someone can tell u after u invested over 250k with them…
Roti Kapda Makan wrote:
I wouldn't recommend buying a 7-Eleven franchise.

My reasoning is that they do not allow a franchisee to grow within the system, regardless of having money. the typical ROI is almost 7 years on brand new stores, vs Goodwill stores (running stores) it is almost 4-5 years depends on what kind of premium you pay.

Back to the growth. I had one store for almost 2 years now. I am now approved to buy one more stores, but what sucks is, what if I want 3 stores or more, too bad so bad, 7-Eleven will not approve that. The approval rate to buy more stores is they say 6 months, but it ends up being 1.5 years. And brand new stores are bad investment, because of unknown sales and the Roi.

In conclusion a person does make money, but it is very hard to grow with this business in CA. Dallas, and Florida, however has better opportunity. One would pay anywhere from 400K to 700K in So. Cal for a Store vs in TX or FL one would pay 100K -300K for a very good store.
fukifuki wrote:
Oh well, my friends do not think about buying a 7-Eleven franchise. I am with them and had a really bad time through the years. We work hard and bring the business up but sorry man we did not get paid accordingly.

Their share is fix, their accounting system the worst i ever experienced.  Sorry to say but just do your own job, if you are getting 9.00 an hour please do not think about buying this franchise.
7-Eleven Franchisee wrote:
I first started with 7 Eleven as a corporate employee, supporting franchise and corporate stores…

I always heard franchisees complain about SEI [Seven Eleven, Inc.]. Saying they stole money from franchisees, they were paying more for product and the list goes on. Then I became a franchisee. Boy were they not kidding. SEI is a big scam. They take 50% of your gross profit dollars. Yes you do not pay rent, you do not pay electricity, heat and ac. But boy you loose your life! Believe me I did…

If you are truly considering a SEI franchise, just look at the franchise agreement it is over 300 pages long. Every thing is covered you can not beat them. They will fight you every step of the way. Just be careful. I am trying to help you!
Also read:
ARE YOU A 7-ELEVEN FRANCHISE OWNER OR EMPLOYEE?  PLEASE SHARE YOUR OPINION OF THE 7-ELEVEN FRANCHISE BELOW.

TAGS: 7-Eleven, SEI, 7-Eleven franchise, 7-Eleven franchise complaints, 7-11 franchise, 7-11 franchise complaints, Seven Eleven franchise, franchise complaints, 7-Eleven franchise cost, 7-Eleven complaints, 7-11 complaints
McDonald's franchise owners are getting increasingly frustrated, according to a relatively small but telling franchisee survey by Janney Capital Markets.
Are you a McDonald's franchise owner or McDonald's employee?  Please share your thoughts with a comment below.
According to Crain's Chicago Business, The McDonald's franchisee survey respondents "characterized their relationship with corporate as 1.93 on a scale where 5 would be excellent and 0 awful."
A chief complaint among McDonald's franchisees continues to be continuing emphasis on the Dollar Menu and price promotions.
The Chicago Tribune cites one complaint of "couponing like there's no tomorrow."
Another respondent complained:  "Every quarter we sell a smaller percentage of our menu at a full (and profitable) price."
Another McDonald's franchisee complaint is new product introductions that have caused an "operational nightmare."
According to a franchisee quoted in Crain's:
"We have more complicated items, with more elements coming from the (distribution center), more equipment coming from suppliers so everyone else is making more money sending us more 'stuff' and we are expected to deliver a product that takes 55 seconds on the best day in less than that, do it consistently and with a smile on our face…There's little to smile about."
The battle between McDonald's franchisees and corporate is one that is inherent in the franchise relationship, especially with publicly traded franchisor's.
The franchisor is concerned with increasing sales and driving its stock price.
The franchisee is most concerned with profitability, not sales, as well as operational efficiency.
…because McDonald's is beholden to its investors, monthly sales performance is key, said John Gordon, founder and principal of Pacific Management Consulting Group, a San Diego, Calif.-based chain restaurant consulting group.

"That's where the real rub comes in with franchisees — same-store sales," he said.

After nine years of ever-higher sales at restaurants open for at least a year, the traditional measure of retail success, the streak snapped in October.

"The good news is that the chain has had a lot of success in the last four to five years," said Jack Russo, an analyst at Edward Jones & Co. in St. Louis. "Unfortunately for owner-operators, it is bad news because the bar has been raised. (Corporate) is trying to do everything it can to get sales up."
When the priorities of franchisees and franchisors diverge, sparks fly and the the franchise industry's characterization of franchisees being "in business for themselves but not by themselves" seems debatable, at best.
ARE YOU A McDONALD'S FRANCHISE OWNER, EMPLOYEE OR SUPPLIER?  WHAT DO YOU THINK?  SHARE A COMMENT BELOW.

TAGS: McDonald's Corp, McDonald's franchise owners, McDonald's franchisees, McDonald's Corp., McDonald's complaints, McDonald's franchise complaints, McDonald's franchisee complaints, McDonald's Dollar Menu
Beautiful Brands International (BBI) and its CEO, David Rutkauskas, have faced criticism from UnhappyFranchisee.com for providing what we believe to be inaccurate and misleading representations to the media in recent years.
In our opinion, BBI has been able to create a public perception of robust growth and unfettered success, while hiding such challenges as widespread franchise closures, unsuccessful concept launches, and the apparently high defection rate of its franchise services clients ("brand partners").
With each post we published, we invited Mr. Rutkauskas and BBI to provide rebuttals, clarifications, or corrections to our opinions, as it is our goal to provide both sides of the issue and let our readers decide.
We are pleased that David Rutkauskas has begun to publicly respond and engage in a dialogue over these important issues.
This post includes Mr. Rutkauskas' justifications of BBI's media representations as published in two posts on his blog (Facing the Lies of UNHAPPY FRANCHISEE, and My Response: Crushing the Distortions).
Criticism #1: That Beautiful Brands International (BBI) exaggerates the number of its franchise locations
UnhappyFranchisee.com believes that BBI misrepresents the size and growth of its company, in part by counting its clients' locations as its own.  So while the websites of BBI franchise brands Camille's Sidewalk Cafe, FreshBerry, and Rex's Chicken only list a total of only 71 locations open around the world, Rutkauskas claims "BBI has 297 locations open around the world…" (QSR, 3/12/13).
BBI's Justification: BBI CEO David Rutkauskas states "As long as any brand is under our consulting umbrella it is counted as a Beautiful Brand… If you do business with us, then you are a Beautiful Brand."1
Why this matters:  Potential BBI franchisees and clients should be provided with undistorted information regarding the size and growth of the franchisor.  If BBI signs up a 200-unit company for brokerage services, it is deceptive to claim that BBI has grown by 200 units that day.  This practice is like a local sign shop claiming it has 30,000 locations worldwide because it makes banners for Subway.
Our recommendation:  To avoid misleading its franchise & partner prospects, we recommend that BBI clearly differentiate between the number of locations under its own brands and the number of units its clients control… and never combine the two.
Criticism #2: That BBI promotes unsubstantiated/deceptive growth projections
UnhappyFranchisee.Com has criticized BBI for having made many unrealistic and misleading representations regarding its future growth, such as the 2007 claim that it "holds franchise agreements for another 900 Camille's to open over the next five years."  Six years later, BBI apparently oversees only 28 Camille's restaurants.  An analysis of the company's disclosure documents from the time the claim was made did not turn up any evidence that there were ever franchise agreements signed for 900 Camille's locations.
BBI's Justification: Mr. Rutkauskas states "I'll be the first to admit that the economy has smacked us hard. Just like many companies, we anticipated a solid upward trajectory in regards to our brand growth, only to come face to face with the economic realities of the last six years."1
Why this matters:  Distracting readers with optimistic growth projections and plans can be an effective way of misdirecting attention from the much more sobering reality reflected in the company's Franchise Disclosure Documents (FDD).  The FTC requires certain disclosures be provided to franchisees; franchisors should not use the press to end-run FTC protections.
Our recommendation:  As Mr. Rutkauskas acknowledges that he does not know what will happen in the coming months or years, we recommend that he stick to promoting what he has accomplished, and report only franchises that actually open, rather than promoting the number he intends to open.  Further, we recommend that BBI representations to the media regarding franchises sold, franchises "sold but not open," and projected store openings match the information disclosed by BBI in Item 20 of its Franchise Disclosure Documents (FDD).
Criticism #3: That BBI & David Rutkauskas disseminate unsupported/prohibited earnings claims
The Federal Trade Commission (FTC) prohibits franchise sellers from providing sales or profitability claims to franchise prospects unless those claims are properly documented in the company's required disclosure documents.  We have pointed out that BBI has made numerous earning representations in the press, including that Camille's Sidewalk Café franchises average $700,000 to $800,000 in annual sales, and that a Freshberry unit is projected to have $400,00 in sales, and that the now-defunct Coney Beach franchise would average an impressive $1M in unit sales, with a $9.00 average purchase and an exceptionally low 21% food cost.
BBI's Justification: According to Mr. Rutkauskas, the numerous published earnings claims were the fault of writers printing "off-the-record" comments. Says Rutkauskas: "It is not our policy to publish or document earnings claims. Any past off the record comment was meant to be a personal opinion based off of previous assessments and not meant to be a published fact on behalf of BBI."1
Why this matters:  The FTC prohibits unsubstantiated financial representations because, historically, many franchisees have been hoodwinked by unethical and/or unrealistically optimistic franchise sellers.  It's irresponsible to end-run FTC safeguards and provide unsupported, misleading earnings representations.
Our recommendation:  Mr. Rutkauskas and BBI should refrain from providing earnings information or financial representations to the press, either on or off the record.
Criticism #4: BBI claims it makes "brand partners" successful, but former partners are prohibited from sharing their experiences or honest opinions
More than 20 brands have been touted as receiving the franchise development, marketing & sales support of the BBI "partnership" program.  All but a very few seem to have severed ties with BBI before the end of their contract terms; those that remain don't appear to have added franchise units. In fact, we haven't been able to find a single BBI partner that credits BBI with making them "bigger and better."
BBI's Justification: Mr. Rutkauskas insists "BBI has a history of making brands better and securing growth for companies." He cites a former brand partner he claims to have "generated $884,000" for and "laid the foundations" for their 10 franchise units1. When we contacted BBI brand partners (including the aforementioned partner), most said they weren't allowed to discuss their experience with BBI because of a gag order type clause in their separation agreements. In fact, those who severed ties are either prohibited from sharing their experiences due to gag orders required by David Rutkauskas and BBI, or because they fear retaliation from BBI. BBI appears to be free to make representations about its former clients, but their former clients are prohibited from refuting those claims.
Why this matters:  BBI "partner brands" are small companies who reportedly pay BBI $50,000 up-front, plus a percentage of future franchise fees and royalties.  This can be a substantial loss of time and money if they  do not get the promised results.  Shouldn't prospective partners be able to hear the experiences and opinions of former brand partners?  Prohibiting customers from expressing their opinions is a troubling practice and a potential red flag.
Our recommendation:  BBI should nullify the "gag orders" on their clients' separation agreements and allow former "partner brands" to candidly share their experiences and opinions without fear of repercussions from BBI & David Rutkauskas.
Criticism #5: That BBI misrepresents both its track record and investment appeal
Since at least 2007, David Rutkauskas has regularly claimed that BBI is generating unprecedented growth and breaking its previous sales records.
Despite dozens of excited announcements of new partnerships and huge development deals, BBI's actual track record does not appear, in our opinion, to be a success story for its franchisees:
Roughly three times more Camille's Sidewalk Café franchise owners lost their investments and shuttered their cafes than managed to stay in business.
The Small Business Administration reports a SBA loan default rate of 58% for Camille's Sidewalk Café franchises, one of the worst in the nation.
The highly touted BBI Coney Beach franchise chain folded shortly after its debut, and the Rex's Chicken concept has failed to grow past a single unit.
Despite a nationwide frozen yogurt boom and claims of development deals for hundreds of units, FreshBerry appears to have fewer than 20 domestic locations and less than 50 total units worldwide.
Despite 20+ "partner" brands having entrusted their marketing and sales to BBI, not a single one has credited BBI with successfully recruiting franchisees on their behalf.
BBI's Justification: David Rutkauskas complains that UnhappyFranchisee.com doesn't acknowledge BBI's successes and "doesn't find having over 28 Camille's Sidewalk Cafes open around the globe, over 50 FreshBerry's open and thriving and selling multiple franchises for different brands around the world as being successful."1
Why this matters:  Prospective franchisees are being asked to make significant financial investments, ranging from up to $386,000 for a FreshBerry franchise to more than $600,000 for a Camille's Sidewalk Café franchise.  We believe they deserve to have a realistic idea of the risks involved, and how the franchise brands and concepts performed in the past.
Our recommendation:  Beautiful Brands should be transparent about the challenges they've faced, the losses they've suffered, and the specific programs and practices they've implemented to combat their franchise failure rate.  Having better-informed franchisees with a realistic understanding of the risks involved will be better for BBI in the long run.
Criticism #6: That BBI bullies and threatens its former franchisees and critics to keep silent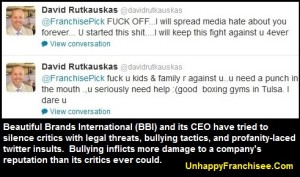 Former Camille's franchise owners who shared their experiences on UnhappyFranchisee.Com received threatening letters from BBI's law firm.  A female brand partner critical of BBI received a vulgar, insulting  email from Mr. Rutkauskas promising to sue her after she expressed her opinions.  BBI sued UnhappyFranchisee.com's Sean Kelly (then dropped the suit), and continues to harrass him by Tweeting profanity-laced insults and invitations to fight (yes, fist-fight) for expressing his opinions.
[Image, left: one of numerous bullying tweets directed at UnhappyFranchisee.com's Sean Kelly, who tweets as @FranchisePick.  Click to enlarge.  Warning:  contains profanity]
BBI's Justification: David Rutkauskas often characterizes opinions he disagrees with as "lies" intended solely to hurt him and his business.  He states: "Just like you can't go into a crowded movie theater and yell 'fire,' without cause, you cannot injure someone's livelihood with baseless lies meant only to destroy his or her reputation."
Why this matters:  The First Amendment protects Americans' right to express their opinions about BBI or any other company. It protects our right to make statements of fact as long as we can reasonably substantiate the truth of those statements. BBI and David Rutkauskas want their many critics to believe they can successfully sue them for speaking their opinions or the truth. They can't. That's why the suit was dismissed against UnhappyFranchisee.Com's Sean Kelly and why Camille's franchisee's negative opinions still remain on UnhappyFranchisee.Com.
UnhappyFranchisee.Com's intention is not to destroy anyone's reputation, but to ensure that individuals and their families have solid, factual information on which to base the most important investment decisions of their lives. We are not yelling "fire" inside a crowded theater; we are alerting prospective moviegoers about the smoke coming out of the back door. If they still want to enter the theater, at least they've made an informed choice.
Our recommendation:  Beautiful Brands and David Rutkauskas should cease all bullying tactics, if only because their bullying and harrassment does much more damage to their reputations than the original criticism.  We recommend that Mr. Rutkauskas put that same energy into supporting current franchisees and partners and making them successful.  Nothing will offset criticism more effectively than testimonials from successful franchisees and clients.  So far, not a single one has spoken out in support of BBI.
1 David Rutkauskas' rebuttal comments are from his blog post "My Response: Crushing the Distortions," April 28, 2013 at http://davidrutkauskas.com/index.cfm?id=1&blogId=140. #
Also read:
BEAUTIFUL BRANDS INTERNATIONAL (BBI): Behind the Hype
BEAUTIFUL BRANDS Partner Program: Behind the Hype
ARE YOU FAMILIAR WITH BEAUTIFUL BRANDS INTERNATIONAL OR DAVID RUTKAUSKAS?  SHARE A COMMENT BELOW.
tags: David Rutkauskas, Beautiful Brands International, BBI, Camille's Sidewalk Cafe, Unhappy Franchisee, Sean Kelly, franchise opportunities, franchise bullying
Attorney Jonathan Fortman contributed this third part of a three-part series on the unsuccessful corporate bullying tactics of Beautiful Brands International (BBI) against UnhappyFranchisee.Com publisher Sean Kelly.
You can read the Parts 1 & 2 here:
BEAUTIFUL BRANDS: Standing Up to Corporate Bullies
JONATHAN FORTMAN: Corporate Bullying Part 2
Corporate Bullying – Part 3 – The Finale
By Jonathan Fortman        April 28, 2013
Welcome to Part 3 of my blog series about corporate bullies.
I did not intend on making this into a series.   Ongoing events in the underlying case have just naturally led me along the path.  In this finale, I'll talk about how the bully, after being challenged in the legal system, will then revert back to an adolescent playground bully thereby completing the circle.
I have three children.  The youngest is my 10 year-old son.  He thinks the old man can do no wrong.  Everything I say is right and he looks up to me.  It's a very special time in the life of a parent.
My middle child is my 14 year-old daughter.  She's at that stage in life where she thinks she's always right and her parents are dorks who don't know anything.  Don't get me wrong,  I think she's a great kid.  However, I think our Creator makes us all go through that stage so that we can undergo a few lessons in the school of hard knocks.
My third child is my stepson who will turn 21 in a few weeks.  He has matured to the point where he has gone through a few of life's lessons and is seeing that the old man knows what he's talking about, at least some of the time.  I must admit those moments are very gratifying.  In the case I spoke about in Part 1 of this series, I made certain statements concerning the effect of standing up to a bully.  As that case has unfolded, everything I said in Part 1 has proven to be true.  The old man was right.
Consider yourselves all my children coming of age as I explain to you exactly why the old man was right.
In BEAUTIFUL BRANDS: Standing Up to Corporate Bullies, I talked about the case of Beautiful Brands International ("BBI") v. John Doe.  I told you that if you stand up to a bully, 99% of the time the bully will back down.  In the BBI case, my client, Sean Kelly, stood up to that bully.  At the time Part 1 was published, we had no idea if the bully would be among the 99% who back down or the 1% who keep coming because they're too stupid to realize they've lost their power.
In JONATHAN FORTMAN: Corporate Bullying Part 2 of the series, I talked about the bully blinking first.
Basically, the bully responded by publicly crying about how it was so mistreated and stating that its victim was really the bully.   When Part 2 was published, the case against John Doe was still pending.  We disclosed Sean Kelly's identity and basically dared the bully to replace Sean Kelly for "John Doe."  Since part 2 was published, the case against "John Doe" has been dismissed.  There was no substitution of Sean Kelly for Mr. Doe.  The bully has backed completely down.
In this finale of the series, I wanted to discuss the way in which these disputes can turn full circle from corporate bullying through perverted use of the courts to simple adolescent playground antics.  BBI was founded by a man named David Rutkauskas.  I don't know Mr. Rutkauskas.  However, reviewing his twitter account, blog, and the glowing PR materials his company throws out, I get the distinct impression that Mr. Rutkauskas thinks very highly of himself.  After all, what kind of business executive sends out a tweet showing off his $100,000 Mercedes?
There's nothing wrong with thinking highly of yourself or flaunting your material possessions if you are legitimate.  The problem is that if your business is based solely on fluff and no real substance, it will eventually bring you down.  You might as well put a big, huge red target on yourself.
I contrast Mr. Rutkauskas' behavior with that of Warren Buffett and Sam Walton, two of the most successful people in history.  By all accounts, both men came from humble beginnings, worked hard, and became giants in the business world.  However, neither of them ever flaunted their wealth.  They stayed true to their core values.  Those successful in business can do that because they know that their success never depended on fluff.  Rather, their success was directly tied to their work ethic.  Their values drive them, not their material possessions or the need for self-promotion.
If there's any doubt about the difference between Mr. Rutkauskas and the real business tycoons, one need only look at several tweets Mr. Rutkauskas sent after his business practices were questioned.  After the case was filed against John Doe, Mr Rutkauskas made a series of tweets directed to Sean Kelly that were, to put it mildly, crude and offensive.  This is a family-oriented blog so I won't set out the contents of the tweets.  Interestingly, the day after the tweets were made, Mr. Rutkauskas removed them from his twitter account.  However, I had screen shots of the tweets and made sure to include those in my letter to the BBI attorney when I disclosed Sean Kelly's identity.
(Here's a side-lesson, my children, never tweet while under the influence of a mood-altering substance).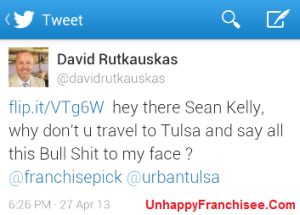 I thought that dismissal of the case against Mr. Doe would be the end of this saga.
I was wrong.
Yesterday, Mr. Rutkauskas tweeted, and I quote:  "hey there Sean Kelly, why don't u travel to Tulsa and say all this Bull S@*t to my face?"
The first thing I need to point out to Mr. Rutkauskas is that "bulls@*t" is a single word.  If you're going to act tough in a tweet, try to be grammatically correct.  This tweet is comical.  It shows that the old man was more right than he even knew.
The corporate bully has now reverted to middle school tactics of daring its victim to a fight on the playground.
We have come full circle to the days of our youth.  Would Warren Buffett or Sam Walton had sent such a tweet had Twitter been around during their primes?  Obviously not.  In my opinion, Mr. Rutkauskas has now shown himself to be nothing more than an egotistical, self-absorbed peddler of fish oil.
As my daughter would say, he now has no relevance.
Thanks for reading the conclusion to this series.  Call us if you need help standing up to corporate bullies like this.  We'd be happy to help.
Jonathan E. Fortman
For more information on Jonathan Fortman and Fortman Law, visit the Jonathan Fortman profile page in our franchise attorney directory.
This article was originally published at the Fortman Law Blog and is reprinted here by permission of the author.
Related Reading:
Beautiful Brands: Why Franchise Bullying Backfires
BEAUTIFUL BRANDS INTERNATIONAL (BBI): Behind the Hype
WHAT DO YOU THINK? SHARE A COMMENT BELOW.
TAGS: Jonathan Fortman, Attorney Jonathan Fortman, Jon Fortman, Sean Kelly, UnhappyFranchisee.Com, Beautiful Brands, BBI, David Rutkauskas, corporate bullying, bullying, franchise bullying
Attorney Jonathan Fortman contributed the second part of a three-part series on the unsuccessful corporate bullying tactics of Beautiful Brands International (BBI) against UnhappyFranchisee.Com publisher Sean Kelly.
You can read the Part 1 here:  BEAUTIFUL BRANDS: Standing Up to Corporate Bullies.
The Bully Blinked First
by Jonathan Fortman         April 18, 2013
Several days ago I wrote about the case of Beautiful Brands, Inc. v. John Doe.
I used the facts of that case to describe the corporate bullies we confront on a daily basis. I described how standing up to bullies causes them to back down 99% of the time.
My client, John Doe a/k/a Sean Kelly stood up to the bully. Not only has the bully backed down, but is now crying like a baby.
The corporate bully is now trying to portray Sean Kelly as the bully.
Sean Kelly is far from a bully.
He gave the bully every chance to knock off the playground tactics to no avail.
The corporate bully knew that Sean Kelly was exposing the truth and tried to silence him by perverted use of the court system.
However, by taking a stand, Sean Kelly has forced the bully into admitting its mistakes.
Once again, I encourage anyone bullied by corporate thugs to stand up for what they know is right. Fight the fight knowing that truth is behind you. In the end, you will win.
To those companies who think that these tactics are good business practice, I encourage you to consider changing your strategy.
These tactics may work for a short period of time. However, if your goal is to have a viable business long-term, using threats and intimidation is not recommended.
I can guarantee such tactics will ultimately lead to failure.
Thanks for reading.
Jon

For more information on Jonathan Fortman and Fortman Law, visit the Jonathan Fortman profile page in our franchise attorney directory.
This article was originally published at the Fortman Law Blog and is reprinted here by permission of the author.
Related Reading:
Beautiful Brands: Why Franchise Bullying Backfires
BEAUTIFUL BRANDS INTERNATIONAL (BBI): Behind the Hype
WHAT DO YOU THINK? SHARE A COMMENT BELOW.
TAGS: Jonathan Fortman, Attorney Jonathan Fortman, Jon Fortman, Sean Kelly, UnhappyFranchisee.Com, Beautiful Brands, BBI, David Rutkauskas, corporate bullying, bullying, franchise bullying