McDonald's franchise owners are getting increasingly frustrated, according to a relatively small but telling franchisee survey by Janney Capital Markets.
Are you a McDonald's franchise owner or McDonald's employee?  Please share your thoughts with a comment below.
According to Crain's Chicago Business, The McDonald's franchisee survey respondents "characterized their relationship with corporate as 1.93 on a scale where 5 would be excellent and 0 awful."
A chief complaint among McDonald's franchisees continues to be continuing emphasis on the Dollar Menu and price promotions.
The Chicago Tribune cites one complaint of "couponing like there's no tomorrow."
Another respondent complained:  "Every quarter we sell a smaller percentage of our menu at a full (and profitable) price."
Another McDonald's franchisee complaint is new product introductions that have caused an "operational nightmare."
According to a franchisee quoted in Crain's:
"We have more complicated items, with more elements coming from the (distribution center), more equipment coming from suppliers so everyone else is making more money sending us more 'stuff' and we are expected to deliver a product that takes 55 seconds on the best day in less than that, do it consistently and with a smile on our face…There's little to smile about."
The battle between McDonald's franchisees and corporate is one that is inherent in the franchise relationship, especially with publicly traded franchisor's.
The franchisor is concerned with increasing sales and driving its stock price.
The franchisee is most concerned with profitability, not sales, as well as operational efficiency.
…because McDonald's is beholden to its investors, monthly sales performance is key, said John Gordon, founder and principal of Pacific Management Consulting Group, a San Diego, Calif.-based chain restaurant consulting group.

"That's where the real rub comes in with franchisees — same-store sales," he said.

After nine years of ever-higher sales at restaurants open for at least a year, the traditional measure of retail success, the streak snapped in October.

"The good news is that the chain has had a lot of success in the last four to five years," said Jack Russo, an analyst at Edward Jones & Co. in St. Louis. "Unfortunately for owner-operators, it is bad news because the bar has been raised. (Corporate) is trying to do everything it can to get sales up."
When the priorities of franchisees and franchisors diverge, sparks fly and the the franchise industry's characterization of franchisees being "in business for themselves but not by themselves" seems debatable, at best.
ARE YOU A McDONALD'S FRANCHISE OWNER, EMPLOYEE OR SUPPLIER?  WHAT DO YOU THINK?  SHARE A COMMENT BELOW.

TAGS: McDonald's Corp, McDonald's franchise owners, McDonald's franchisees, McDonald's Corp., McDonald's complaints, McDonald's franchise complaints, McDonald's franchisee complaints, McDonald's Dollar Menu
Question:  Can McDonald's franchise owners really make money on a dollar-menu hamburger?
Answer:  A little.  But they've got to make it up on higher profit items – like fries and soda – if they want to stay in business.
SmartMoney.com surveyed franchisees from different franchise chains regarding the cost to them of some current and recent promotions. The Smart Money article points out that franchisees generally bear the brunt of a promotions's cost, including the food, labor, rent and utilities, among other things.
Here's the Smart Money finding for the McDonald's $1 burger on their dollar menu, which report a $.06 profit per sandwich:
McDonald's

Promotion: Dollar Menu – McDonald's customers may purchase a number of items, including French fries, an ice cream sundae, a four-piece chicken nuggets and a double cheeseburger for a dollar each.

Pre-promotion price: $1.50 (double cheeseburger)

Promotion Price: $1

Bottom line for restaurant: Profit of roughly 6 cents a burger

The McDonald's Dollar Menu may be the best value in town, but some franchisees find the six-year-old promotion hard to stomach. While food and packaging costs just 45 cents for a double cheese burger, franchisees also have to pay for rent, labor and utilities. In total, a promotional price of just $1 leaves store operators with a measly 6 cents of profit, according to a franchisee in Florida. Of course the markup on fountain drinks and French fries is typically pretty high. However, many consumers these days are forgoing such add-ons. McDonald's did not immediately return phone calls and emails seeking comment.
RELATED POSTS:
SUBWAY: What Do Franchisees Make on $5 Footlongs?
LITTLE CAESARS: What Franchisees Make on a $5 Pizza
McDONALD'S: What Franchisees Make on a $1 Burger
BASKIN ROBBINS: Franchisees Lose $1.45 per Scoop on Promo
QUIZNOS: Franchisees Lost $2.25 per Sub on Giveaway
BURGER KING Franchisees Sue Over $1 Cheeseburgers
WHAT DO YOU THINK OF McDONALD'S VALUE MENU PROMOTIONS?  SHARE A COMMENT BELOW.
Are you familiar with the McDonald's franchise opportunity?
Are McDonald's franchise owners happy?  Why or why not?
Please share your thoughts and opinions below.
*     *     *    *    *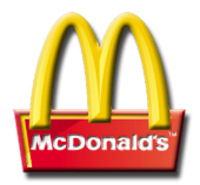 In the 30 years since it launched its much-hyped Franchise 500, Entrepreneur magazine has named McDonald's the #1 franchise 8 times (only half as many times as Subway).
In recent years, Entrepreneur has ranked McDonald's #2 (2009); #5 (2008); #9 (2007); #16 (2006); and #13 (2005).
There are more than 2400 McDonald's franchise owners in the U.S., owning 13,000 franchised locations.  40% are women or minorities.
According to McDonald's:
McDonald's has always been a franchising company and has relied on its Owner/Operators to play a major role in the System's success. McDonald's remains committed to franchising as a predominant way of doing business…  McDonald's continues to be recognized as a premier franchising company around the world. We believe a major component of this is the world class training you receive prior to becoming an Owner/Operator. McDonald's provides hands on training and the materials you need to be a success in your restaurant business.
WHAT DO YOU THINK?  DO YOU OR HAVE YOU OWNED A McDONALD'S FRANCHISE?  ARE McDONALD'S FRANCHISEES HAPPY?  WHY OR WHY NOT?
logo:  McDonald's Corporation