BRICKS 4 KIDS Franchise Complaints
Bricks 4 Kidz franchise complaints, franchise costs, franchise testimonials & franchise information.  Share your opinions – good or bad – about the Bricks 4 Kidz franchise opportunity and play programs.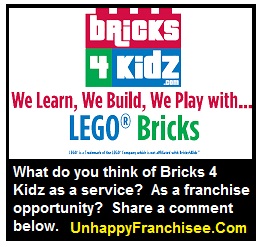 (UnhappyFranchisee.Com) Bricks 4 Kidz franchise owners offers Lego-brick building activities designed by engineers and architects in after-school classes, preschool classes, summer camps and birthday parties.
The concept was created by a mother, Michelle Cote, in St. Augustine, Florida, in 2008, and began franchising a year later.
According to the Bricks 4 Kids franchise marketing, "BRICKS 4 KIDZ has a high probability for success in your area because":
It's a proven model – truly a home-based business;
Requires only a modest investment;
Has NO national competition;
Quick ROI on your low-cost franchise;
Can be operated as a part/full time business;
Has high profit margins;
Has low fixed overhead;
It's easy to operate;
It can be easily taught to anyone;
The classes, camps and birthday parties are affordable by nearly any family;
Parents view the classes, camps, and birthday parties as educational and therefore feel that the fees are well spent;
The BRICKS 4 KIDZ Schedule follows the school-year calendar – no corporate hours with this business.
The Bricks 4 Kids franchise requires an initial investment of $33,800 – $51,050, has a franchise fee of $25,900 and an ongoing royalty fee: 7%.
BRICKS 4 KIDS Franchise Scam Complaints
Are you familiar with Bricks 4 Kidz?  Please share a comment below!
Several anonymous complaints have been submitted and published alleging complaints about the Bricks 4 Kidz franchise and a questionable funding company called Seed Capital.
We don't vouch for the authenticity or truth of anonymous comments;  however, they are useful in providing topics to look into during the due diligence process.
Anonymous wrote:
I purchased a Bricks 4 Kidz franchise.I was steered to the Seed Capital and they all said it was a quick return on investment.

Within in 8 months I was bankrupt. Do not do business with them, you will work and maybe break even. Do not purchase a franchise, you can copy a franchise that you are interested in without paying royalty fees. They will not protect their own brands.

Only purchasers in large cities are getting a return on investment.

Seed Capital is part of the scheme, to run up credit cards for you to walk in and hand over $30,000 onto your credit card for the franchise.

They personally call the B4K owners and tell them you have good credit so the B4K owners can get you in and take the money.
Bricks 4 Kids Owner USA wrote:
Bricks 4 Kidz has spent several years selling franchises that have a 12% return on investment. The first 150 owners are mostly gone, or got out bankrupt or sold.

You will work 7 days a week long hours to hand over franchise royalty fees to the corporation, unless you get lucky and are one of the 12% who broke even or earned a salary.

Many are so in LOVE with their B4K business, they are willing to have cash flow to stay in business. Do not be fooled. To say that they are in the top 50% women owned business is true, but be ready to become a modern day slave, because the business is a good small revenue producing business, but it is a Cash Dog, all your money goes back into running the business. The took marketing fees out and used it to sell more franchises, not concerned to protect their own brand.

There are new lawsuits against the company that spells out the fraud. Make sure you get a copy of the disclosure doc and the lawsuit will be added, (per gov regulations). Many have lost over $50,000 due to apparent greed from the top three owners. The business was never a proven sales track, and was made up on paper, using the famous LEGO bricks that fueled the sales of the franchises.  I was an owner, and after I knew that It was not a quick return on investment, I was forced into bankruptcy.
We plan to post the Bricks 4 Kidz Franchise Disclosure Document (FDD) which should include summaries of the referenced lawsuits and the names of current and former franchisees.
We have previously posted on Seed Capital here: SEED CAPITAL Jim Saia Financing Complaints
Are you familiar with the Bricks 4 Kidz franchise opportunity or the Bricks 4 Kidz franchise system?  Please share your opinion – positive or negative – with a comment below.
ALSO READ:
FRANCHISE DISCUSSIONS by Company
ARE YOU A BRICKS 4 KIDS FRANCHISE OWNER OR FRANCHISEE?  ARE YOU FAMILIAR WITH THE BRICKS 4 KIDS FRANCHISE OPPORTUNITY?  SHARE A COMMENT BELOW.





TAGS: Bricks 4 Kidz, Bricks 4 Kidz franchise, Bricks 4 Kidz franchise opportunity, Bricks 4 Kidz franchise complaints, LEGO franchise, LEGO franchise opportunity, franchise complaints, BFK Franchise Company, Seed Capital, Brian Pappas, Dan O'Donnell, unhappy franchisee