A pyramid scheme is a non-sustainable business scam that generates money primarily by enrolling other people into the scheme, without any product or service being delivered. Eventually, the whole scam collapses under weight of its own deception, and everyone but those at the very top lose.
The key to detecting a pyramid scheme is to look to use of the products or services at the end user-level – not the growing numbers of enthusiastic investors.  Even if thousands of individuals are buying $1500 starter kits of revolutionary herbal supplements, you want to make sure end users are buying and using the stuff.  The reality may be that the totality of company sales is furnishing garages and spare bedrooms with pallets of aging alfalfa.
Always verify the truthfulness of the sales pitch.  That's the lesson from the chart below, constructed from the lawsuit filed by the CA Attorney General against YourTravelBiz.com, an alleged pyramid scheme. (see YTB INTERNATIONAL: State of California v. YourTravelBiz.com (PDF))  The travel agency franchisor is alleged to be in the business of selling $1000 "online travel agencies" that never sell travel… they just sell more $1000 travel agencies.
THE YTB PITCH
THE YTB REALITY*

YourTravelBiz.com agents will easily make hundreds
or thousands of dollars in travel commissions with little or no selling.

Only a tiny fraction of YourTravelBiz.com consumers earn enough money to offset the required fees.

Sale of travel to friends and family alone will yield hundreds or thousands of dollars in commissions.

The actual median annual travel commission earned is $0.

Minimal effort by the consumer will earn thousands; With increased effort the consumer can earn $5,000 to $10,000 in travel.

Almost no consumers manage to earn such amounts through the sale of travel.

Examples show large travel sales commissions and earnings indicate the significant income potential of YTB.

The typical consumer sells no travel in a 12-month period and earns nothing from the
sale of travel.

Referring travel agents will receive valuable travel discounts worth
hundreds or thousands of dollars

Many vendors and suppliers refuse to honor YTB's travel credentials

The financial benefits of the YourTravelBiz.com business opportunity easily offset the fees.

The vast majority of YourTravelBiz.com consumers lose money

YTB International operates a legitimate business

YTB International operates an illegal pyramid scheme

Consumers are guaranteed substantial earnings if they purchase YTB proven marketing materials

Few consumers earn a profit and the vast majority lose money

The YourTravelBiz.com business has experienced "spectacular" growth and will
continue to grow.

The attrition rate of YourTravelBiz.com "agents" is extraordinarily high.  Like all pyramid schemes, the advertised growth is unsustainable

YTB International & YourTravelBiz.com have sold millions of dollars of travel.

Much of their travel sales is their own participants' personal travel or travel sold to other participants

 
*  Reality as defined by the California Attorney General's Complaint
Related:  YTB INTERNATIONAL: YourTravelBiz.com Defenders Say It's Not a Scam
YTB INTERNATIONAL: Is YourTravelBiz.Com a Pyramid Scheme?
Is YTB International, YourTravelBiz.Com a Scam?
YTB INTERNATIONAL: State of California v. YourTravelBiz.com (PDF)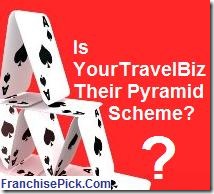 (FranchisePick.Com) Is YTB International, YourTravelBiz.Com a Scam?  California Attorney General Jerry Brown says it is.  He claims the whole thing's a scam that recruits thousands of members with deceptive claims. According to Brown, the only people getting rich are a handful at the very top, while most get nothing.
But YTB YourTravelBiz.Com has a lot of supporters who disagree.  They claim that the whiners are just ex-agents who thought success would be handed to them, and slackers who couldn't hack it.  They claim that YTB YourTravelBiz.Com is "rigorously aboveboard."
The California Attorney General is suing Wood River, IL based YTB International, board chairman and founder Lloyd Tomer, his son and current chief executive Scott Tomer, the company's third co-founder J. Kim Sorenson and Andy Cauthen, president and CEO of YTB subsidiary YourTravelBiz.com.  The suit is seeking $25 million in fines and restitution.  AG Jerry Brown wants to shut down the operation, which employs 300.
According to a recent report on STLToday:
The suit accuses YourTravelBiz.com, a subsidiary of YTB International, of recruiting tens of thousands of members with misleading promises that they'd earn large sums of money selling travel online to friends and acquaintances. Agents pay YTB a $499 fee to join, then $50 a month thereafter. They also often buy training materials….
"We are disappointed that the state has decided to take this action," YTB CEO Scott Tomer said in a statement. "We firmly believe that the facts in this matter support our position and our legal counsel has advised us that our position is strong."

The company… has grown fast in recent years, nearly tripling its revenue in 2007 to $141 million, with profits of $3.2 million. At the end of March, it claimed nearly 139,000 "registered travel agents" and an even larger number of sales reps who sell the agencies and earn a commission on their business.
RELATED:  YTB INTERNATIONAL: Is YourTravelBiz.Com a Pyramid Scheme?
ARE YOU FAMILIAR WITH YTB INTERNATIONAL & YOURTRAVELBIZ.COM?  IS IT A PYRAMID SCHEME?  Share a comment below.
__________________________